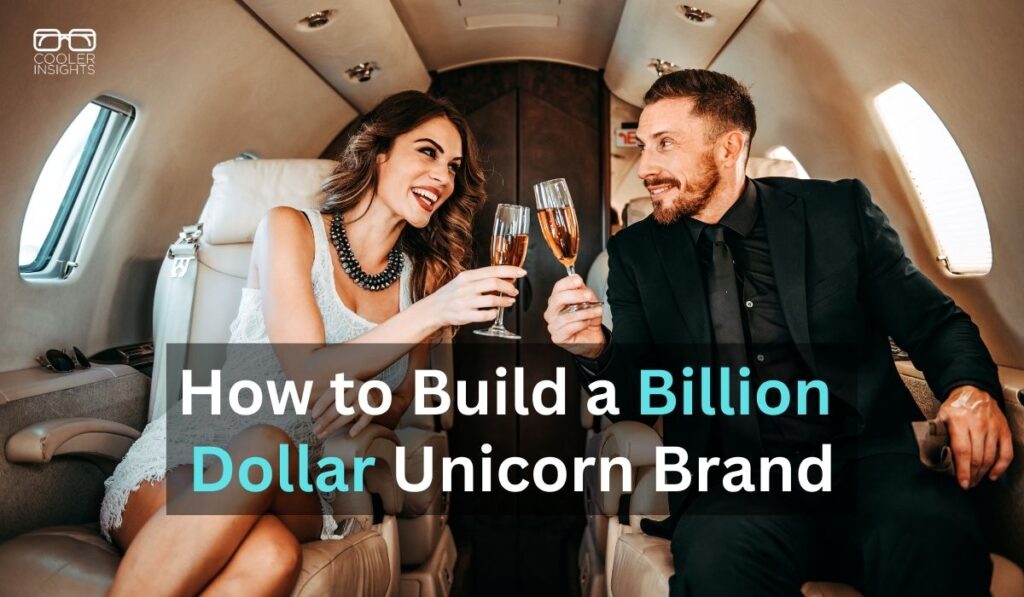 Direct-to-consumer brands are disrupting traditional brands like never before. Also called unicorns, these billion-dollar brands rule the consumer landscape.
From Warby Parker, Dollar Shave Club, and Bonobos, to Casper, Glossier, ThirdLove and eSalon, these digitally-native upstarts are grabbing huge chunks of market share from incumbents.
How do these "Davids" succeed in a world full of FMCG "Goliaths?" What are the ingredients to building a billion dollar start-up?
Thanks to the book Billion Dollar Brand Club from Lawrence Ingrassia, we now have a better clue!
In this article, you will learn 11 principles of success adopted by leading disruptive digital-first companies like Dollar Shave Club, Warby Parker, Bonobos, Amazon (yes they're the largest unicorn!), and many others.
#1 Focus on Customer Lifetime Value
"Our blades are f**king great!" goes the punch line of Dollar Shave Club, voiced by its debonair founder Michael Dubin. (Watch the viral video which started it all below.)
Sold to Unilever for a cool US$1 billion, Dollar Shave Club began as a dare to its founder Mike Dubin from a friend's father who had some 250,000 twin-blade razor cartridges sitting in his warehouse to be sold.
Taking up the challenge, Dubin focused on the fact that shavers from incumbents like Gillette and Schick were over-priced while offering little utility. By pricing his shavers at "just a dollar" (the cost has gone up since, but still remains highly affordable), Dubin was able to make men's toiletries a subscription-based product.
This created long-time customer value – a vital point in the world of e-Commerce.
#2 Solve Specific Customer Pain Points
Many of the world's most successful Direct-To-Consumer (DTC) brands were hatched from a problem which its founders faced.
Disposable daily-wear contact lens company Hubble was one of them. Offering a month's supply of daily disposable lenses for US$33 – roughly half the price charged by industry giants, Hubble was able to grow to a size of US$70 million in its second year.
Watch the video to show how Hubble began, and what triggered the business.
(It isn't surprising that Dollar Shave Club also started the same way.)
#3 Meet an Unmet Customer Need
Like women's underwear. Yes, we're talking about brassiere (or bras for short).
Started by husband-and-wife team Heidi Zak and David Spector, ThirdLove sold brassieres online and took on giants like Victoria's Secret. Unlike the latter, however, ThirdLove focused on building bras that women would love to wear.
"No woman likes to bra shop. It's last on the to-do list of twenty things…. Putting it online makes it much easier and convenient for a woman," said Zak in a TV interview.
Have a look at their Facebook post below to understand how they've positioned themselves.
#4 Obsess Over Your Customer Experience
Heard of Luxottica? If you haven't, I'm not surprised — this low key company is the world's largest eyewear company, with brands like Ray Ban, Oakley, Ralph Lauren, Alain Miki, and many others under their keep.
Frustrated with the high cost of spectacles from Luxottica and its ilk, the founders of Warby Parker decided to sell eyewear via an online shop.
This came with a new set of problems like needing to verify customer's prescriptions from optometrists (a must in the US), ensuring that their glasses fit well on different head shapes, and coming up with their own eyewear designs.
However, each challenge was met with aplomb by the founders, who offered everything from free shipping and free returns to fast (and fuss-free) replacements.
Watch the video to learn how Warby Parker sets itself apart from competitors when it comes to customer experience management.
https://www.youtube.com/watch?v=pbnjANYiGVc
#5 Home in on High Potential Markets
Not all businesses are worth disrupting, especially given the ever increasing online (and offline) competition from both incumbents and upstarts alike. However, there are some markets worth considering over others.
According to leading Venture Capitalists (VCs) like Forerunner's Kirsten Green, potential "unicorns" usually have the following features…
Tap Consumer Trends: Eg eco-friendliness and casual trendy clothes that you can wear to work and the club at night
Consumer-Direct: Brands that can connect directly to consumers and forge that connection with them
High-Margins: Products that have a low cost to manufacture and ship, with high margins charged by incumbents
Millennial (and Gen-Z) Appeal: Brands that can speak directly to the concerns and interests of the digital-natives
Prevailing Consumer Dissatisfaction: Industries that currently have a "problem waiting to be solved", aka a "f**ked-up industry."
Good Value: Companies that can offer considerably better value than existing options can win if they are priced right.
Heavy Use of Data and Technology: Where business decisions are not done on a whim and fancy, but informed by data
A good example was the mattress market dominated by Serta-Simmons with highly priced products that cost less to manufacture and are cumbersome to buy. To position themselves appropriately, Casper markets itself as more than just avoiding the miserable experience of buying a mattress; it made buying mattresses more fun (see video below).
#6 Leverage Leading-Edge Logistics
From overnight delivery to 2-hour deliveries, logistics have turned into a major competitive arena.
While consumers tend to associate eCommerce juggernauts like Amazon and Alibaba (Lazada, Taobao) with their online marketplaces, it is their seamless supply chain management which makes them arms and legs above the competition.
In the multi-billion dollar supply chain and logistics business, highly automated warehouses with conveyor belt systems, robots and drones are now table stakes. Added to that: new developments like "vertical" warehouses in urban centres that can deliver parcels in two hours or less, self-serve lockers where goods are delivered and picked up by buyers at their convenience, as well as shared warehouse facilities for smaller eCommerce players.
The biggest players in this space own their entire supply chain — from trucks and planes to ships, cars and motorcycles. Have a look at Amazon's Smart Warehouse and how it works below.
#7 Use Algorithm + Analytics to Drive Decisions
Fancy getting your hair dyed at home? At eSalon.com, you'll be asked a series of questions such as…
How long is your hair?
How much grey do you have?
How straight or curly is your hair?
How thick is your hair?
What is your ethnicity?
What colour are your eyes?
What is your natural hair colour?
What is the closest shade to your natural colour?
Would you like to maintain your current colour?
Beyond these, a series of photos of different shades of your preferred colour will be shown to you. With data collected from millions, the algorithm will automatically choose the best shade for you.
Such use of predictive analytics systems are widely employed by digitally native brands like Warby Parker, ThirdLove, The Farmer's Dog, and others.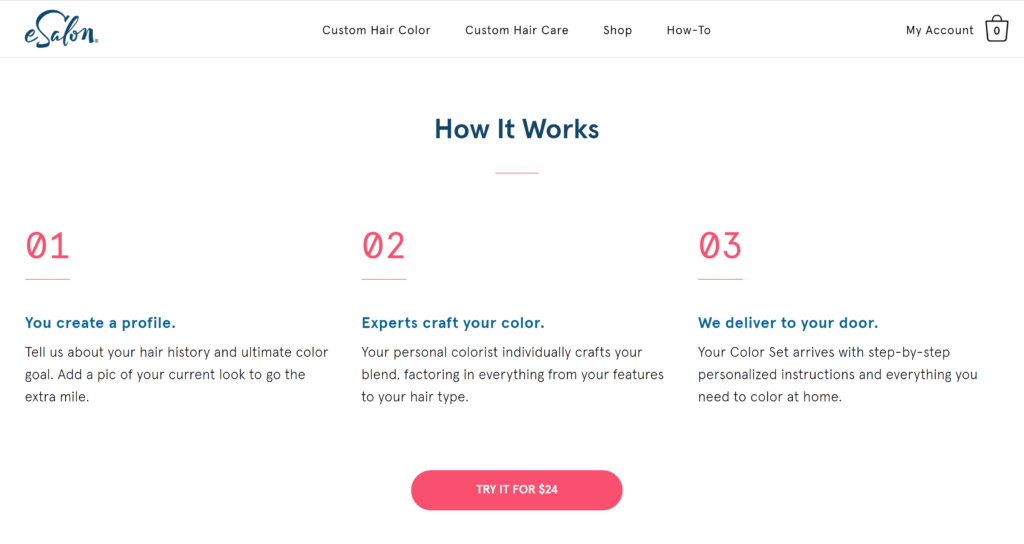 Courtesy of eSalon
#8 Embrace Social Media Marketing Best Practices
Dollar Shave Club experimented with as many as 50 different ad messages to see which would get the highest response. From what it gathered, photos taken by customers of newly delivered razors were among the most effective.
Similarly ThirdLove placed 14 video ads on Facebook and Instagram, with variations in copy, and video creatives. Some were 15 seconds showing a model wearing a bra that is "gaping"; others show a woman putting back in place a strap that has slipped off her shoulders. Some run for 15 seconds. Others run for 20 seconds and show two problems. Yet others run for 30 seconds and show three problems faced by women wearing bras.
By doing A/B/C testing, these companies were able to optimize their ad spend on digital media. Have a look at ThirdLove's ongoing ads using Facebook Ads Library – as of this screen capture, a staggering 85 different ads with different variations were running in the US.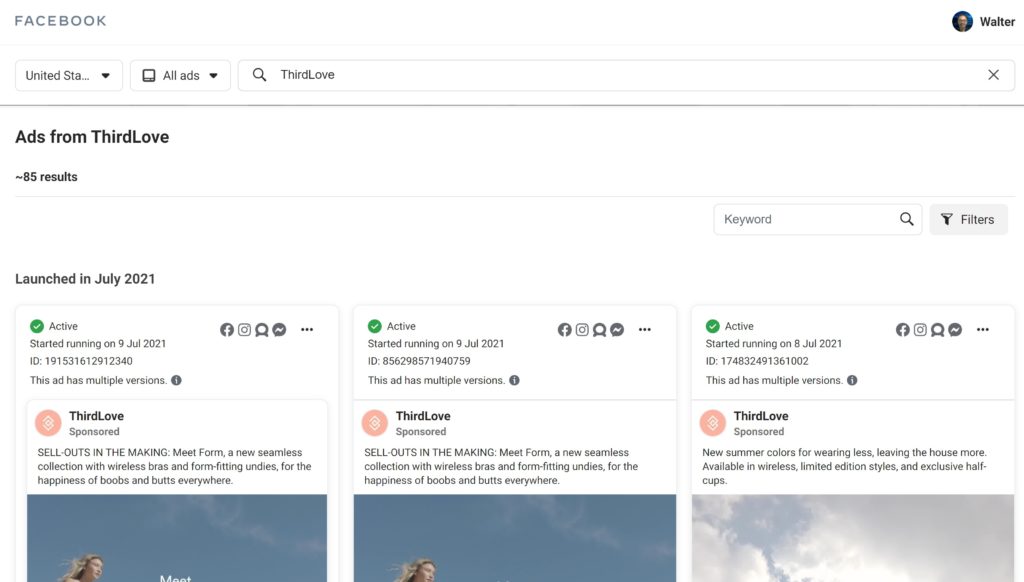 #9 Relentlessly Research Competitors
One of the common factors in eCommerce unicorns (or wannabe unicorns) is their endless efforts in studying what their competitors do.
This includes everything from hiring their competitor's staff, taking apart and reverse-engineering competitor products, analysing their competitor websites (and estimated sales from online stores) to determining where the chink in their competitor's armour was.
For both mattress direct-to-consumer companies Casper and Tuft & Needle, it involved hiring the right "sleep scientists", finding out what foam materials can be made, the cost of sourcing for 3rd party manufacturers cheaply, setting the right price point, getting publicity, to getting as many five-star reviews as possible.
(Learn more about online research here.)
#10 Iterate Ceaselessly to Improve Product
Founded on agile development principles (see my article on The Lean Startup), most direct-to-consumer brands begin life by building a Minimum Viable Product (MVP), push it out to the market, and iterate to improve them as they go along.
This principle was vividly captured in the story of Eargo — a miniscule electronic hearing device that is almost invisible in the ear.
Backed by millions of dollars of funders cash, Eargo had to solve one problem after another: making a rechargeable battery small enough to fit in the ear canal; holding the device comfortably in the ear canal; developing different volume settings to cover the most typical high-frequency sounds that people with mild to moderate hearing loss encounter; to marketing it in the right way without the social stigma associated with hearing aids.
#11 Build Destinations — Not Stores
If you look around major cities in America like New York or Los Angeles, you may have noticed that previously online brands now own physical retail stores. They include Amazon, Taobao, Tuft & Needle and Casper, Bonobos, and Glossier.
For digital-first cosmetics brand Glossier (which started out as a blog by Emily Weiss), its flagship store at 123 Lafayette Street (New York City) seems to be more like a theme park than a shop. What you'll find are "clusters of Glossier groupies in their teens and 20s standing on the sidewalk outside, taking selfies and then promptly posting the photos on Instagram."
As these customers walk up the wide "Glossier-pink" staircase, they are greeted by the pulsing beat of hit songs over and over again. Displays are designed to encourage customers to try on samples (pre-Covid at least), and nearly everyone of the staff are donned in pink suits. Apparently, the entire location was constructed for selfies, including an "Experiential Boy Brow Room" with half dozen six-and-a-half foot-tall replica tubes of one of Glossiers's most popular products.
Conclusion
Compelling and eye-opening, Billion Dollar Brand Club provided a helpful look at the world of billion dollar direct-to-consumer brands, and their business strategies in a digital-first world.
By competing on price, value, speed, convenience and service, these companies led by often larger-than-life entrepreneurs were able to disrupt centuries and decades-old incumbents, reshaping the world of retail and brands as they do so.
Do pick up a copy to read if you're keen to learn more.