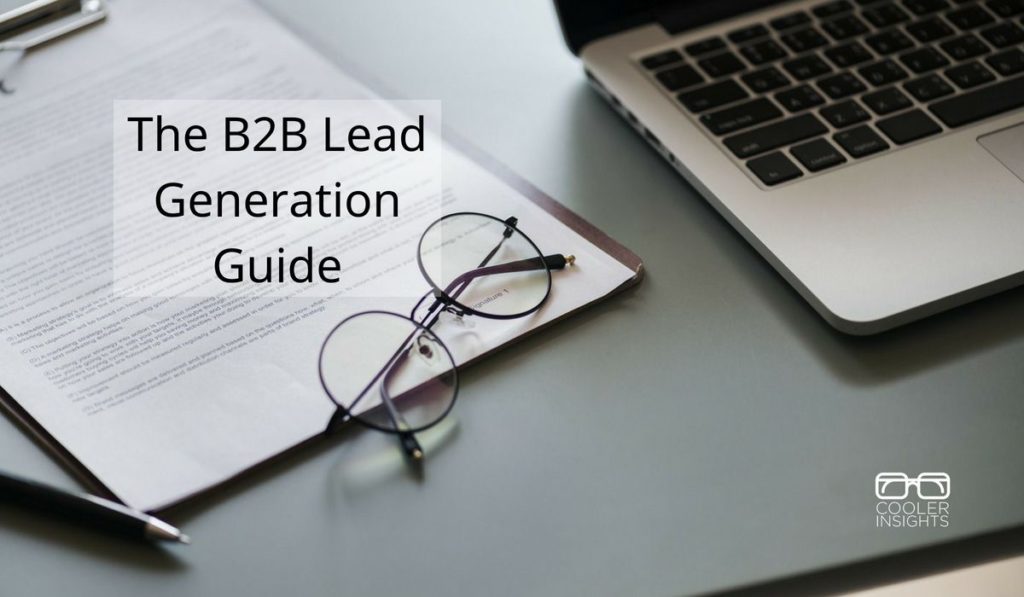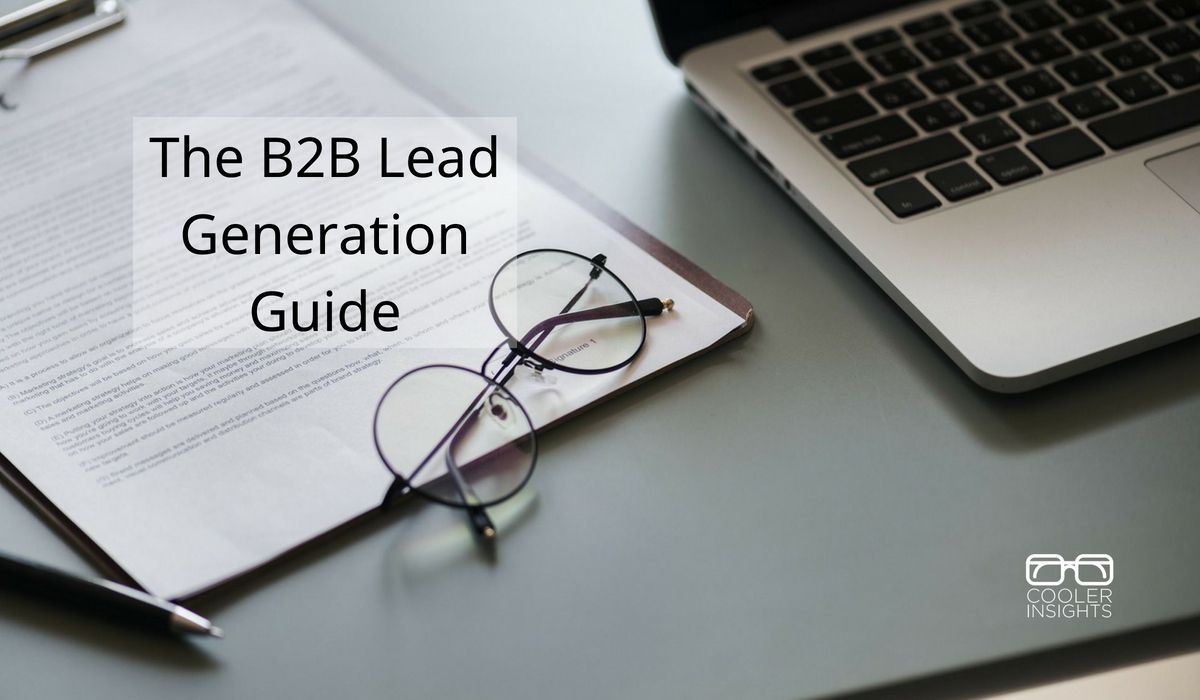 Ask any B2B marketer what their greatest challenge is. Chances are that they'll respond with lead generation.
For the online marketer, B2B lead generation is often considered the holy grail of digital marketing.
After all, a good lead capture and nurturing process can be highly profitable, especially if it is well-optimized.
In this article, I will highlight the steps you need to take to optimize your B2B Lead Generation process. Before that, however, let us look at some of the challenges you may face in generating leads.
Problems in Lead Generation
Unlike other forms of marketing, lead generation (or lead gen for short) is fraught with challenges. Here are 6 of the most common ones:
Poor Source of Leads: Getting leads from the wrong source may lead to wasted time, money and effort
Poor Quality of Leads: Sometimes, lead quality do not meet the expectations of your sales colleagues, resulting in time wasted in qualifying and nurturing leads
Slow Follow Up: Leads are only warm or hot for a short period of time. Slow follow ups often lead to lost leads.
No Lead Nurturing Process: If you do not have a specific process to engage, qualify and follow up with your leads and turn them into a prospect and customer, you'll be wasting your efforts
Unrealistic Expectations: Being over-optimistic about your lead attracting and nurturing abilities
Inadequate Resources: If high quantity of leads are generated without adequate sales teams to follow up, they will be lost.
Inbound vs Outbound Marketing
In the early days, B2B leads were mostly generated through outbound marketing activities.
These may include participating in exhibitions and conferences, splashing ads on trade magazines, attending networking events, or cold-calling and cold-emailing potential customers. Recommendations and referrals are also common among friends who have worked with good suppliers or vendors.
These days, lead gen tends to shift towards inbound marketing activities. Using search-friendly content, companies can attract, nurture and qualify leads more cost effectively. This helps to reduce their cost per lead and improve their reputation amongst potential customers.
The differences between the two can be seen in the infographic below.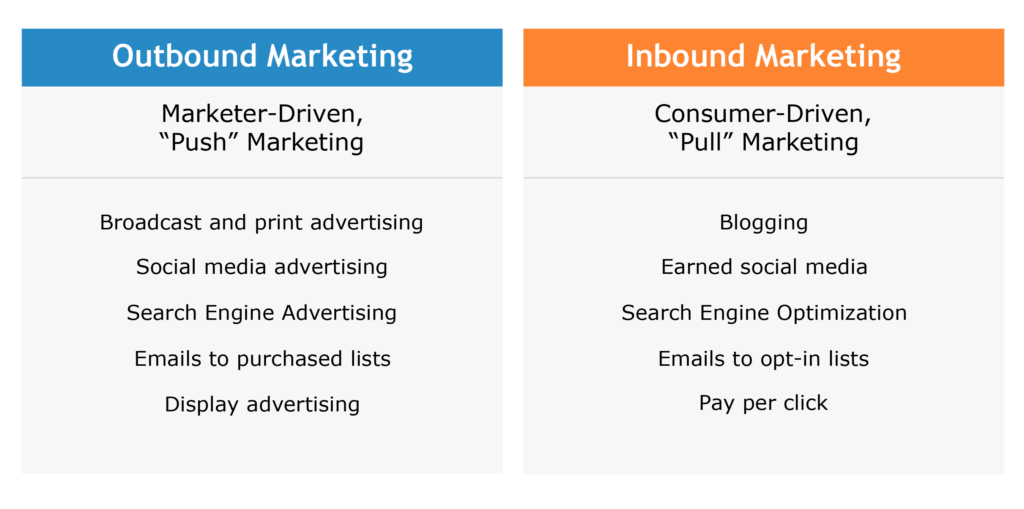 Courtesy of Software Advice
(Read more about inbound marketing here.)
How to Classify Leads
One of the most important thing you need to consider in B2B marketing is to ascertain the readiness of your leads for marketing and sales activities. A good way to do so is to categorise your leads.
Here's a commonly used way to do so…
Marketing Ready Leads (MRL): These are leads who are ready for marketing, ie you can start sending them content or messages to interest them in your products or services.
Marketing Accepted Leads (MAL): Leads at this stage are usually qualified by certain actions which they take. For example, they may have opened your emails, or navigated to different pages on your website.
Sales Ready Leads (SRL): These are usually the warm leads ready for your sales team to follow up with them. They may have registered their interest to speak to somebody or attend a live event.
BANT qualified leads: BANT stands for Budget (how much are they willing to pay), Authority (who is the decision maker? Name and details), Need (specific needs that your product can solve), and Timing (urgency of the request).
To properly classify your leads, you should map their degree of interest in your products/services. This will be tackled next.
Customer Buying Cycle
In thinking about how you could attract fresh leads to your business, consider your customer's buying cycle or journey. For a B2B customer, it could take the following path.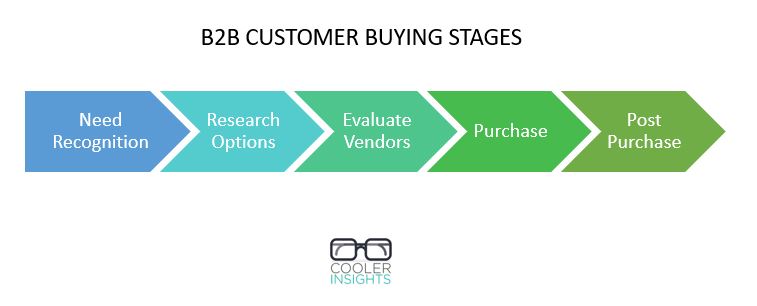 Typically, there are about 5 stages of increasing commitment to purchase your products or services:
Need Recognition: This is the early buying cycle stage where your prospective customer identifies a problem or issue that needs to be resolved. Your goal here is to trigger awareness of your brand.
Research Options: Triggered by the problem, he or she would search for online options for how the company could solve the problem. Here's where you can share educational "How To" content to further strengthen their interest in your brand.
Evaluate Vendors: Congratulations if you managed to get this far. Now you need to ensure that your product or service has a good chance of being selected. Use customer stories and testimonials or use cases to swing the vote to your favour.
Purchase: In the B2B world, purchases often take place in a face-to-face meeting or via a "trial" software or service package. Often, companies place the most resources and emphasis on this part of the conversion process.
Post Purchase: Customer experience is key in building up the long-term goodwill of your customers.
The Lead Generation Process
The various stages of your B2B customer's buying cycle can be roughly divided into the early buying cycle, mid buying cycle, and late buying cycle. This can be mapped to a digital marketing funnel as follows: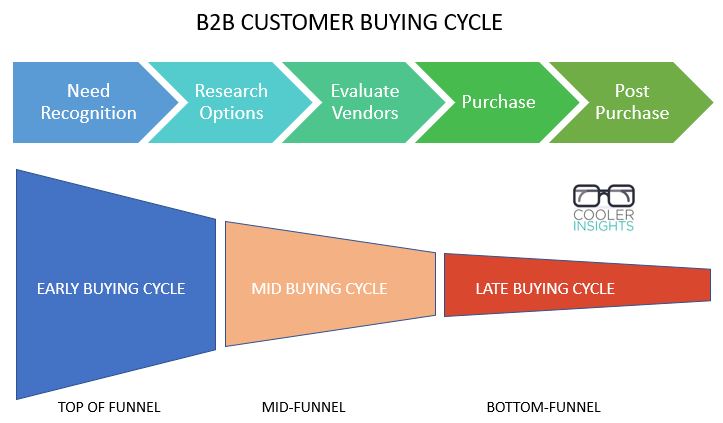 Typically, different stages of the buying cycle would trigger different customer actions. Let us start from the early buying cycle above, and move down the funnel.
Early Buying Cycle: The key objective here is to trigger customer enquiries. Your prospects at this stage are either quantifying their needs or considering different vendors and options.
Mid Buying Cycle: As the customer's database is captured, your goal is to progress them through different stages. The first is lead capture which is done through offering a lead magnet and landing page (see below). This is followed by lead qualification where different scores are accorded to the nurtured lead, and ends with lead handover where the lead is handed over from marketing to the the sales team.
Late Buying Cycle: At this stage, your sales team would further qualify and try to "close" the lead, hopefully leading to a purchase which is the end goal. If the post-purchase experience was sweet, it could lead to repeat purchases.
a) Lead Gen Content Types
To nudge your prospect at the different stages of their buying cycle, consider crafting different types of content to slowly draw them in to your funnel.
Here's a table showing how you can do so.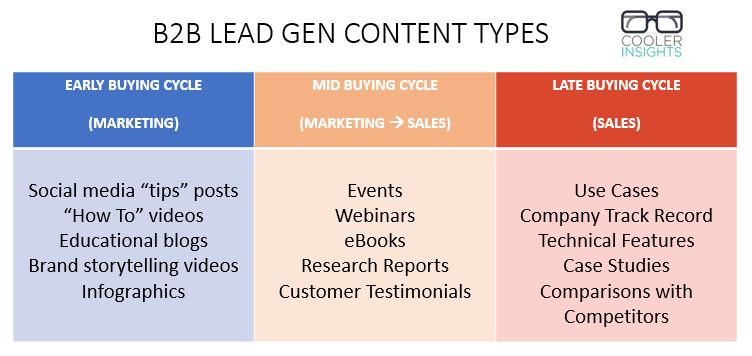 Early Buying Cycle: Your content goal here is to trigger their interest, and ensure that your articles or resources are 'findable' on search engines and social media.
Mid Buying Cycle: At this later marketing stage, you should provide more valuable "gated" content such as a webinar, eBook, research report or other forms of content. This is where lead capture normally takes place (see below).
Late Buying Cycle: This normally happens in the domain of sales, and could be in the form of sales presentations, corporate sales kits, and other forms of content that zooms in on your company's offering.
b) Lead Capture
To capture leads in your database, you need to invest in the lead gen trifecta known as the ad/post, lead magnet, and landing page.
Here's an example from Socialbakers, showing how a Facebook ad, lead magnet and landing page worked together to capture leads.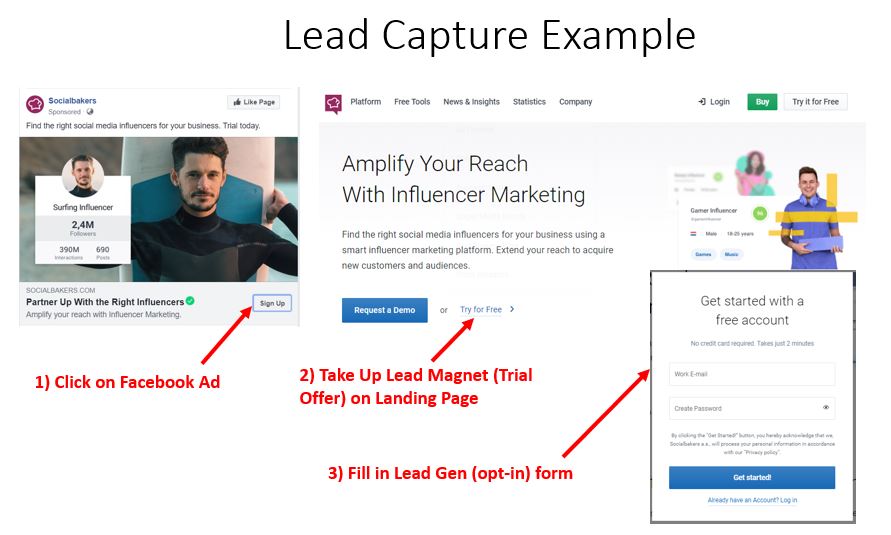 Let's look at each of this in detail.
Content Post/Ad/Email: This will be the content piece or ad that gets your audience's attention. It will communicate the offer that you have.
Lead Magnet: This will be the incentive/bribe that gets your prospect interested. It is normally something valuable to them like an eBook, Tool, Template, or Free Trial Offer (like this example).
Landing Page: This is the web page where the lead magnet is embedded on, which includes an opt-in form to capture leads.
c) Lead Qualification and Scoring
Capturing your B2B leads is one thing. What should you do with them thereafter? Whose responsibility would it be?
Here's where the science and more often art of lead qualification and lead scoring comes into play.
Using the same example above, we can segregate our leads into 3 categories: COLD, WARM, and HOT. Each of these audience types will be given a unique score, depending on how many "milestones" or "touch-points" they've reached. This is illustrated below.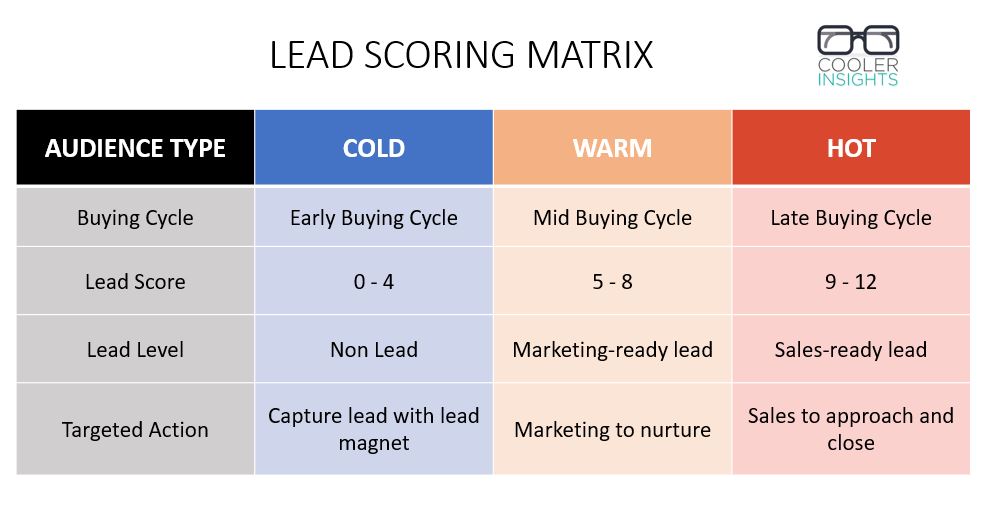 Typically, the warmer your lead, the higher you will score that specific lead. For leads who have expressed sufficient interest in your products or services (eg by signing up for a webinar, or attending a physical event), you may pass them over to the sales team to speak to them individually and try to close them.
d) Lead Nurturing
As you can see from the process above, leads need to be nurtured. Typically, the lead nurturing process takes place over a series of steps:
First, content pieces are advertised to specific target audiences (typically buying decision makers) in organisation. These are typically blog articles or videos with educational value.
Upon reading or consuming the content, a lead magnet may be provided to invite the reader to fill in his or her particulars. This could be an invitation to a webinar, or an offer to download an eBook.
Once they have done so, they will be sent a series of emails providing valuable content.
These leads may also be retargeted on search or social media advertising with conversion focused ads.
Depending on their affinity with your brand (eg measured through number of times they respond to your content pieces), you may assign a score to them.
When these leads are considered sales-ready, they will be sent emails or contacted directly by phone by your sales team.
Marketing Automation Software
One of the most popular ways to generate leads is to use a marketing automation software.
Marketing Automation covers a broad span of digital marketing Software-As-A-Service (SAAS) providers. Major all-in-one suites include HubSpot, Pardot, Marketo and Infusionsoft, while the more specialised niche providers include MailChimp, Leadpages and Wishpond.
Typically, marketing automation suites help to cover the entire process of lead generation:
Nurturing leads from the top of your marketing funnel to the bottom, while making them more ready to buy from you.
Integrating content marketing and email marketing to drive interest in your offering via targeted pieces of content and messages.
Tracking customers throughout their entire customer journey, and managing their digital touch points.
(Learn more about marketing automation here.)
Conclusion – Journey not Destination
Lead generation isn't a digital walk in the park. On the contrary, it often involves lots of trial and error as you experiment with different ways to capture leads and nurture them.
By adopting a systematic step-by-step approach, you can better improve your chances of capturing and nurturing leads through your various digital platforms, and convert them to become your customers.
What are your favourite lead generation strategies? I'd love to read your ideas.