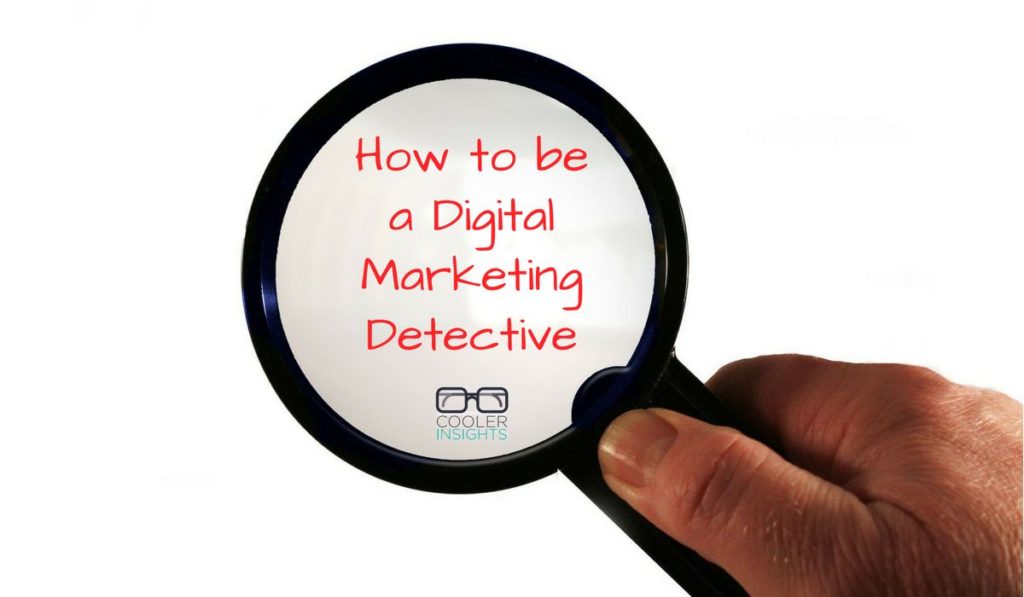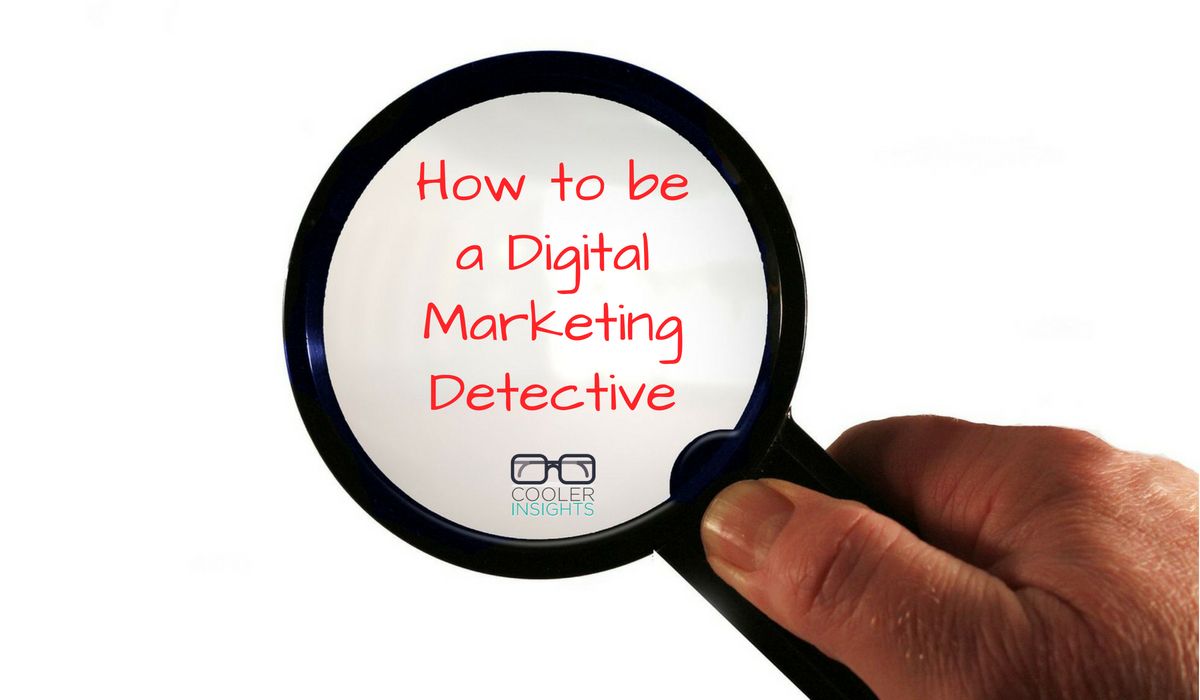 Being a digital marketer is a lot like being a detective.
While your goal isn't to nab a cold-blooded murderer (thankfully), you do need the right investigative skills and techniques to solve your "online marketing cases."
I love the metaphor of a detective as it aptly describes the methodical, step-by-step discipline needed to succeed as a digital marketer.
An online marketer worth his salt should also possess the right critical thinking skills, knowledge and competence needed to troubleshoot technical and creative issues – both of which are sure to occur in virtually any campaign.
Imagine that you are a geeky version of Sherlock Holmes. How would he tackle the confounding issue of poor Cost Per Click (CPC) or non-existent conversions?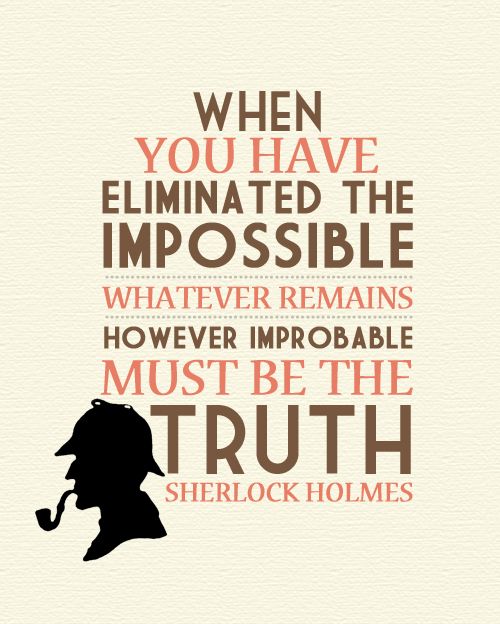 Put on your detective coat, bring along your magnifying glass, and let's dig into our case!
Trace Your Customer Journey
As an entrepreneur, business leader or marketer, your goal in digital marketing is normally to improve your brand awareness, foster affinity with your fans, trigger conversions, or engender brand loyalty.
With these objectives in mind, you should examine your customer's buying journey, trace the steps which she would take before and after purchase, and build a marketing funnel.
Here's an example of how your marketing funnel could look like.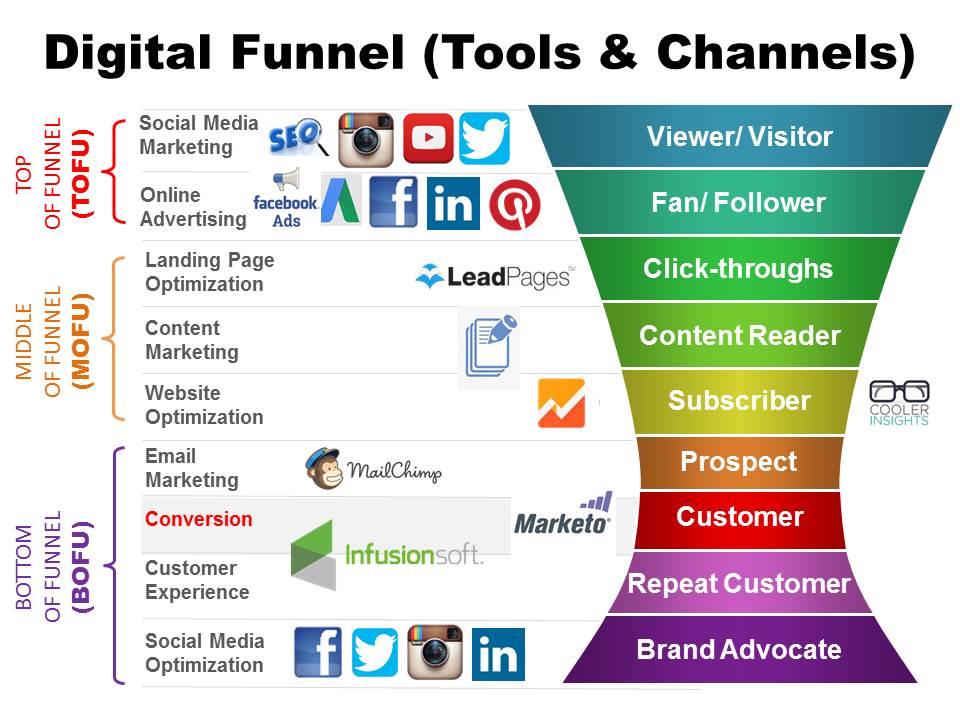 Notice that there are different strategies and tactics as your customer "graduates" progressively from being a barely interested viewer of your videos all the way to becoming a raving brand advocate.
The key thing here is to consider how your ads, content pieces, and channels interface with your customer as she progresses through her buying journey.
#1 Home In On Your Website
One of the first things you should do is to investigate if your website is built for conversion. Put it through a detailed audit, and assess where its strengths and weaknesses are relative to your competitors.
There are a couple of important areas that you need to focus on here:
Website Aesthetics: Check that your website design is easy and simple to navigate. Are your visuals attractive? Do you use the right brand colours? Is there too much content clutter?
Website Content: Is your content self-explanatory? Are there important elements above-the-fold? What about your Call To Actions (CTAs)?
Trust and Reputation Builders: Have you included sufficient information about your company to elicit trust and likability? What about your awards, customer list, and testimonials?
A good way to build a high converting website is to structure it like a landing page – read my article to learn more about it.
#2 Snoop On Your SEO
Next, check that you are getting the right Search Engine Optimization (SEO) elements built into your website as well as its contents.
Now, SEO is a huge topic, but the bare minimum you need to know are the following.
a) SEO Spying and Content Tools
b) On Site and On Page SEO
Ensure that your website loads quickly and is mobile responsive
Does your website have proper meta descriptions and meta tags written for its important pages?
Ensure that your site map is submitted to Google Search Console and that your pages are properly indexed
Are your images and videos properly labelled with alt-text and file name descriptions?
c) Off-Page SEO
Is your content valuable and comprehensive enough to be linked to?
Are you blogging regularly, sharing valuable tips and tricks to your audience?
Have you been promoting your website on social media, forums, emails, directories and other channels?
Consider advertising your content to boost its reach and amplify it.
#3 Clue In To Your Customers
Knowing what your customers may think, feel or act is a key part of the diagnostic process.
Like a detective, you need to visualise what your buyer would be looking for.
Who They Are? Think about their demographics: Age, Income, Education, Gender, Housing Type, Profession, Family Type and Location
How They Think and Behave? Consider their psychographics, ie the way their interests, lifestyles, beliefs, attitudes, and motivations
What They Are Looking For? What would your consider be looking for online? How can you best meet their needs, wants and desires?
What Their Problems Are? What are the problems and challenges which they face? What can you do to solve those issues?
Other Brands They Are Considering? Are there competitors that offer the same or similar products and services as you do?
(More on building a customer profile here.)
#4 Track Your Analytics
Remember the digital marketing funnel I wrote about earlier?
Well, the good thing about digital marketing is that you can track virtually every step which your customer takes online, from seeing an ad, clicking on a post, reading a blog article, filling up an opt-in form on your landing page, to purchasing your product. In this way, you can work out what your marketing ROI is like.
Once you've got your different analytic numbers, you can fill up your marketing funnel as follows.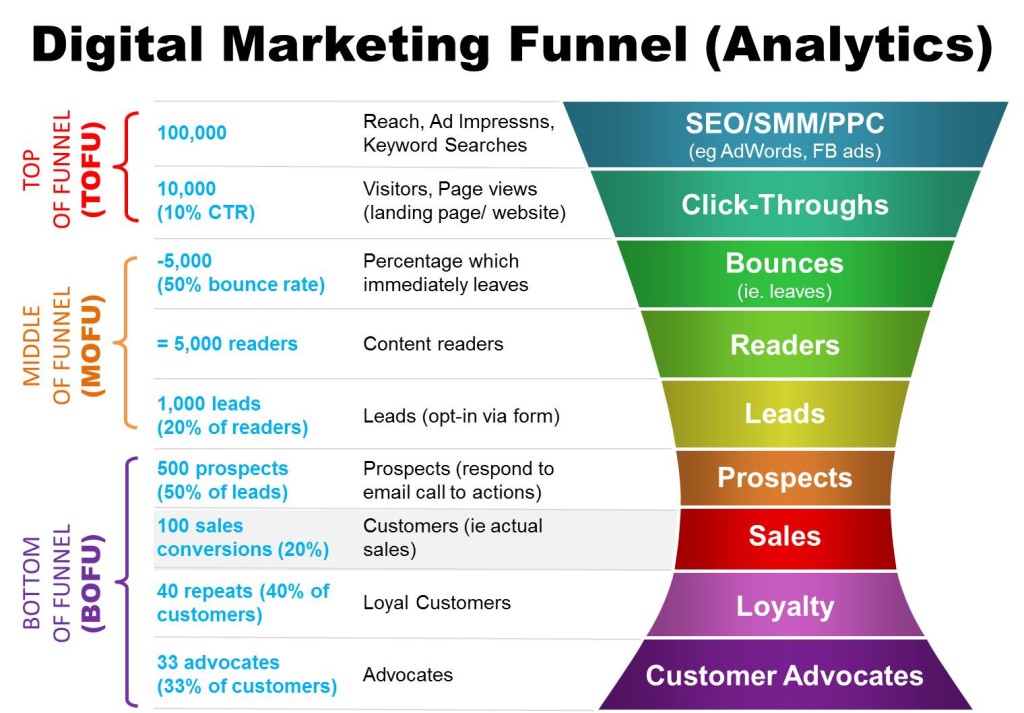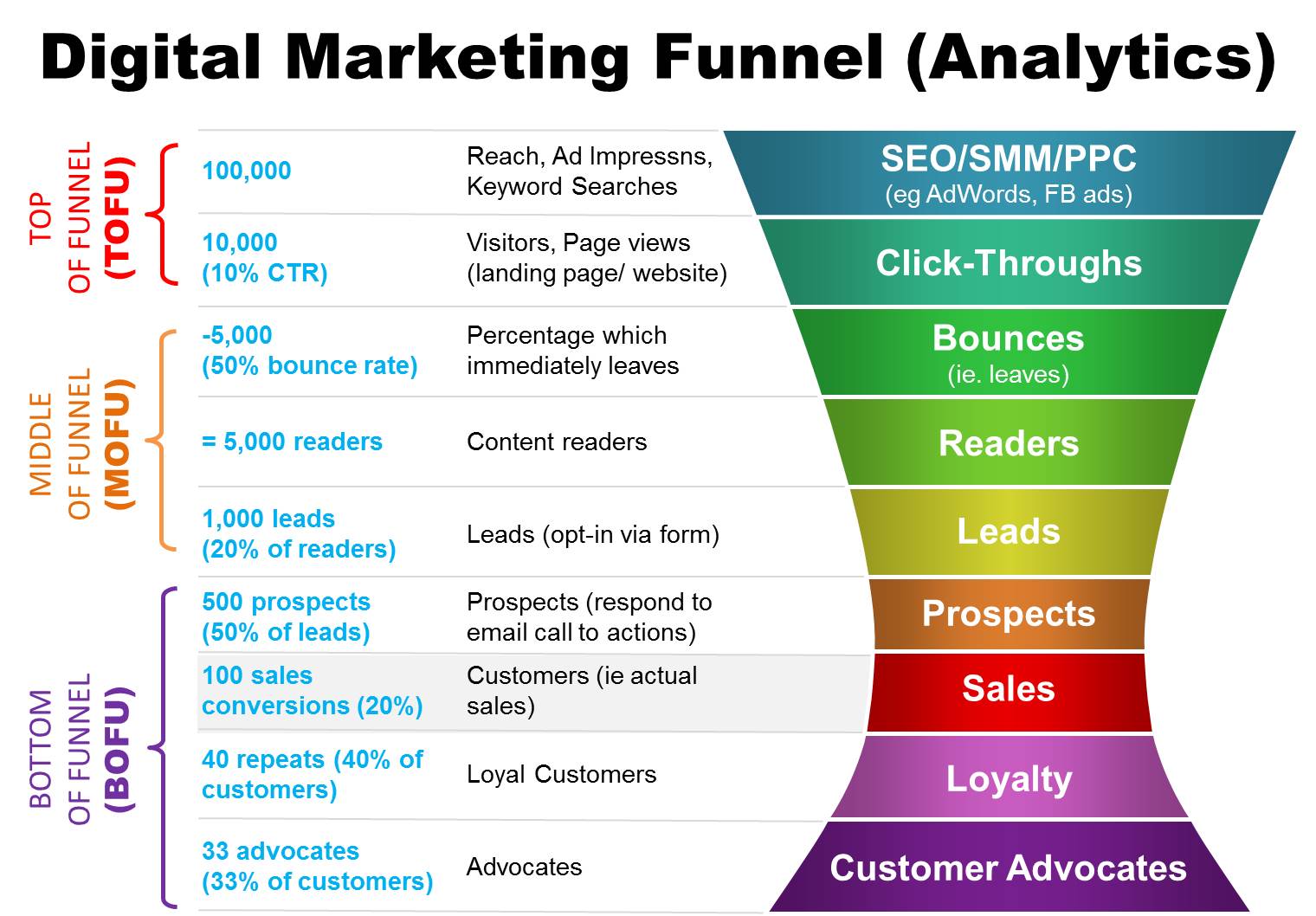 There are multiple tools which you can use, but here are some pretty nifty ones:
Google Analytics: Probably the grand daddy of all digital analytics tools, allowing you to track your web visits, duration, bounce rates, conversion rates, and other useful information.
Online Advertising Platforms: Virtually all online advertising channels allow you to track your ad performance – from Google Ads, Facebook Ads, LinkedIn Ads to other display ads.
Email Marketing Tools: From MailChimp to Marketo, most Marketing Automation tools provide some form of email marketing analytics – from open rates, click throughs, to subscriptions and more.
#5 Sleuth On Your Social Media
If you do use social media networks as digital marketing channels (and who doesn't), consider examining the state of your social media performance.
You can use Facebook Insights to gauge your fan growth, engagement rates, post performances, best times to post, as well as who your audiences are. If you are on Instagram, switch to an Instagram Business Account so that you can tap on richer insights like the number of impressions, reach, engagements, and saves per post.
What about LinkedIn? Well, LinkedIn analytics offers you the ability to trace your post performance from likes, comments, shares and views per post, to the number of views of your personal profile or company page.
You can also monitor your other social media channels like YouTube and Twitter.


YouTube's Studio provides a wide range of useful analytics like the number of impressions, views per video, watch time, subscribers and a whole lot more.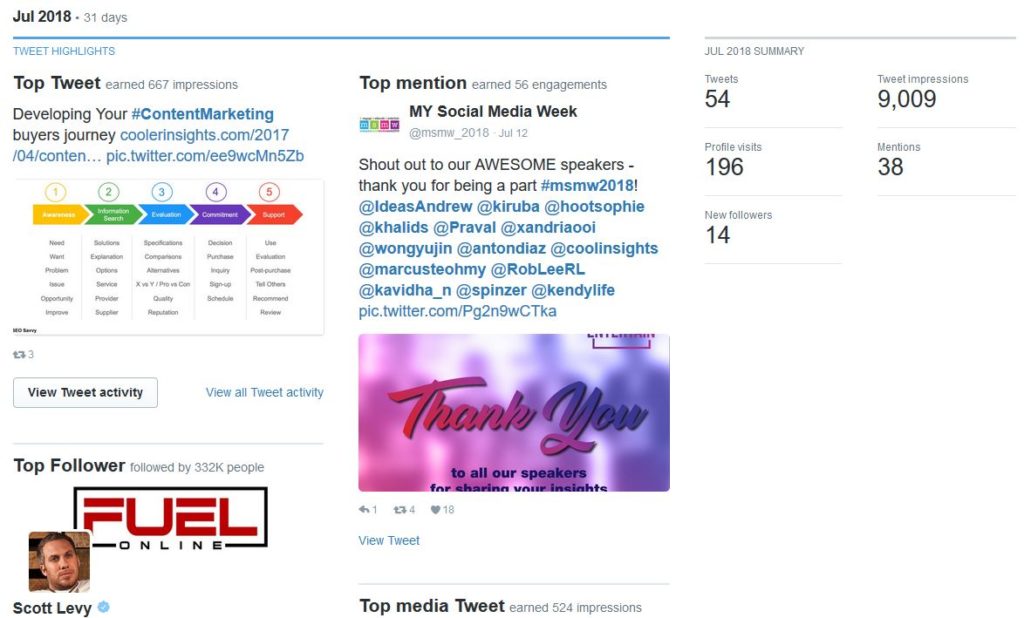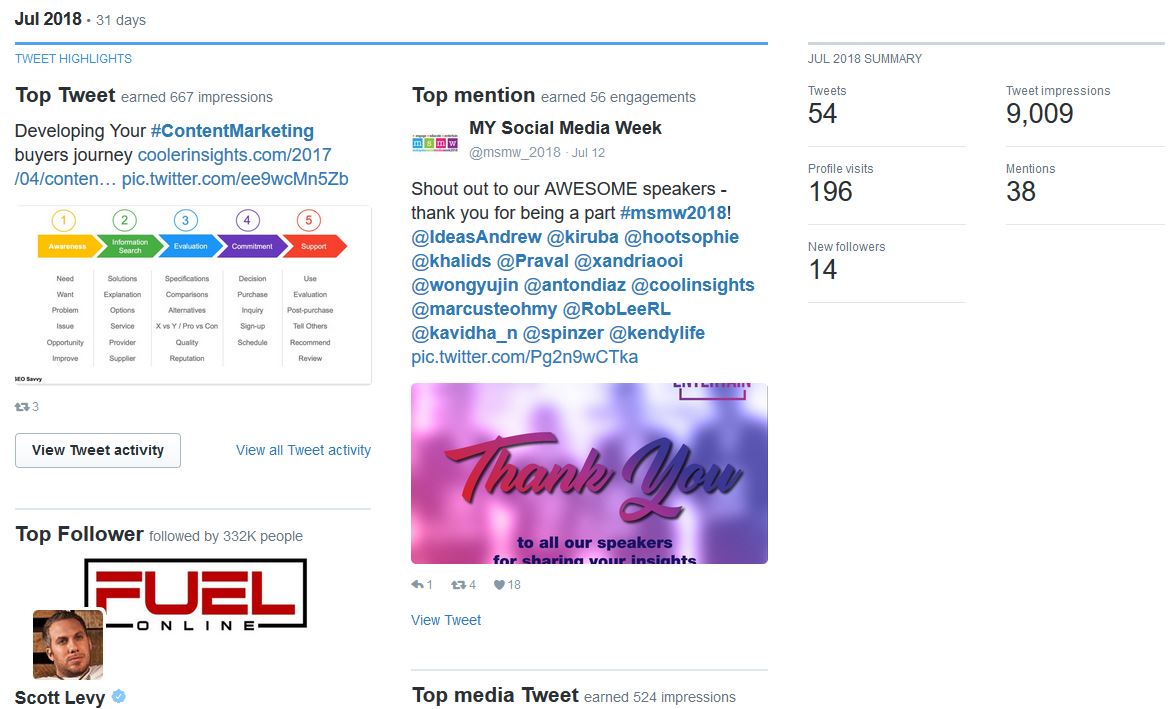 Twitter, on the other hand, lets you know which tweet performed best in terms of impressions and engagements, as well as your number of followers and other useful statistics.
#6 Listen To Court Of Public Opinion
OK, so you have done your investigative work on your website, your SEO, and your social media channels. You've got a pretty good idea who your customers are, and what they are like.
The next thing you need to do is to monitor the online buzz around your brands, topics, competitors and more.
Here are some useful tools which you can use:
Socialbakers: Search for your competitor and compare their Facebook performance with yours. How do you fare? Which posts garner the most engagement?
BuzzSumo: Look for your keywords and topics, and find out which website or blog article generated the most shares on social media. See if you can pick up any tips there.
Google Alerts: Set the keywords and topics that you wish to monitor the web for, and put in your email.
Facebook Pages To Watch: Use this utility on your Facebook Insights tool to see how your competitors are doing.
Twitter Trending Hashtag: Go to Twitter and look for what's trending. This may be a useful sign of the topic that you may wish to focus on.
Keyhole: This allows you to monitor hashtags or topics of interest across Facebook, Instagram and Twitter.
Ready For The Trial?
That was quite a bit to go through wasn't it?
As you'd imagine, what I've provided above are mere fingerprints that should get your started on your digital marketing journey. However, they should provide a useful guide as you uncover and detect what your digital marketing problem truly is.
Remember that in digital marketing, it isn't always elementary.
"There is nothing more deceptive than an obvious fact." – Sherlock Holmes