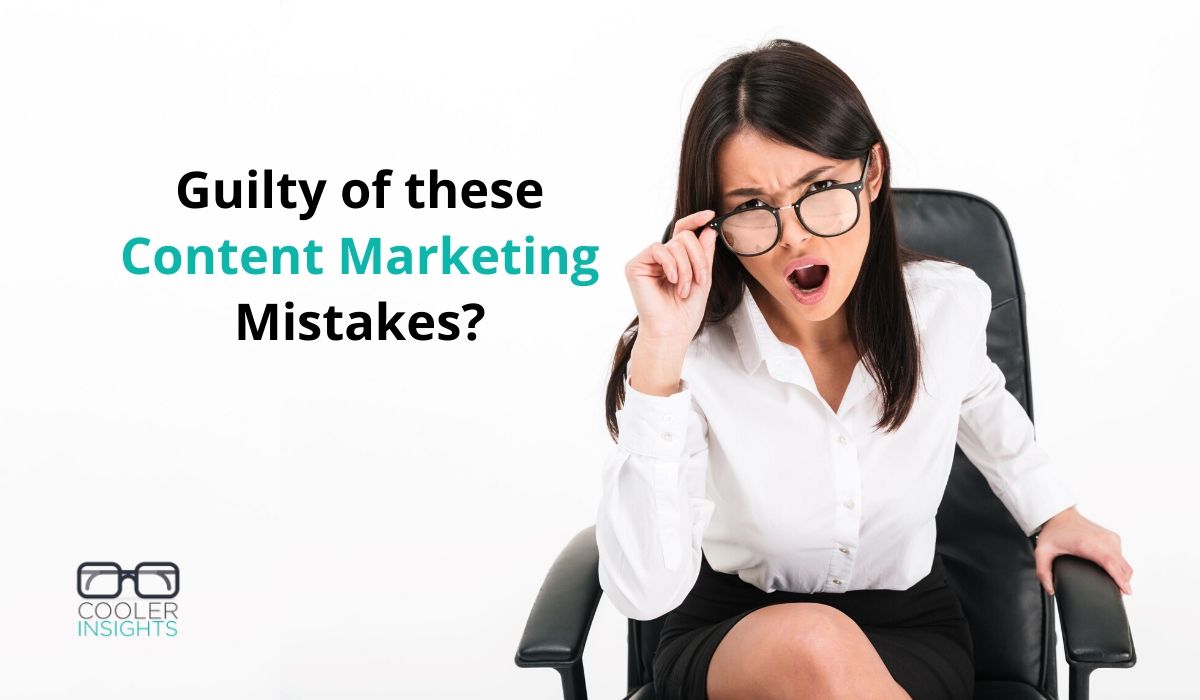 Woman photo created by drobotdean – www.freepik.com
Content Marketing is the breakthrough digital marketing strategy of the 2010s. And it's importance will only grow in the 2020s.
Sadly, many companies get it wrong. Which results in their content marketing campaigns failing to deliver positive outcomes.
Treating content marketing like any other 'flavour-of-the-year' marketing strategy, they fail to achieve the significant gains that a robust content marketing strategy can yield.
I should know.
As an experienced content marketer who have worked with over 63 companies and trained close to 3,000 professionals in online marketing strategies and tactics, I've seen my share of companies (especially startups and SMEs) that failed to reap the full benefits of content marketing.
Often, these firms try to shoehorn the 'old wine' of traditional advertising methods into the 'new wine skin' of content marketing. This is a mistake.
According to Ignite Visibility, most searchers are not receptive to ads in the search results. 85.2% preferred to click on organic results, and 66.7% responded that if Google added more ads to the results, they would want to use the search engine less.
To avoid making the same content marketing mistakes as these companies, do spend a couple of minutes reading through the pointers below.
#1 No Content Marketing Strategy
The first and perhaps most common error which brands make in content marketing is this:
Content Marketing is just about churning out prodigious quantities of articles, videos and social media posts related to your industry.
While developing content alone may get you eyeballs (and visitor traffic), doing so randomly will only resulted in wasted efforts.
What you're doing is like firing bullets in the forest, and hoping to hit your enemies.
The best content marketers spend time crafting a Content Marketing Strategy. This would cover the following areas:
Content Marketing Goals: What do you hope to achieve?
Target Audiences: Who do you wish to reach? (more about customer profiles here.)
Competitor and Trend Analysis: What are some of the latest developments in the space?
Content Types: What are the different types of content that you wish to create?
Content Calendar: What is the best frequency for your published content?
Content Marketing Channels: Which channels will you use to publish and promote your content?
Content Marketing Metrics: How do you measure success?
(You can read more about it here.)
#2 Excessive Focus on Vanity Metrics
What are Vanity Metrics?
In the digital or content marketing world, they are indicators that purportedly show how 'successful' your campaign is without yielding a tangible financial return.
Often, such metrics may include the likes, comments, and shares of your post, as well as 'size' indicators like your web visitors, social media fans, and so on.
Savvy marketers know that it isn't the number of page views alone which matter, but your Conversion Rate. In other words, how many of those likes, comments, shares and clicks translate to paying customers.
Which brings us to the next common failure in content marketing.
#3 Ignoring Your Buyer's Journey
Contrary to popular belief, not every potential customer is interested to read about your latest 'hot deal' or 'state-of-the-art product'.
Trying to shove a promotion down the throat of a prospect who isn't ready will only result in unsubscribes, unfollows, or worse—negative reports of your online ads.
And yes, spamming isn't selling. Not by a long shot.
What you should do instead is to map out your customer's buying journey, and curate and create content that answers their specific needs at each step. This can be visualised by the diagram below.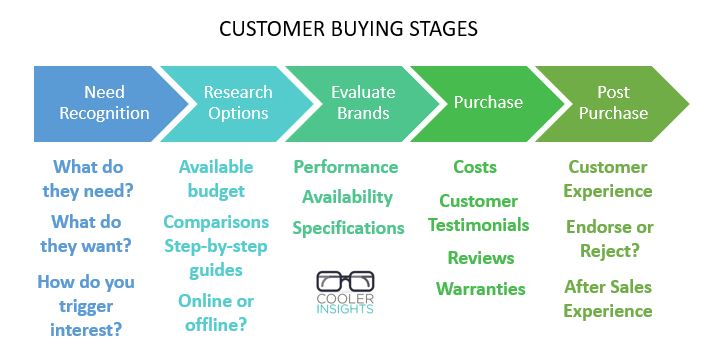 #4 Shiny Bright Objects Syndrome
Yes, A.I. and chatbots are sexy topics right now. So are blockchains and internet Of Things (iOT) devices.
But that doesn't mean that you should use these technologies in your content marketing efforts.
Or a fancy smartphone app, for that matter.
While there is a time and place for technology—heck, content marketing wouldn't be effective without the Internet—you need to consider how they add value to your customer's intent.
Not yours. Or your preferred technology vendor.
Having written that, there are a couple of useful technology tools which you can use to improve your content marketing efforts.
They include tools like Hemingway App that help you to write better content, SEO keyword research tools like Ubersuggest, and competitor spying tools like SpyFu, among others.
(Read this article for more free tools you can use.)
#5 Under Investment in Content
Good content isn't free. A decent blog article (like this one…), video, infographic, podcast, or email takes time to produce.
Sadly, many companies still do not see the value of content. Their "content marketing" efforts comprises one or more of the following:
Trying to DIY (without any training)
Getting the intern (who is young and should be digital savvy) to do it
Hiring the cheapest freelancer they can find on Fiverr, Upwork or other freelance platforms
Now there isn't anything wrong with wanting to save money.
But if you wish to succeed in content marketing, you need quality content and not quantity of content. This means that the content producer you're working with should be…
Knowledgeable about how content marketing works
A wordsmith with strong writing chops
Equipped with strong digital marketing fundamentals
Experienced in handling content marketing work
(Learn more about the different jobs which a Content Marketer needs to do.)
#6 Lack of Patience
Content marketing is a marathon, not a sprint.
Anchored by sound SEO and Social Media Marketing principles, effective content marketing often takes months or even years to bear fruit.
Unfortunately, many companies do not have the patience to wait for their organic traffic to increase.
Anxious to score quick wins, they feel disappointed when their content marketing efforts do not bear fruit in 2 or 3 months, and decide to abandon ship. Often, this happens just when the tide is turning in their favour.
While content marketing is a slow-burn strategy to marketing success, it can be more rewarding over the long-term. Good content pieces can continually attract qualified traffic to your website, leading to better conversions.
A common way to do so is to pair your content marketing efforts with retargeting or remarketing ads. (Learn what retargeting is in item #2 of this article.)
#7 Overly Strict Brand Guidelines
Heard of Integrated Marketing Communications or IMC?
As I've previously written here, a company's brand take centre-stage in the traditional IMC view of marketing. Where possible, all channels need to convey a consistent look and feel, with appropriate "messaging" that helps to solidify a brand's positioning in the minds (and hopefully hearts) of the consumer.
While ensuring brand coherence is important, IMC can be taken to extremes.
Time and time again, I've spoken to brand marketers keen to embark on content marketing who felt hampered by "corporate HQ." Fixated by the need to follow their brand voice guidelines, they police themselves strictly.
The end result?
Content which sound robotic, cold, boring, and (you guessed it!) corporate.
In other words, stuff that nobody wants to read!
#8 Writing Content like Ad Copy
As I've previously explained, the whole basis of content marketing lies in teaching to get marketing.
You earn the respect and trust of your prospects through sharing valuable content which helps them to solve problems and improve their work, company or life.
Tragically, many marketers do not see it that way.
Driven by their desire to quickly close deals, they produce promotion-heavy content pieces—articles and emails that pretend to offer value but are actually ads.
Now there is nothing wrong with including a Call To Action (CTA) or 3 in your content piece.
However, it shouldn't mean that your entire article or video merely focuses on extolling your product benefits.
Or claiming that it is the ultimate solution to your client's woes.
Remember that you need to provide genuine help and not hype.
#9 No Lead Nurturing Strategy
According to Salesforce, it may take as much as 6 to 8 interactions to generate a viable sales lead.
This means that a single blog article, 'How-To' video, or Facebook post is unlikely to trigger an immediate sale.
On the flip side, traditional promo-driven ads may result in a couple of sales (although the cost-per-sale is often difficult to track for offline efforts).
The way to solve this is to pair lead nurturing with content marketing.
Lead nurturing is the process of cultivating relationships with buyers at every stage of the marketing funnel.
It looks at providing the right content to the right potential customers at the right stage on the right channel in order to move them towards becoming a loyal paying customer over time.
By using marketing automation systems like HubSpot, Marketo, or Infusionsoft, content marketing and lead nurturing can be systematically planned and automated. This can significantly improve the ROI of your content marketing campaigns.
#10 Poor Web Design and User Experience (UX)
Last, but certainly not least, many companies do not consider how web design and UX influences content marketing.
While their efforts in producing quality content may be prodigious, their web design and layout sucks. Thus, they may attract 10s of thousands of organic web visitors per month, but are unable to convert them into leads or paying customers.
To prevent this, you need to do periodic content and website audits.
Check that your web pages are optimized for mobile devices, load quickly, and is designed for conversion. Segregate your pages such that blog articles (optimized for SEO keywords and reading) have a different design from your landing pages (optimized for conversion).
Conclusion
Do any of these content marketing mistakes and errors sound like something that your company is guilty of?
If they do, I hope that you'd take the necessary remedial actions to correct them.
Done properly, content marketing can be a powerful way to continually attract leads to your business. I should know, as we get an average of 1 to 2 leads every week through our content and social media marketing efforts.
Need Help with Your Content Marketing?
Fill in the contact form below for a free 30-minute Skype or Zoom consultation session!