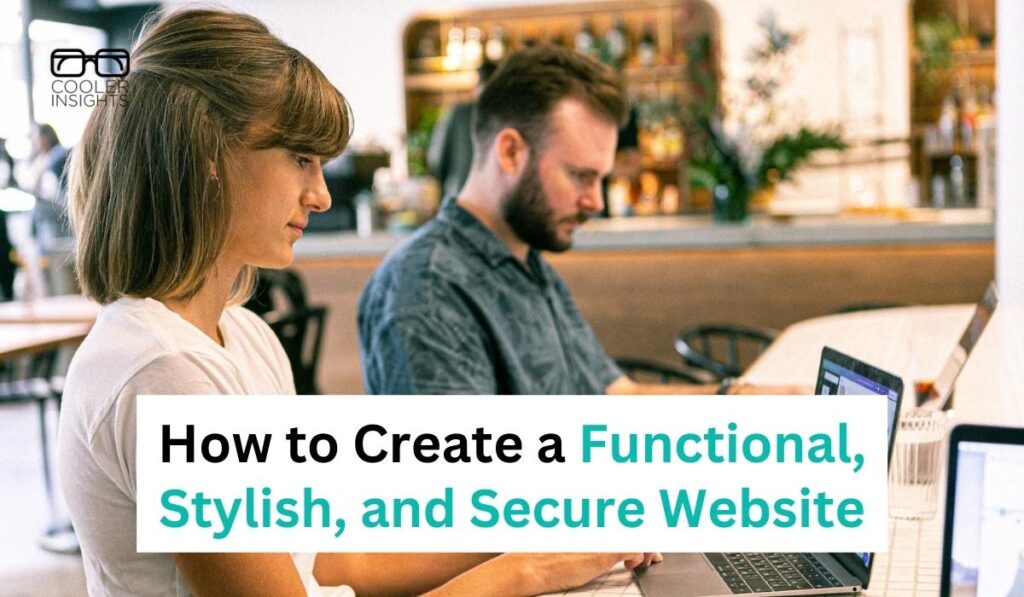 Photo by Canva Studio
As the digital landscape continues to develop, your website is increasingly important. It is a tool that combines sales, marketing, and communication.
In many ways, it's your most visible storefront in the global marketplace. As such, it's worth taking the time to get it right.
This should include placing some focus on three key pillars of web design:
Functionality
Style; and
Security
When visitors face fewer hurdles to using your site, they can be more willing to interact with it.
A stylish site creates a positive impression of your brand while high security standards help to engender greater trust.
To get you off to a solid start, we've put together five essential steps to creating a functional, stylish, and secure website.
Prioritize User-friendliness
No matter what industry you operate in, you want visitors to positively interact with your website. The more they are willing to explore and utilize your online materials, the more meaningful a connection they're likely to make with your company.
One approach to making a user-friendly and successful website is to consider intuitive navigation. Your visitors shouldn't have to hunt around to find the areas of your website they're most interested in.
Design the functionality of your site as a journey, making it easy for your visitors to understand where they are, identify the next step, and take it.
If you aren't sure what users are looking for in a website, there's no need to reinvent the wheel. Instead, make use of internal data to identify how customers interact with your existing pages.
This way you can see which pages are performing poorly and are due for an upgrade, and which are doing well so you can utilize those strategies again.
At the same time, use external data to analyze customer demographics and search engine activity. External data helps you understand your customer's interests and what they're looking for, so you can better cater to them on your website.
Gather Effective Design Collaborators
Wherever possible, the design of your website shouldn't be the product of just one person. This limits the style to a single perspective.
Having just one person determine your web design limits your range of aesthetic influences and ideas. It can also reduce the opportunities for creative exploration and discussion that could produce innovative outcomes.
Therefore, it's worth making your website design a collaborative effort between multiple like-minded associates.
To make this work, you'll need to put the right people and protocols in place to ensure your design collaboration is effective. From the outset, you should create a team from a diverse range of backgrounds. This ensures that your design project benefits from different perspectives and areas of expertise.
You should also make certain all members are clear on the goals and intentions for your website, so they have solid parameters to work within.
Most importantly, set high standards for communication within the group so that everyone has the chance to meaningfully contribute, create, and critique.
Research the Risks
There are few areas of the digital landscape that aren't at risk from cybercrime. One of the mistakes many small or independent businesses make is that they're less of a target than corporations.
Unfortunately, some hackers target small business websites because they assume these sites are less well-protected.
As such, it's important to take the time to research the types of risks your website is likely to face and put relevant protections in place. Some of these may already be familiar to you.
Distributed denial of service (DDoS) attacks are increasingly common and designed to block genuine customers from accessing your site. You may already be working with your network provider to develop solid DDoS response protocols like alternative networks and traffic monitoring.
However, it's equally important to gain an understanding of less well-publicized threats. For instance, brute-force attacks can see hackers gaining access to your site by figuring out your password. Some design algorithmic formulas while others utilize software designed to determine likely usernames and passwords.
Your best protection against this and many other threats are strong password protocols. Make sure you produce complex passwords for your site and accounts and change these regularly. Wherever possible, use 2-factor authentication.
Promote Accessibility
The functionality of your website isn't just a tool to direct customers to the areas you want them to engage with. When designed effectively, the way your site functions makes it an inclusive place for everyone.
A focus on web accessibility helps you to maintain your ethical duty to be welcoming to all. At the same time, it widens your potential consumer base and can bolster your reputation.
Implement strong accessibility standards throughout your design process. For instance, while using eye-catching colors is a good aesthetic web design tip, you should also pay attention to contrast.
When there isn't sufficient contrast between the foreground text and background colors, those with vision challenges can find it difficult to use your website.
Many web designers today are well-versed in what the common accessibility standards are. Indeed, this is an important factor to discuss when hiring a web design professional. It can also be wise to get guidance from organizations like W3.org. If you're using a content management system (CMS), you may find it has a compatible plugin to scan your content for accessibility issues.
Maintain Brand Consistency
A stylish website doesn't just mean you're utilizing trending homepage layouts or color schemes. It also involves being consistent in your brand design approach.
If you're utilizing different palettes on various pages of your site, your website can appear disorienting and look unprofessional. Similarly, changes in page formatting throughout the site can appear clumsy and chaotic.
To prevent this, create a set of brand design standards for your site from the outset of development. This helps you to establish a style you feel reflects your business. It also sets expectations for your visitors and communicates a sense of reliability and professionalism.
You can also find it has a positive impact on the good functionality of your site by making it more pleasant to navigate.
Conclusion
Your website is an invaluable tool, so it's vital to make smart choices in its design. Make sure all elements of your site are both user-friendly and accessible to all.
Utilize a diverse team of design collaborators to ensure your pages benefit from different perspectives.
Be thorough in gaining an understanding of cybersecurity threats so you can better protect against them.
Do also remember that brand consistency is a key component of your style choices.
Creating a website is a continuing process, but starting with these essentials empowers you to start developing the most positive web presence.


BIO: Ainsley Lawrence is a freelance writer from the Pacific Northwest United States. She enjoys writing about better living through education and technology. She is frequently lost in a mystery podcast.