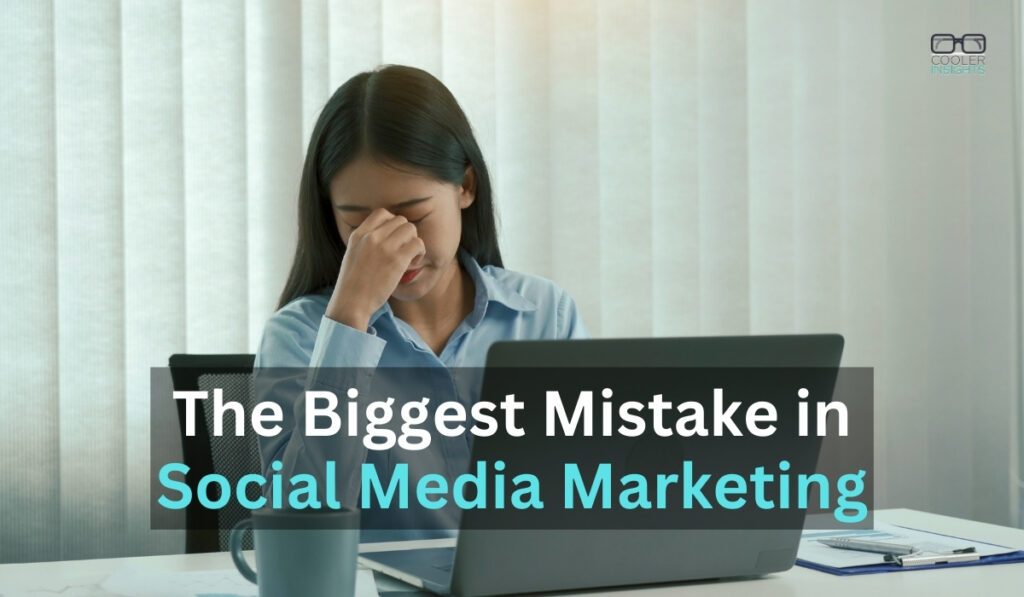 Do you know what's the biggest mistake in social media marketing?
One that many companies and individuals are guilty of time and time again?
One that I see happening far too frequently on Facebook, LinkedIn, Instagram, TikTok, YouTube, and yes, even Twitter?
This: Treating social media platforms as product advertising and sales channels.
Social Media Marketing isn't Product Advertising
Contrary to popular belief, Facebook, Instagram, Twitter, TikTok, LinkedIn, YouTube, and other social networks aren't there for you to splash your ads.
(Although their media owners will certainly like you to spend more on social media ads…)
Social media users don't enjoy being pushed with an endless avalanche of promotions, deals, sales offers, and specials.
On the contrary, many are turned off by advertising — and they'll block and report ads that are irrelevant, inappropriate, or offensive.
Your social ads will then become less and less effective, and your advertising cost per result will increase.
How then should you use social media channels to market and promote your brand?
What Social Media Users Really Want
First, you need to understand why people choose to spend hours on Facebook, Twitter, Instagram, YouTube, Linkedin, TikTok, blogs and other social networks.
The easiest way to discover their social media behaviour? Study your own social media usage patterns!
Often, we are online because of one of the following:
Find out what's happening in our friends' lives — both personal and professional
Learn a new skill, trick, or technique
Catch up with the latest news, trends and fads
Be inspired by an expert or leader
Relax, unwind, and decompress
Post and share what we're up to
Ask questions or poll their social networks for solutions to a pain
Be entertained
Interact and chat with like-minded others
In short, social media users are really there because they wish to consume relevant content, connect with like-minded others, and chill-out after a hard day's work.
What Social Media Users Do Not Want
Very few people log into social media networks like Facebook, TikTok, LinkedIn, or Twitter just to…
See what ads brands are pushing out (unless they're social media marketers like me!)
Check out what new products companies are launching
Watch an endless stream of live-stream selling videos
Spend more money on stuff they don't need
Peruse irresistible deals, discounts, offers, and specials
Spend money on a fancy new gadget or service
Study the features and benefits of a brand
Online users with such buying intents will probably use search engines like Google or an eCommerce platform like Amazon or Lazada to look for products to buy.
They will also visit your brand's website, or look for reviews on review websites.
Have a look at the chart below from Data Reportal. While users did indicate finding products to buy, it isn't a top priority.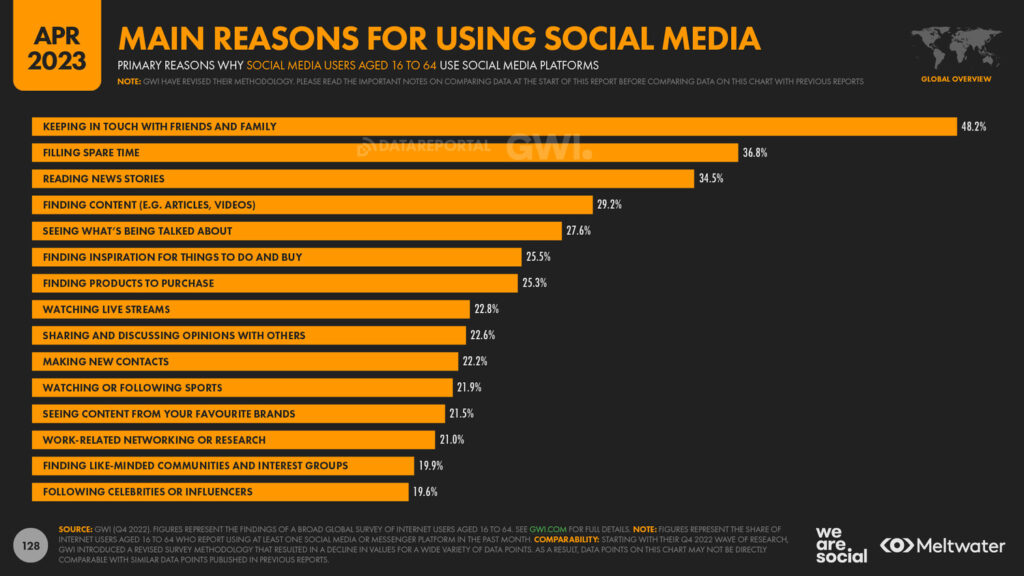 Courtesy of Data Reportal
This brings me to the next all important point.
How Companies Get Social Media Marketing Wrong
Sadly, many companies don't get what social media users are looking for — even when the folks behind a company's social media accounts are social media users themselves!
We find it irritating to see an irrelevant spammy ad on your Facebook, LinkedIn or Instagram feed, yet think nothing of bombarding our target audiences with the very same hard-selling ads!
Also known as inside-out thinking, you only consider your own perspective as the brand owner and marketer. Hence, you publish post after post trying to sell your products or services ad nauseum.
Remember…
Social media marketing isn't just social media advertising
Social media users do not enjoy being bombarded by endless tactical ads
What Should You Use Social Media For
How then should you use your social media channels?
Here are some ways to make your social media marketing efforts more holistic and effective.
#1 Conduct Market Research
Do you know that social channels like Facebook, LinkedIn, YouTube, Twitter, Instagram are perfect places to conduct market research?
The same also applies to instant messaging apps like WhatsApp, Facebook Messenger, Telegram, WeChat, and Signal.
Instead fostering an unwanted or unneeded product to a hapless audience, why not tune in to what they're interested in?
Start with these research tools. Or do simple surveys to ask your networks what they'd be keen on.
#2 Boost Brand Equity
Will you buy a product or service from an unknown website? What about one from Amazon, Taobao, Lazada, or Shopee?
The difference? Branding.
Social media channels like Facebook, Instagram, LinkedIn, YouTube, and TikTok are great platforms to build your online brand.
You can do so by showing up regularly, and telling people what values your brand stands for. This works equally well for corporate, product and personal brands.
#3 Improve Public Relations
Public Relation or PR for short can literally make or break your organisation. We've seen countless instances of companies mismanaging their online reputations — this often leads to both long-term and short-term harm being done to their brand.
Social media is now ground zero in the battle for your stakeholder's hearts, minds and wallets.
In managing your social media brand, consider how you can shape conversations around your brand, manage communication crises more effectively, and enlist the help of influencers and Key Opinion Leaders (KOLs) to champion your brand.
#4 Nurture Online Community
Communities are the lifeblood of social media. In the online world, they can exist in the form of online forums, Facebook Groups, LinkedIn Groups, or subscribers to a Telegram Channel or Group.
Growing, nurturing, and sustaining your social media community plays a major role in marketing your brand. However, you need to always consider the best interests of your community members.
Think about how you can best serve the needs of your members, and what you can do to draw them closer to your brand.
(Read more about the art and science of building a powerful online community here.)
#5 Publish Useful and Valuable Content
Content is king in the online world, and major brands are now becoming media publishers.
You can't do social media marketing without having a consistent calendar of relevant, helpful and valuable content.
When doing so, seek to be focused on your target audience's interests, needs and pain points. And yes, it doesn't hurt to consider injecting some viral content every now and then.
#6 Deliver "Wow" Customer Experiences
The best forms of social media marketing are those done by your happy customers. Also known as "citizen marketers", these advocates can significantly expand the online reach of your brand.
To build a pool of ardent brand advocates, you'd need to provide sterling customer experiences. This applies both online and offline, of course.
What happens if you come across unhappy customers — or worst, haters determined to tear down your brand? Follow the best practices in this guide.
#7 Strengthen Customer Participation
Last, but certainly not least, you should tap on social media to not only acquire new customers but engage existing customers more closely.
This may involve asking them what they'd like to see, engaging them in one-on-one chats (through instant messages for instance), or co-opting them into a focus group discussion.
You could also ask your best customers to leave your review if they enjoyed your product or service.
#8 Occasionally Sell Stuff
Yes, you still need to get your bills (and staff) paid. However, selling on social media is quite different from selling on a physical shop.
There is an art and a science to it. This includes demonstrating how your product works, providing helpful content related to your product, and answering questions that prospective customers may have.
(I'll write more about this in a future article.)
Conclusion
Social media marketing has emerged as one of the forerunners in the digital marketing race. Sadly, many brands and individuals treat social networks like advertising channels.
To take full advantage of what social media can offer, you need to tap on them to research your markets, build your online brand, serve your communities, foster brand advocacy, and improve customer experiences.
What is your biggest takeaway from this article? Share it with me in the comments below!