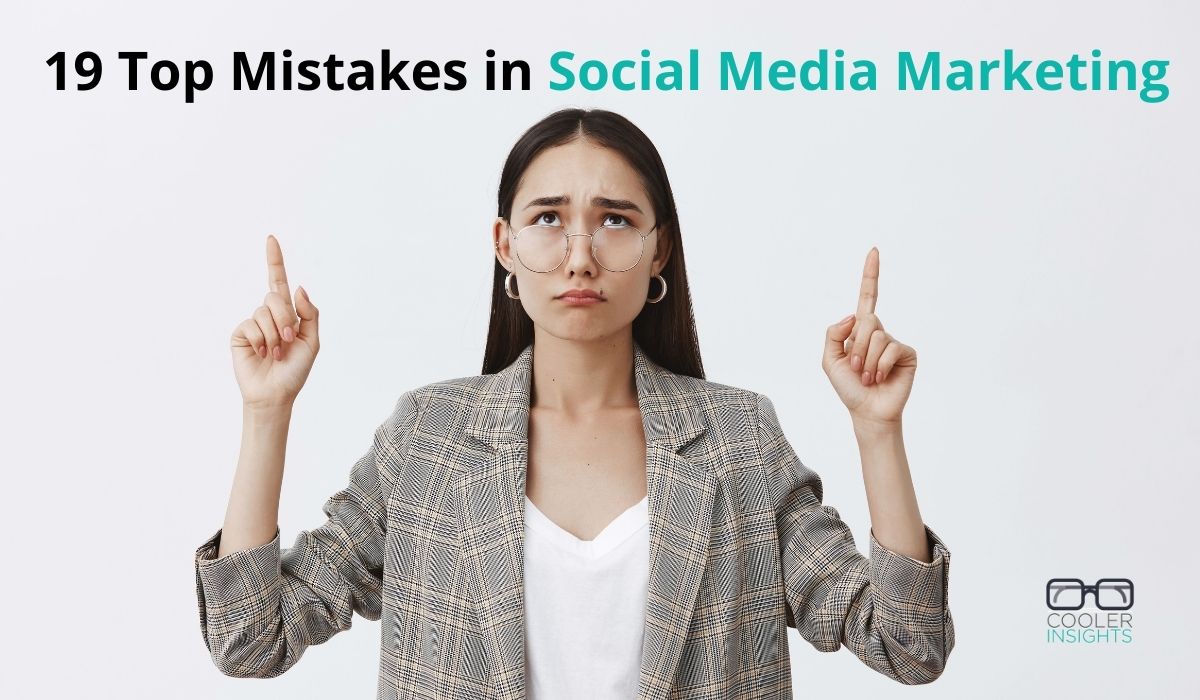 Woman photo created by cookie_studio – www.freepik.com
Social media marketing is a marathon, not a sprint.
Unlike traditional forms of marketing, sustained and enduring success in social media marketing can only be achieved by observing a disciplined regime over a long time frame.
Unfortunately, many marketers and publicists treat social media just like any other mainstream marketing channels.
They broadcast endless streams of self-serving messages, fill their Facebook pages with promotions and deals, or ignore what their customers truly need, want or desire of them.
As a result of this, they consider social media marketing as an "ineffective" strategy which is unable to generate a positive ROI.
Are you guilty of some of these habits and practices? Let us go through the list – there are 19 altogether.
#1 Unclear Social Media Objectives
To succeed in any digital marketing effort, you need to begin with the end in mind.
What are your short, medium, and long-term goals for social media marketing like? How do you know if you've arrived? What metrics are you using to determine success?
A good way to crystallize your thoughts here is to develop a social media marketing roadmap, like the one I've done below:
#2 Overly Broad Topics
As a blogger who morphed into a social media marketer, I was guilty of blogging about any topic which caught my fancy. While this brought me momentary visibility and success, it could also dampen my efforts in dominating a specific niche.
Do not make the same mistakes as I did. Instead, choose topics that are relevant to your business, important to your potential customer, and easy to rank for (more on SEO later).
Which brings me to my next pet topic.
#3 Overuse Newsjacking
Regular readers of my blog know that I am a keen proponent of newsjacking as a content strategy. It is a useful technique to ensure that your content remains at the top of your audience's mind.
However, overuse or abuse of newsjacking makes it difficult for your social media marketing activities to rank for any specific topic or keywords.
Frequent use of newsjacking may also influence customer perception of your brand.
#4 Omit Customer Pain Points
Your customers are active online because they are looking for solutions to their problems. Failing to address these pain points puts your business at a disadvantage compared to your competitors.
To find out what these are, consider using the following resources:
Quora: Check out the most commonly asked questions pertaining to your industry, and craft content which addresses that on your blog.
Google Keyword Finder or SEMrush: Determine what the most sought after keywords are for your industry, and create content which includes those keywords in your titles, meta-tags and meta-descriptions.
Online Forums: Look for the commonly asked questions in an online forum related to your industry, and address those on your social media channels.
#5 Lack Customer Knowledge
Your prospective customers are not interested in what your brand is all about (unless you are a Hollywood star). They are only interested in you if you're focused on providing value which they care about.
Think about who you're targeting and what their demographics, psychographics, and online behaviours are. Build a detailed customer profile, and create valuable social media content which meets their specific concerns.
#6 Failure to Consider Right Topics
Beyond zooming in on the right target audiences, you need to also choose your area of specialisation. As a popular saying goes…
"The riches are in the niches, bitches!"
To narrow down your topics, consider limiting yourself to perhaps just 3 or 4 related topics of interests.
For example, if you operate a hotel brand, you could create content related not only to the booking of hotels, but possibly how travelers can plan their itinerary, find the best land transport options, or locate great eating places at their immediate vicinity.
#7 Too Much Sales Promotion
This is probably the most common error in social media marketing.
Let's not forget that social media marketing functions primarily for "social" activities. In other words, consumers use Facebook, Instagram, Twitter or LinkedIn primarily to connect with others using content as a form of "social currency".
Before you earn the right to ask for the sale, you need to provide genuine customer value. This can be achieved through providing a mix of content which educates, entertains and solves problems for your customer.
Follow the 80/20 rule for content and you'll be fine.
#8 No Clearly Defined Offer
The flip side of overselling occurs when your value proposition is unclear. In other words, what you provide to your potential customers is ill-defined or poorly communicated.
To achieve a better ROI, narrow down what your key product offerings are. Describe them clearly on your website and social media channels in your "About" pages, and share what you do every now and then.
#9 Ignore Search Engine Optimisation (SEO)
For the longest time, I've blogged diligently without any regard for SEO. This has been costly for me in terms of lost search traffic and unmined keywords.
Now that I'm a lot more well-informed about the importance of SEO (especially for WordPress), I've become a lot more conscious about the content which I write about, curate and share on my social media channels.
#10 Insufficient Images and Videos
Courtesy of Virginia Creative Group
The social web is a visual web. In fact, visual content is often far superior to mere text alone.
What should you do if you're a mostly text person – like yours truly? Consider the following:
Include at least one or two images with every social media post.
Outsource design to a freelance designer.
Use a simple design tool (like Canva.com) to create social media friendly images.
Embed relevant videos to your blog post, or share them on social channels like Facebook, Twitter and YouTube.
#11 Poor Social Customer Experience
Do you know that customer experience management is regarded as one of the greatest opportunities in the digital age?
Unfortunately, many organisations fail to make use of their Facebook pages or Twitter Accounts to address customer complaints, queries and feedback.
To differentiate yourself from your competition, make it a point to provide excellent social media customer care. You'll be surprised how much value this could be.
#12 Be Boring
Social media is a highly competitive space for your customer attention. You're up against the likes of baby photos, puppy videos, Buzzfeed articles, and YouTube influencers!
While you may not want to be a comedic sensation on Instagram, you could inject some fun and humour in your content. Hugh MacLeod of Gaping Void is a great example here.
#13 Feeble Relationship Building
Social media is highly relational. The stronger the relationships you build with your communities, the better you'll engage with them.
Learn from the likes of celebrities like Lady Gaga, who has mastered the art of building strong communities of raving fans worldwide. You can read more about her methods here.
#14 Neglect to Use Content Calendar
Whatever gets scheduled in a calendar gets done. This rings especially true for social media, where consistency and regularity in content production is rewarded.
Contrary to popular belief, you don't have to create one blog post and two Facebook posts every day. However, it does help if you keep to a regular schedule and to supplement your own created content with curated content that you've sourced elsewhere.
What's more important though is to avoid at all costs the next mistake.
#15 Poor Quality Content
In social media marketing, you need BOTH quality and quantity. Sacrificing content depth and utility for frequency could be costly for you in terms of engagement over the long term.
If your resources are limited, I'd advise you to concentrate on creating fewer but better quality pieces of content. This could be blog posts, Facebook posts, infographics or videos which address specific customer pain points, include attractive visuals, and are well-written with minimal language or factual errors.
#16 Fail to Build Marketing Funnel
To justify your investments in social media marketing, you need to show results. This is where building and tracking your digital marketing funnel comes in.
Spend some time, energy and money to learn how you can build your own digital funnel. Begin by understanding how Google Analytics work, and what you can do to track the flow of visitors through each stage of your digital marketing campaigns.
#17 Insufficient Analysis and Testing
Like any digital marketing technique, social media marketing can be highly idiosyncratic. While there are lots of best practices which you can read about, nothing beats putting all your theories to the test.
A good way to do so is to conduct A/B tests for the copy and designs for your social media posts. You should also track which format of social media content works better for you, as well as the topics and keywords which gain better traction.
#18 Fail to Update Knowledge
Social media is a fast changing and ever evolving landscape. Beyond innovations by the giants like Facebook, LinkedIn and Twitter, new social channels like SnapChat and Line are changing the way social media is used.
While certain principles remain evergreen, the constantly changing algorithms of Google, Facebook, Twitter and other platforms make it a necessity for you to keep yourself updated on how your customers – and competitors – are using social media.
#19 Over Sharing – and Spamming
Last, but not least, you'll need to moderate how often you post on social media.
I know that it's tempting to snap a photo of a gorgeous double rainbow and share it on your corporate Facebook page, Twitter account, and Instagram account. However, does it relate to what your social media objectives are? More importantly, how will your online community view such content?
More in My Social Media Marketing Course
Overcome these common mistakes in social media marketing by signing up for my course. Learn a 6-step process for social media marketing campaigns in a rigorous two-day training course and bring your social media campaigns to life.