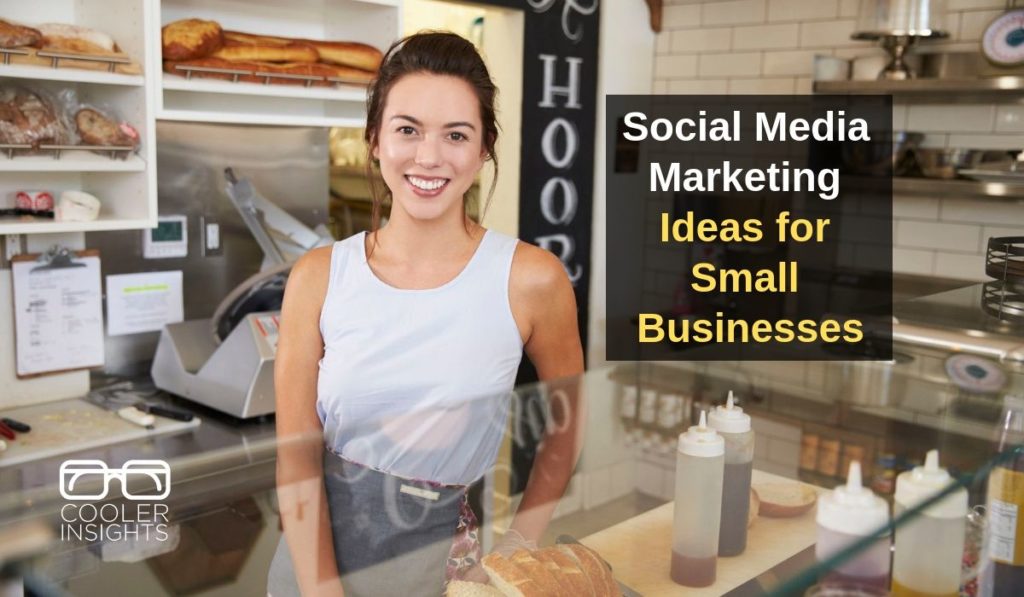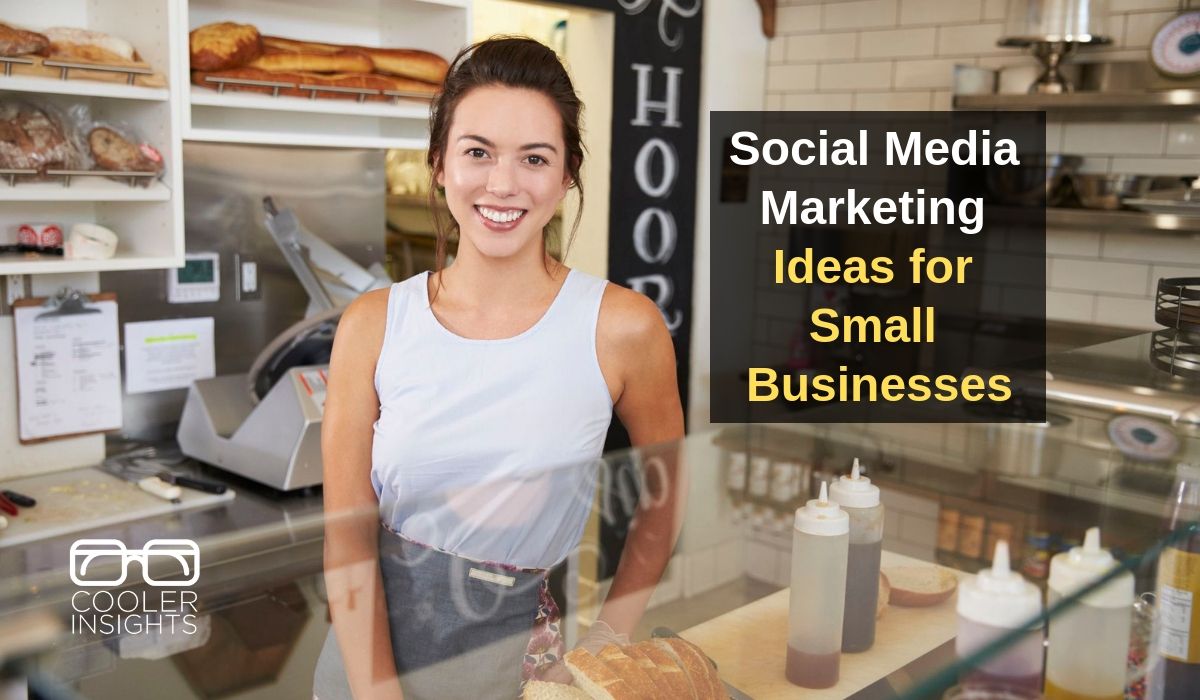 Do you run a small business? Wish to improve your brand awareness, generate business leads and attract customers using social media?
In this article, I will cover the social media marketing strategies and tactics that I use as a small business owner, using mostly cheap or free apps and tools.
But first, let us look at some of the challenges faced by small businesses in marketing their brands.
Small Business Marketing Challenges
Unlike large companies or government organisations, small businesses face a number of constraints that are unique to them:
Lack of Manpower: Most small businesses lack the staff strength and talent pools available in larger organisations
Lack of Marketing Expertise: Most entrepreneurs start their businesses after they've gained proficiency in their desired craft, be it in cake baking, fashion merchandising, accounting, or healthcare. As specialists, however, they may not know basic principles of marketing.
Highly Operational: There is a lot of daily churn and burn in small businesses, from acquiring customers, sourcing for suppliers, keeping the premises in order, paying the bills to ensuring long-term sustainability
Excessive Multi Tasking: If you run a start-up or small business, you are probably running everything simultaneously; from HR, finance, operations, logistics to sales and marketing.
Limited Marketing Budgets: As a small business owner, every dollar and cent counts. While you'll like to hire the best creative minds money can buy, the reality is that doing so may cost you an arm and a leg. (That doesn't mean you shouldn't invest in talent – the question is more of where you should put your money in.)
Against such a backdrop, what can small business owners do?
There are three ways to go about doing this:
Hire an Advisor: If you find it prohibitive to engage an agency, why not work with a mentor or consultant? Drop us a note if you wish to consider us.
Learn How To Do It: Equip yourself with the knowledge and skills to master social media marketing. Here's a good course you can consider.
Do It Yourself (DIY): Once you've gained sufficient skills and knowledge, you can try it out yourself.
If you wish to DIY, you can consider applying this social media marketing tips. They are specifically tailored for small businesses like yours.
#1 Begin With Your Brand Story
To stand out from the crowd, you need to be distinct and memorable. Begin by crafting your own personal brand story, and make it compelling and enchanting.
The best stories follow a plot structure, where the context, characters, conflicts, resolution, and rewards are articulated.
You should also craft your story from your audience's point of view, and make him or her a part of your tale.
Here's an example of my own brand story, taken from LinkedIn. That post got me about 15,000 views, 195 likes and about 30 comments.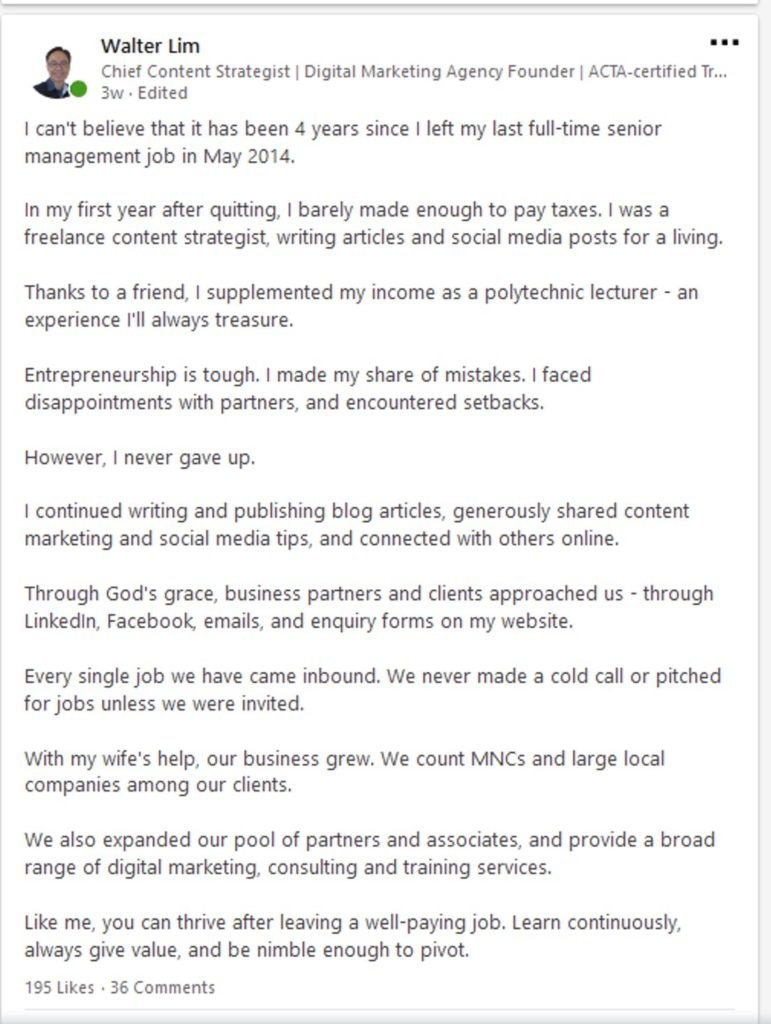 (Read this post to learn 3 timeless principles in great storytelling.)
#2 Focus on a Profitable Content Niche
The best entrepreneurs are focused on their niches. You know with crystal clarity what your business is all about, and the value which you can bring to your customers.
Likewise, consider the specific topics that you want to narrow down on BEFORE you start your first social media channel.
Ask yourself these questions:
Are my potential customers interested in this topic?
Is it relevant to my areas of expertise?
Would the social media content pieces be useful?
Would they be shareable? (Here's how you can make them so.)
Is it an area that I'm passionate about?
Can I sustain my pipeline of blog posts, Facebook videos, Instagram photos, and other social media content?
#3 Choose the Right Social Media Platforms
Once you've identified your social media niche, you need to consider which platforms to focus on.
Ideally, you should have at least 2 social networks or more so that you can tap traffic from different sources. Here's a super quick run down of each:
Facebook is the kingpin here, with over 2 billion users worldwide. As a business, you should set up a Business Page and possibly start a Group to discuss your areas of interest.
Twitter is more like a broadcast and customer service channel, with 280 characters limiting what you can do here. Naturally, Donald Trump is a whizz at using this, but he may not be the best role model for your small business brand!
Instagram is the fastest growing social network. Once popular only with teens and youths, this visual-focused mobile-first network works well for fashion, food, travel, fitness, arts, beauty and other aesthetically-focused trades.
LinkedIn is both a Business to Business (B2B) and professional network. Use this channel if you need to reach out to PMETs.
YouTube works pretty much like a search engine for videos (its the second largest after Google.) Start a YouTube Channel if you foresee that videos will be a key thing for you.
#4 Schedule Your Content Creation
As a small business owner, you probably have a long laundry list of items to do each day.
The trick to ensuring that you can still produce content and engage with your fans and followers is to schedule it in your calendar.
Maybe it could be sharing a useful tip (with a photo of yourself), or taking a selfie with a customer in the afternoon, or shooting an Instagram Story as you're demonstrating the latest gym moves.
Make it a part and parcel of your everyday life. Like brushing your teeth. Or counting how much you made that day.
Here's one way to do so, broken down by day, week, fortnight, month, six-monthly, and year. You should also create a content calendar, and plonk in the pieces on a weekly and monthly basis.
#5 Make Use of "Down" Time
Let's be honest. You are not working "all the time" despite being a small business owner.
There will be lull periods like waiting for the bus/train, waiting for your first customer to walk in the door, or queuing up for your favourite Low Carb Vegan Bento lunch box.
Use those periods of time to craft a short post on your business, share that snazzily shot photo of your gorgeous new signboard, or upload that "How To Fix Your Hair in 2 Minute" video.
#6 Leverage on Family and Friends
The initial period of any business is tough. Like raising a baby, social media marketing requires a village!
Look for help from the people whom you love (and who loves you) the most:
Family members
Relatives
Inner circle friends
Army buddies
University/Poly/School alumni
Ex colleagues
Customers
When you get others to help to like, comment and share your post on social media, you are sending a signal to the algorithm that your post is popular. This is especially critical the first hour after your post is up.
(Having said that, don't abuse your privilege by excessively spamming them.)
#7 Use Free Social Media Tools
The best things in life are free. Surprisingly, many of the best social media tools are free too.
Here's a list of my favourite 21 free tools for social media marketing. Do carefully go through each one of them, try them out, and see if they could help you to create, manage, measure, and sharpen your social media efforts.
#8 Invest (a Little) in Online Ads
I know I know. Some of you aren't as prolific in engaging your online communities and to grow organically.
Besides, you've got your investors to answer to. And they have been chasing you for that elusive 10X (or god forbid 100X) growth figures.
Consider investing some money in social media advertising. Every social network has them: Facebook, Instagram, LinkedIn, Twitter, Pinterest, YouTube, SnapChat, and more.
The cheapest is probably (still) Facebook. Read my introductory article here to learn more about how to start on Facebook ads.
#9 Build Social Media Communities
You can't grow online without a community of friends, fans and followers. To do so effectively, consider these strategies:
Use Your Page/ Business Account: Make your Facebook Page, LinkedIn company page, or Twitter account a community oriented one. Don't just talk about your products and services. Instead, focus on how you can serve your followers.
Start a Group: The difference between Groups and Pages/Accounts is that the former zeroes in on specific interests or causes. Start a "Cake Baking Tips" Group if you're a baker, or "Hair Styling Trends" Group if you're a salon operator.
Launch an e-Newsletter: One other way to build a sense of community is to send regular emails to a mailing list (ensure that you have a way of capturing leads first, using a landing page.)
Once you've considered the right approach, adopt these 25 ways to grow your social media community.
#10 Be a Niche Influencer
The word "influencer" has kind of been bastardised in recent months.
While there is much debate over Instagram fashionistas parading themselves as "influencers", your role as a small business owner is to position yourself as an influencer in your specific domain.
To grow your online influence, consider Cialdini's 6 weapons of influence:
Reciprocity: Be generous and kind to your community. Give and always return favours.
Commitment and Consistency: Stick to a consistent theme when you share content (but make it a fun and interesting one).
Social Proof: Use examples of social proof (like your years of experience, or no of customers) to grow your influence.
Likability: Find like-minded others online, and participate in their communities. Befriend influencers and thought leaders in your niche.
Authority: Demonstrate your thought leadership and intellectual heft in your specific domain.
Scarcity: Offer value that is unique, rare and precious to your community.
Conclusion
Congratulations! You've reached the end of my article.
I am sure that you've found something useful that you can immediately use to grow your small business' social media presence.
Before we go, I'd like to add that social media marketing is long-haul strategy. It took me almost 9 years of blogging and sharing on social media before I decided to strike out on my own as a content strategist and social media consultant. Along the way, I've shed countless drops of blood, sweat and tears.
By adopting the above strategies and tactics, you can avoid taking the same hard road as I did. Give these ideas a try and let me know if they work for you.