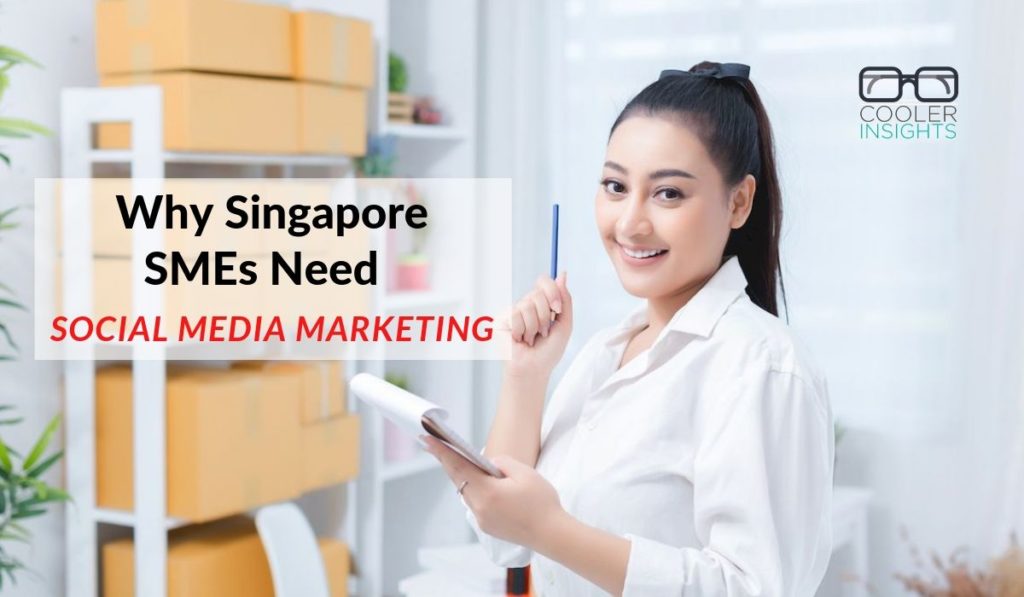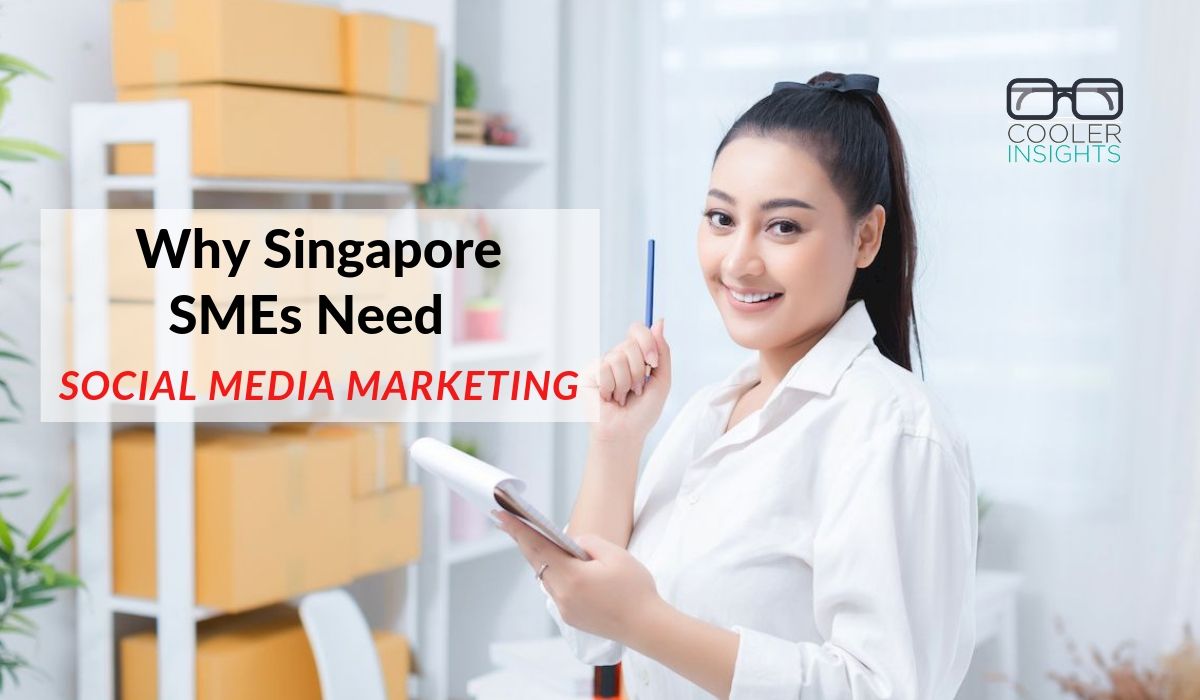 Business photo created by jcomp – www.freepik.com
Social media marketing is taking Singapore's business world by storm.
Virtually all the major brands here have established a strong online presence—from FMCG brands, airlines, telcos, banks, insurance, sports, supermarkets, fitness to food and beverage chains.
Even government agencies have embraced online marketing wholeheartedly, tapping on the extensive reach of social networks like Facebook, Instagram, YouTube, and more.
Sadly though, the vast majority of Small and Medium sized Enterprises (SMEs) in Singapore are still staying away from social media. Especially those owned, managed and run by older Singaporeans and their coworkers.
While there are various easy to adopt strategies for SMEs and startups to tap on social media marketing, many are still reluctant to take that first step.
What's ironical is that these shopkeepers and their staff are whittling away their hours in their empty shops playing Facebook games, watching K-drama on YouTube, or sharing WhatsApp videos!
But why should SMEs spend time creating a presence on social media? After all, they do need real customers and not virtual ones right?
Let us look at 8 ways social media can favour smaller businesses.
#1 Build Brand Awareness
Guess how much time we Singaporeans spend online each day?
A whopping 7 hours and 9 minutes daily. That's probably even more hours than we spend sleeping!
With such a huge number of eyeballs on social media, you are really doing your bakery, hand-phone shop, or design agency a disservice if you aren't creating content, sharing it on Instagram (or Facebook), and building your brand.
To build your company or personal brand, you can consider posting regular short videos of how you perfect your super yummy recipes. Or how each of your product was conceived and designed with a behind-the-scenes post.
You can also use your social media accounts to showcase your unique brand personality.
Share your view of the world. Provide your professional take on a recent event. Tell a story involving the genesis of your company.
#2 Establish Authority in Niche
Social media channels are good platforms for you to establish your authority in any niche.
I should know. I've used social media channels like my blog, Facebook, LinkedIn, Twitter and Google Plus accounts to build my personal brand as a content strategist.
It is important here to focus on your specific areas of expertise.
As a digital and social media marketer, for instance, I am ill-qualified to comment on socio-political developments in Myanmar. Nor should I be suggesting ways for the research funds in my country to be better deployed.
Rather, I will zoom in on the areas that I know best – content marketing, branding, PR, social media, and SEO—and use my channels to showcase my knowledge and expertise.
#3 Spend Less for Marketing
Social media is one of the least expensive channels for marketing. On a Cost Per Thousand Impression (CPM) basis, social media ranks pretty well relative to other channels as shown below.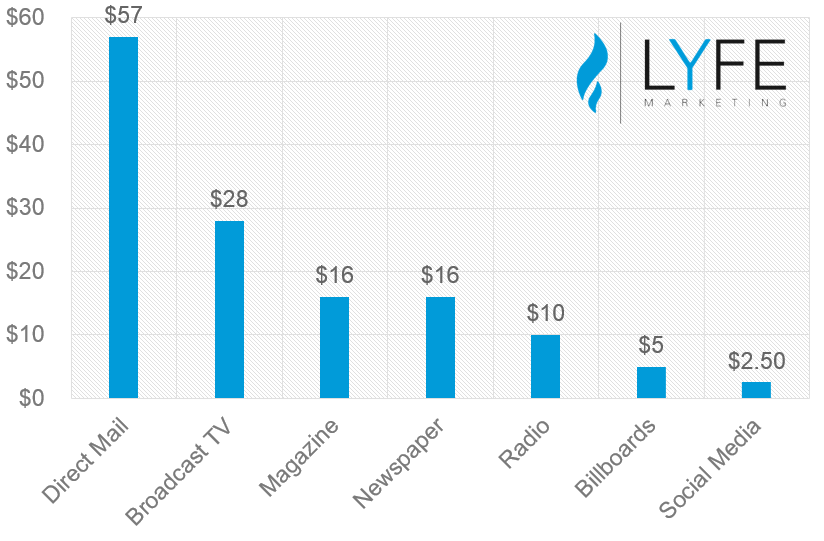 Courtesy of Lyfe Marketing
While setting up a Facebook Page, Instagram Business Account, or LinkedIn Company Page is technically free, you do have to pay for advertising on social media.
However, the costs can be surprisingly affordable. For example, you can go as low as spending one dollar a day on your Facebook ads.
#4 Highly Targeted Advertising
With so much user data on their fingertips (encrypted and secured, hopefully), social networks like Facebook, YouTube, LinkedIn, Twitter and Instagram allow you to launch highly targeted advertising.
You can zoom in on the demographics and psychographics of your audiences, their precise locations, their online behaviours, as well as other characteristics.
If you're running an ad on Facebook, you may even upload your email list or embed a pixel on your website so that you can re-target these 'warm audiences' with specific offers. That means that you can create a specific ad that speaks directly to these folks.
#5 Show and Sell Online
Think you're better off talking to a camera than writing?
Power up your Facebook Live or Instagram Live, and start hawking your goods. Apparently, quite a few entrepreneurs have started doing that, focusing primarily on clothes, shoes and other fashion related products.
If you're funny and charming like Lerine Yeo of Misshopper Boutique, you may even generate up to 2 million views for your Live Video and become a national viral sensation! Here's an example of one of the videos which she posted.
Speaking of Lerine and virality…
#6 Generate Word Of Mouth
Social media marketing is one of the best ways for a small business to generate Word Of Mouth (WOM).
With the ubiquitous share button built into social networks, sharing on social media seems to be as natural as breathing.
Often, the most shared content on social media tends to fall into four categories:
Breaking News: Yep, we all love to share what's trending (and this is how newsjacking also came about).
Heartwarming Stories: Tales of human drama, tragedy, laughter and tears gets us sharing.
Unbelievable Facts: Things which shock us tend to be more shareable than run-of-the-mill stuff.
Humane Acts: As kindred spirits living on this planet, we are more likely to help others by sharing pleas for help, donations and other calls for help.
Beyond the above, you may also consider other ways to generate social sharing, like using the STEPPS framework from Professor Jonah Berger:
Social Currency: Anything that makes your users look good will be shareable. This could be remarkable facts or content, campaigns with game mechanics, or insider secrets.
Triggers: Seasons, phrases, or buzzwords that people associate with a term. For example, when you "have a break," people will immediately think of the brand Kit Kat.
Emotions: Focus on high arousal emotions like awe, amusement (ie humour), anxiety, anger or excitement.
Practical value: Anything that has good utility or practical use (see Youtility for more info.)
Public visibility: Also known as social proof, this could be a highly visible action (eg shaving your head bald for "Hair for Hope") or the number of likes, comments and shares on your social media posts.
Storytelling: Probably the most important component of virality if they are done well. People tend to believe and remember stories more than plain vanilla facts and figures.
#7 Serve Customers Better
Social media works far better than many other channels in delivering great customer service. However, you need to be responsive to anybody who tweeted you, commented on your Facebook post, or sent you a message on LinkedIn.
The beauty of social media customer service is that you can resolve issues much quicker than most other channels as your customers are likely to be online all the time.
You can also append links to specific pages on your website, attach images or PDFs, or even record a short video on how to troubleshoot a particular software and send it to them.
(Check out this infographic for more useful statistics on social media customer care.)
#8 Track Results Easily
Last, but certainly not least, social media marketing is easy to track and monitor.
Thanks to a wide range of analytics tools, you can trace the performance of each post, each photo, each video and each advertising campaign along a series different performance metrics. This can be done along your entire customer buying journey – from awareness, consideration, purchase to post-purchase.
Begin with these 7 free tools to track your social media analytics:
Facebook Insights
LinkedIn Analytics
Instagram Insights
Twitter Analytics
Hashtag and Brand Name Trackers
Facebook Ads Manager
Google Analytics
(Read my post here to learn more about measuring social media ROI.)
Conclusion
Social media marketing offers numerous benefits for startups and small businesses on a tight budget.
While the initial stages of starting a social media account may seem daunting, creating content and building an online community becomes easier over time. As you learn and adapt new habits and practices, you'll find out why more and more brands are switching their marketing investments towards online channels.
More in My Social Media Marketing Course
Wish to learn the details of how you do the above, and a whole lot more? Sign up for my social media marketing course.
Learn a 6-step process for social media marketing campaigns in a rigorous two-day training course which will bring your social media efforts to life.