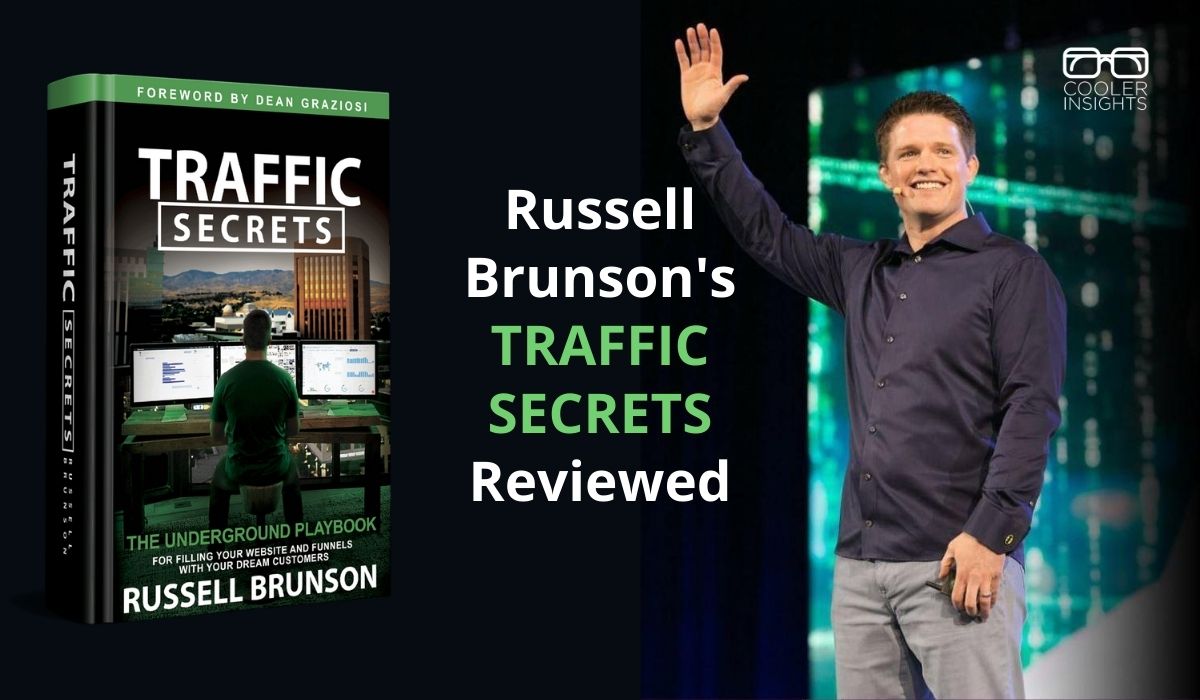 Wish to learn how to generate traffic for your website and marketing funnels? Need a guide to generating and nurturing leads for your business?
Consider picking up a copy of Traffic Secrets from creator of ClickFunnels Russell Brunson.
I ordered the book through a shipping and handling deal (which cost US 19.95, so the book isn't really free) after I saw a couple of my friends doing so. Once it arrived, I dived into its pages to learn what secrets Brunson has to offer.
(Russell Brunson is one of the most aggressive Internet marketers on the planet. You'll see his Facebook ads literally everywhere once you get into his funnel.)
In this article, I'll provide some of the main highlights of his book, as well as some takeaways that you can use.
What Topics Do Traffic Secrets Cover?
The final book in Brunson's Secrets trilogy, Traffic Secrets focuses on how entrepreneurs can grow their companies online by generating traffic to their funnels.
(If you're new to marketing and sales funnels, have a read of my comprehensive article here.)
Targeted primarily at bootstrapping start-up founders, Traffic Secrets is divided into three main sections:
Your Dream Customer: Who should you target, where can they be found, and how do you reach and convince them?
Fill Your Funnel: Comprising the bulk of the book, this covers online traffic strategies for organic and paid sources on Instagram, Facebook, Google, YouTube and other channels.
Growth Hacking: Strategies to "fill your funnel" using other people's traffic or cold traffic sources
Let's look at each of these sections in some detail below.
Your Dream Customer
According to Brunson, there are three main desires driving people's actions: Health, Wealth and Relationships.
Your goal as a marketer? To focus your message on just one of this desire, and move your ideal customers away from pain or towards pleasure. For example, if you are in the Wealth business, here's how they'll look like:
Away from pain: I don't have enough money to retire, and I hate my job
Towards pleasure: I want to retire at 55 and do the things I enjoy—like golf, ballroom dancing, travel, or riding a Harley Davidson!
#1 Build Your Dream 100 List
This is the core of Traffic Secrets.
Your Dream 100 are the influencers, companies, brands, books, movies, or thought leaders who own the platforms and distribution channels where your dream customers already congregate at.
These congregations could be interest-based (ie social media groups, blog readers, podcast subscribers, email newsletter subscribers) or search-based (ie based on their website's abilities to rank for keywords related to your trade).
Your goal is to find 100 of these people (or organisations), and find a way to work with them.
#2 Build Your Message—Hook, Story, Offer and Attractive Character
In each of your content pieces, consider the following:
Hook: How do you grab someone's attention with your email subject line, post, picture or video?
Story: How can you connect with your prospect through a story? (Read more about crafting stories here)
Offer: This is the Call To Action (CTA) for your audience, eg "subscribe to my channel," "join my list," "buy my product"
And who would be the Attractive Character? Well, this would be you! Yes, the goal is to build your personal brand (or corporate brand) such that people will resonate with you.
#3 Build Your Lists and Funnels
Now consider how you can build your email lists and your sales funnels drawing on what you learned from your Dream 100.
You can either work your way in (by offering value to the Dream 100 folks) or buy your way in (through investing in advertising on their channels).
Your goal here is to send some of that traffic to your own funnels, culminating in the building of a list that you can market to.
In short, you use both earned and paid media channels belonging to your Dream 100 to drive traffic to your owned channels. This can be to your website, social media channels, email lists and other platforms.
#4 Start Your Own Social Media Show
As a content marketing and social media marketing professional, I resonated with Russell Brunson's suggestion to start your own show on social media.
This depends on what you're comfortable with, and what you can sustain over the long-haul. (For me, it is clearly through writing articles on my blog.)
If you're comfortable speaking to a camera, consider doing a Facebook Live, Instagram Live, LinkedIn Live, or YouTube Live show.
If you prefer to write, write a blog.
If interviewing somebody on purely audio is what you'd love to do, podcasts may work better.
Here are some success secrets from Brunson:
Publish daily for at least a year (wow!)
Document your journey (rather than try to create everything from scratch)
Test your material and see if it works
Feature your Dream 100 in your show—interview them or promote them on your channel
How to Fill Your Funnel
Once you've got the basics right, Brunson introduces a six-step "Fill Your Funnel" framework that you can use for your digital marketing efforts.
This same structure is used regardless of your platform—Facebook, Instagram, LinkedIn, Google, YouTube, TikTok, Twitter, Pinterest….
Here's a quick summary for each stage.
#1 History and Goal of the Platform
What is the purpose of the platform—be it Facebook, LinkedIn, your website, emails, landing pages, or others? How do its algorithms work?
Why are changes made (and they will be made regularly through the lifetime of the channel)? How should you adapt to those changes?
#2 Find Your Dream 100 and Model Them
Look at what the influencers and thought/market leaders are doing on the platform.
Who are the ones getting tonnes of views, subscribers, comments, clicks and shares? Which platforms are ranking on Google search?
Spend time each day with your Dream 100:
Note what they are posting and how they engage with their communities
Be one of their active community members—like, comment, share their posts
See if there are any patterns that you can emulate but don't copy wholesale! Instead, adapt and modify
#3 Identify Your Ideal Publishing Strategy
Create your own publishing plan according to the platform that you're most comfortable with.
Seek to be regular (maybe not daily, but at least twice a week or weekly?) and promote your shows.
This depends on what you're comfortable with.
#4 Work Your Way In
Find a way to invite your Dream 100 or feature them on your show. Perhaps do a "Top 50 list" article and include them inside.
Make sure that you let your Dream 100 know that they're featured on your channel.
Do also see if you can get free exposure to their audiences. You can do this by pitching to them to either feature you (this is a BIG ASK), guest write an article for them, or offer a valuable tool for their audiences.
If this fails…
#5 Buy Your Way In
Consider ways to advertise on your Dream 100's channels or to target their fans on social media. This is the fastest way to grow your audiences and generate your traffic.
#6 Fill Your Funnel
The final phase is to convert all the traffic that you're getting to becoming your own. By doing so, you can push them into your funnels, get them to fill in an opt-in form (so that you have their contact information), and nudge them to buy your products through emails or other communication means.
#7 Organic vs Paid Traffic
As Brunson has alluded to, there are two main ways to get traffic.
Organic Traffic Strategies
To get organic traffic, you can either work on growing your social networks (Facebook, Twitter, YouTube, LinkedIn, Instagram, TikTok), or sharpen your Search Engine Optimization (SEO) prowess.
(I employ a mixture of both strategies for Cooler Insights.)
The goal here in organic traffic is to be a producer and not a consumer!
Paid Traffic Strategies
For paid traffic strategies, Brunson recommends that you use a mixture of prospecting ads targeting cold traffic, and retargeting ads which target warm traffic.
In prospecting ads, you should try to target audiences that are already fans of your Dream 100. You can also target customer avatars based on interests that will coalesce with your offer.
Once you've engaged these cold traffic audiences, you can use different retargeting ads based on their behaviours on your campaigns:
Engaged ➜ Sell the click: Create a custom audience of everyone who interacted with your social media posts in the past 5 days
Landed ➜ Sell the opt-in or purchase: Create a custom audience of people who clicked to your landing page in the past 7 days
Owned ➜ Sell the next step: Create a custom audience of everyone who already became a lead or a sale, and scale them up your value ladder (with increasingly valuable offers)
#8 Traffic Strategies for Individual Platforms
In the book, you'll learn detailed traffic strategies for these platforms:
Instagram
Facebook
Google
YouTube
Podcasts (under After the Slaps and the Snaps)
Brunson further describes how he does content repackaging (under the fancy name Conversation Domination). Do get a copy to learn what these are!
Growth Hacking Strategies
The final section of the book is—in my view—the weakest of all. I honestly expected more from Brunson knowing how much of a growth hacker he has been all these years.
Having said that, you can learn a couple of useful tips and tricks if you're new to the business of digital marketing such as the following.
#1 Create a Funnel Hub (aka a Long Form Landing Page)
To ensure that you don't lose out on your SEO ranking, consider creating a funnel hub. This should incorporate both branded terms (eg "Cooler Insights" "Walter Lim" in my case) and non-branded terms (eg "social media marketing" "content marketing" "brand storytelling").
A funnel hub is like a mother of funnels, where you help to link out to your individual funnels, offer fresh content, as well as describe what you do and who you are as a business.
#2 Buy Ads and Sponsored Placements on Your Dream 100
Explore opportunities to work with your Dream 100 and to buy in to their existing traffic and distribution channels.
#3 Create an Affiliate Programme
Work with either your Dream 100 or your existing fans to build an "affiliate army." Do so with the following steps:
Identify who they are and get them interested in your promotion programme
Appoint them as your affiliates
Give them a reason to become your affiliates and to promote you. This can perhaps be tied to a new launch or an ongoing launch.
Train them to become "super affiliates" offering them your bag of tricks and tools.
Compensate your affiliates—be generous when doing so
#4 Use a Bridge to Reach Cold Traffic
For audiences that haven't warmed up to your offer, consider using a "bridge" to warm them up before you send them to your landing page.
This simply means offering valuable and useful content to these audiences—something that I've been harping about all these years!
#5 Create a Referral Programme
Finally, create a referral programme by incentivising your existing users to refer your offer to their own networks. This can be catalysed by giving them a bonus (free products or increased value) or making them your affiliates.
(You can read more about growth hacking in my article featuring Ryan Holiday's framework here.)
Conclusion
Traffic Secrets is a compilation of digital marketing strategies used by Russell Brunson and his team in growing ClickFunnels to US$100 million company.
It provides a good introduction to the different strategies, techniques and tools used by "growth hacking" marketers to scale their business.
While the methods proposed are useful, it may be difficult for the average start-up boss to execute them.
You may also find that some of these techniques are not as easy to apply here in Asia (and Singapore) compared to the West, due to the way our audiences perceive a pitch.
Naturally, there is a lot more that I can't cover in this book review—grab a copy of the book to learn more.
(And no, I'm not an affiliate nor a ClickFunnels user, so I don't get anything out of this.)
What are your thoughts about Russell Brunson's traffic strategies? Would you apply them to your own online business? I'd love to read your thoughts!