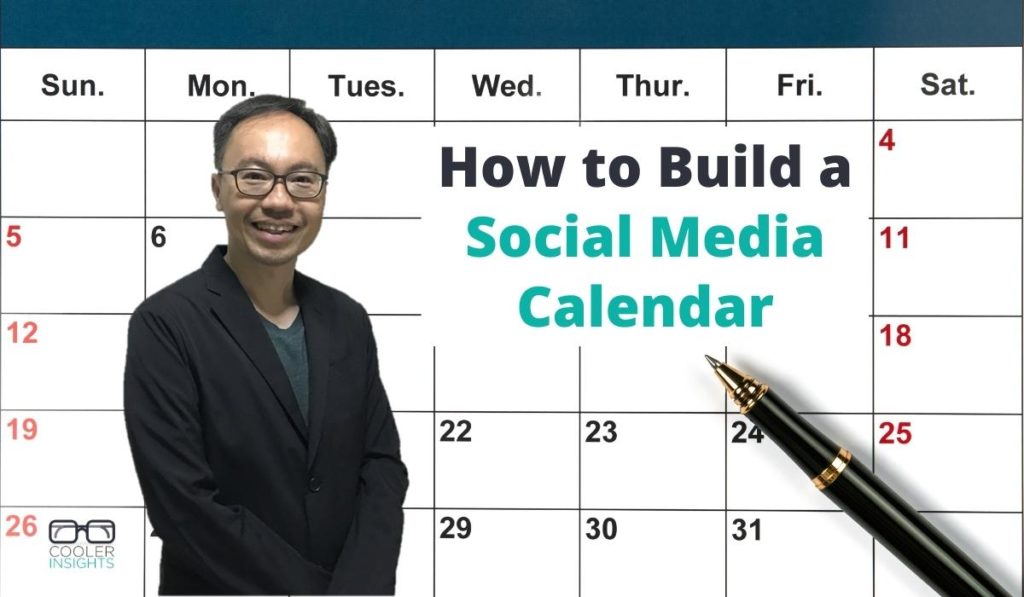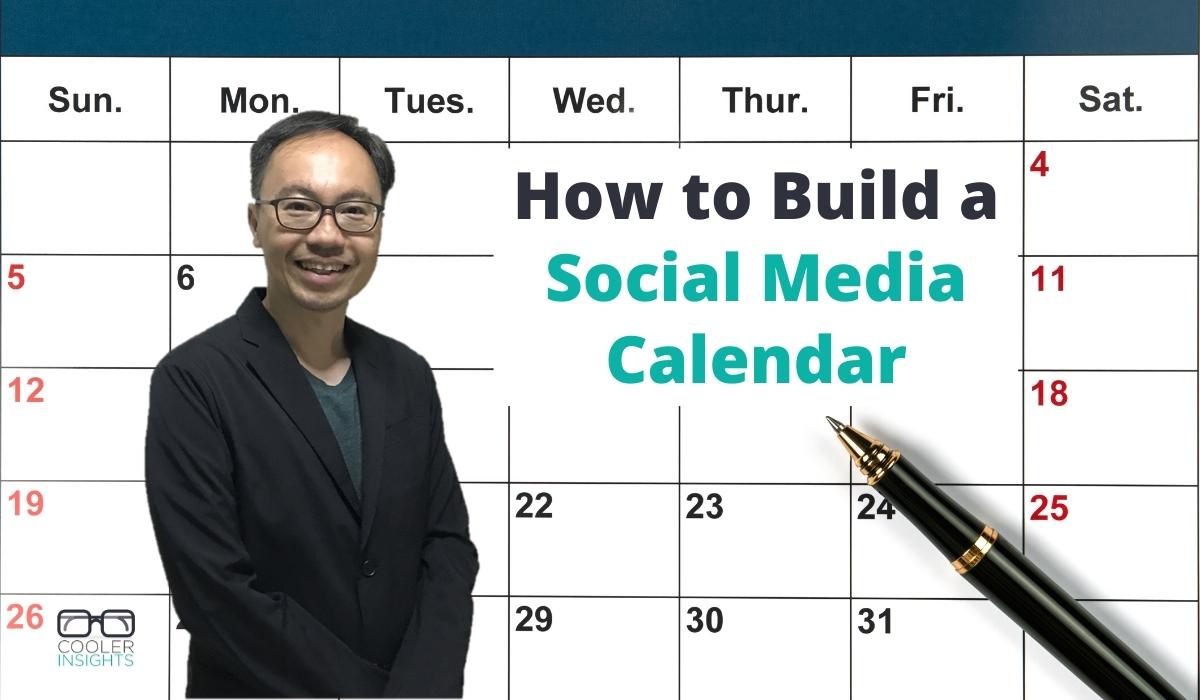 Need a better way to manage your 7-day social media content calendar? Tired of having to wreck your brains each week to come up with social media content ideas?
In this article, I will describe an efficient and easy way to develop your regular social media content calendar. One that will help you to improve the results of your social media marketing efforts.
Before I dive into the mechanics of how this content calendar works, however, you need to convinced of the need for one.
After all, nobody likes to follow a routine without understanding the reasons behind them.
Why You Need a Social Media Calendar
First, let us look at why any social media marketer would need to develop a content calendar. Why can't you simply post whenever and whatever you like?
There certainly are advantages in having a well-structured calendar to manage your social media activities:
Better resource planning: A calendar allows you to work out how much resources you'll need in terms of manpower, budgets, or time to execute your social media marketing activities.
Improve content mix: A content calendar prevents you from over-emphasizing certain content types over others.
Reduce content bottlenecks: Forward planning are critical in easing the workload during peak seasons (eg holiday periods).
Minimize content blocks: Creating a calendar helps you to get rid of writers block by providing some buffer to your content deadlines.
Track content performance: Incorporating a content calendar helps you to monitor and keep track of the performance of each content piece. This can be matched with your social media insights to see which posts do better than others.
Ensure consistency: Finally, and most importantly, developing a social media content calendar helps ensure greater regularity and consistency in your content publication schedule.
Revisit Your Social Media Marketing Funnel
Before you brainstorm content ideas for your social media channel, it is useful to develop a social media marketing funnel. By doing so, you can match the types of post with your marketing goals.
In most cases, your goals for each post should fall into one of the four main categories:
Awareness: Attract and generate attention from strangers
Consideration: Educate and engage your online community
Conversion: Entice your prospect to fill in a form, sign up for an event, or make a purchase
Loyalty: Build a loyal following of potential brand advocates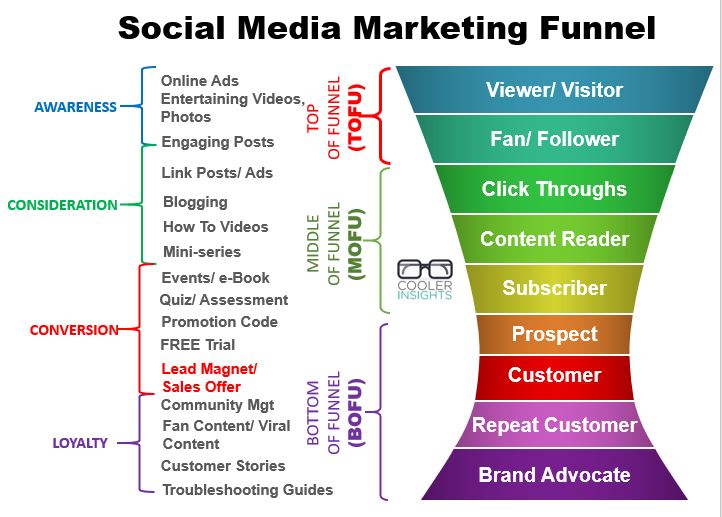 With the marketing funnel in mind, let us now look at the types of post that we can create.
Use These 7 Social Media Content Themes
To make it easier for you to follow this social media content framework, I have used the letter 'I' as a mnemonic device.
While you should ideally include all seven posts in your weekly content mix—one for each day of the week—you can also mix and match them according to your campaign needs.
So what are these seven social media post types that you can use?
#1 Ignite (Awareness)
Need to trigger attention and get people to talk about your brand? Try crafting an attention grabbing piece of content.
There are several ways to do so here:
Ride on a trending topic and use newsjacking to stimulate attention
Produce viral videos that have a strong emotional component
Tap on the 6 STEPPS of viral content
Boosting or sponsoring your posts (through advertising) to reach a wider audience
The key behind an Ignite type of content is get your brand noticed.
#2 Intrigue (Awareness ⟶ Consideration)
This second type of post uses less attention grabbing tactics and more curiosity building methods.
To generate deeper brand interest and to engage your audience, an intriguing post may have the following qualities:
A way to tease the audience, without giving away the whole show
Strong storytelling element to build brand trust and affection
Potentially a brand backstory featuring either your founder, staff or business partners
#3 Inform (Consideration)
Here your goal is to position your brand as a thought leader, riding the cutting edge of developments in your industry.
You can craft a piece critiquing what's happening in the world around you, offer an insight into the latest trends in your business, or publish a summary of research findings.
Alternatively, you can also interview some of the movers and shakers in your space, and summarize what they say.
Remember that at the end of the day, you want people to respect and trust your brand using the Inform content theme.
#4 Instruct (Consideration ⟶ Conversion)
Education is the main aim of the Instruct posts. This can take on various forms, depending on how in-depth and valuable your educational posts are:
Tip-of-the-week
"How to" videos
Step-by-step guides
Short training programmes (either online or offline)
Downloadable eBooks or guides—these often involve a way of capturing leads using a form, either through a lead generation ad or a landing page
#5 Incentivise (Conversion)
These sort of posts are solely aimed at getting your prospects to respond to an offer, and may involve either a freebie, discount, or deal.
Such offers cover the gamut of promotional tactics, with the only difference being that they are targeted specifically at an online audience.
(Learn more about optimizing your channels for conversion here.)
#6 Involve (Loyalty)
Involve types of posts normally seeks to generate discussion and debate among the members of your community. These could work well in social media groups (especially Facebook Groups) or other tighter-knit communities surrounding a particular area of interest.
Ask Me Anything type posts work well here. Consider going "Live" on Facebook or Instagram and use your platform to answer any questions your audience may have.
Poll your audience and get their inputs on what they prefer to see in your business
Troubleshooting or user guides are great ways to build loyalty. These are specifically targeted at users of your products or services.
#7 Inspire (Consideration or Loyalty)
Finally, inspirational posts are those that are aimed at building greater brand loyalty and advocacy among your existing users and community members. These may include the following:
Customer success stories
Case studies
Partnerships with influencers
Motivational quotes
Putting it all together in a Calendar
Now that we have identified the different content themes that you can use for your social media content calendar, the next step involves putting them all together.
Here is an example of how you can put them all together in a coherent manner, complete with your post theme, social media content channels, description of content, and marketing goal.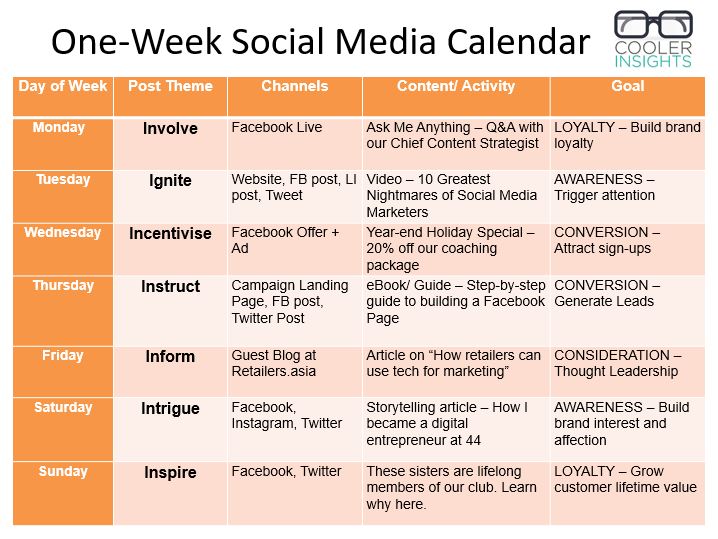 Conclusion
Creating and managing a social media content calendar can be a painful and laborious process.
To make it less painstaking, you need to come up with consistent themes in order to 'templatise' the process and make it easier to brainstorm content ideas each week.
What I've proposed here is just one of many different methods you can use—feel free to modify it or devise your own strategy to manage your social media content calendar!