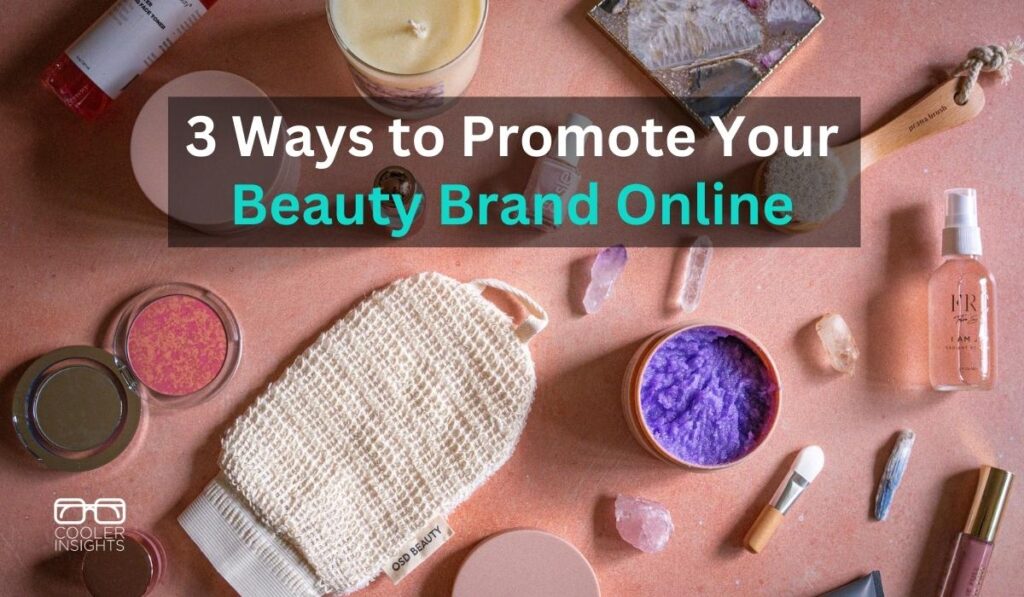 Photo by Alexandra Tran on Unsplash
Social media and beauty brands are a match made in heaven. So many people utilize social media for everything from beauty tips to product reviews and recommendations.
So, if you aren't utilizing the best practices for marketing your beauty brand online, you could be missing out on thousands of potential customers.
But how can you tap the multiple social media channels and tools to boost your beauty brand?
Together with Content Marketing to improve your brand awareness, utilizing social media allows you to foster better engagement with your audience, helping your brand to stand out from your competitors.
Ultimately, promoting your beauty brand online will drive website traffic, build trust in your company, and generate more sales. Beyond that, though, it will boost the longevity of your brand as people start sharing what makes you different and unique.
Not sure where to get started? That's okay! Let's cover three of the best ways to promote your beauty brand online, so you can create a comprehensive digital marketing strategy that boosts your revenue and audience engagement.
1. High-Value Content Creation
Talk to any marketing professional, and they will quickly tell you that "content is king" when it comes to digital and social media marketing. The importance of content has changed over the years in terms of what's effective and eye-catching.
While keywords and phrases are still important for driving web traffic and boosting search engine rankings, the best thing you can do with your content is to be genuine and authentic. Not only should you appear as an expert in your industry, but you should be focused on creating content that is interesting, relevant, and authoritative.
Some of the best tips to keep your content effective include:
Staying current with trends
Finding and utilizing your brand voice
Remaining consistent
Understanding your audience
Constantly improving your skills
Even if you're there to sell a product, your content will help you build trust with prospective customers. Someone is more likely to make a purchase from you if you're up-to-date with the latest skincare trends or if you offer exclusive beauty tips in video form or through imagery.
Don't be afraid to mix up the types of content you use, and share your content on every platform that makes sense—from your website or blog to your social media channels.
2. Consistent Branding
Once you find your voice with your content, it's important to further develop your brand so you're able to provide consistency and recognition. Think of some of the most notable brands in the world, including Apple, Starbucks, or McDonald's. No matter what your opinion is on each one, chances are you can visualize their logo and color scheme right away.
That kind of brand recognition happens because of their consistency in applying branding principles.
Choosing the right color scheme, logo, and font for your branding can be a lot of fun if you're willing to let your creativity shine. Consider tapping into color psychology when deciding which "look" will work best for you.
Different colors elicit varying emotions from consumers. For example, red can cause people to feel passion, anger, or excitement. Blue is associated with calmness and trust. Think about the message you want your business to convey, and it'll be easier to decide on a color palette to use for years.
Even if you change things up with your campaigns, your color usage, symbols, and images should remain the same. Consistent branding builds trust and authority, and it's a great way for people to get to know you and share information about you easily.
3. User-Generated Content
Speaking of sharing information, one of the best ways to gain notoriety and promote your beauty brand is through user-generated content. This refers to any type of content, including text, videos, pictures, and reviews, that is created by your audience rather than your marketing department.
UGC gets the most traction on social media, providing word-of-mouth advertising that will expand your brand's audience quickly. When people see content created by other consumers, they're more likely to trust your brand and know you're not just a gimmick.
Encouraging user-generated content starts with choosing the right channels to promote your brand. When you have a strong understanding of your audience, you'll be able to determine if a blog is a better fit or if they would rather see images and video tutorials on Instagram or TikTok. Creating content that is useful and informative is a great way to get a strong audience response. You can also go one step further to encourage UGC through some of the following tactics:
Asking your customers to show your product in action
Working with influencers
Re-sharing UGC
Sharing customer reviews
Incentivizing UGC
Whether you're just starting out or you're trying to rebrand your beauty business, focusing on online marketing is one of the best ways to grow. Keep these tips in mind to hone in on your target audience, boost engagement, and find a voice for your brand that will increase your success for years to come.
(You can read more about promoting beauty and fashion brands on social media here.)


BIO: Ainsley Lawrence is a freelance writer from the Pacific Northwest United States. She enjoys writing about better living through education and technology. She is frequently lost in a mystery podcast.