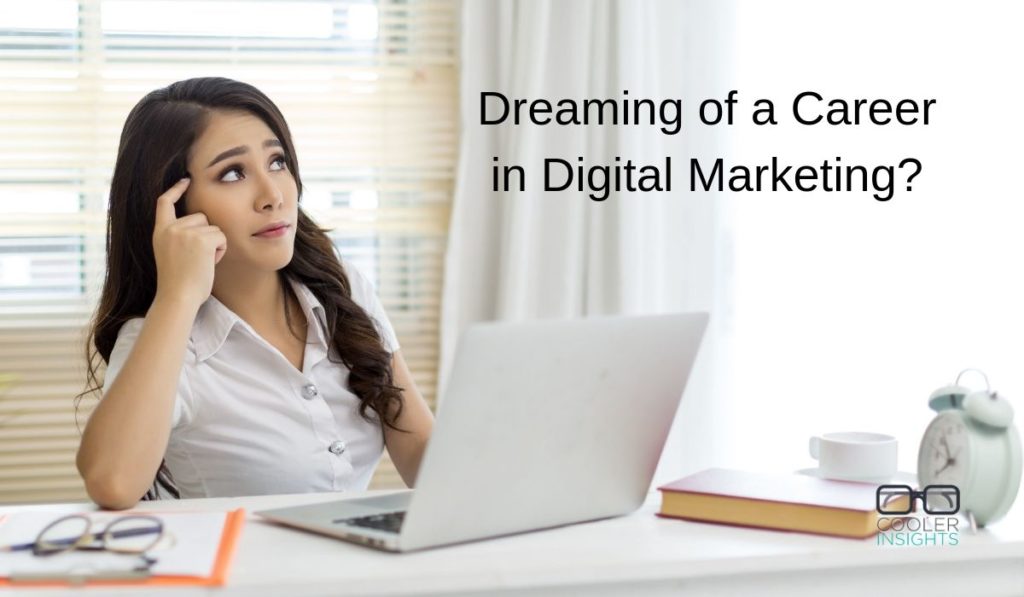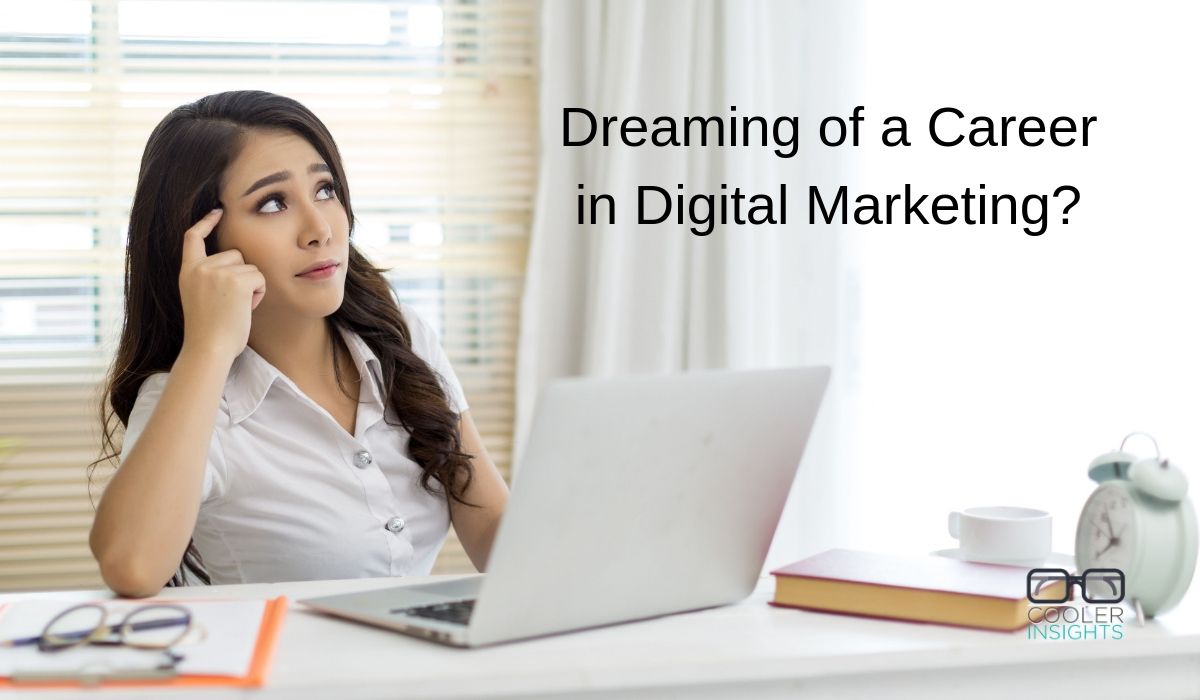 Business photo created by jcomp – www.freepik.com
Digital marketing is all the rage here in Singapore. Especially given our country's aspiration to be a Smart Nation!
And for good reason too, given how much time the average Singaporean and resident spends online.
Increasingly, organisations of all sizes are hiring people with digital marketing skills and competencies. This need is likely to increase in the years to come, given how obsessed consumers are with their smartphones, tablets and other devices.
As a digital marketer and entrepreneur, I run a boutique content and social media marketing agency and conduct digital marketing training, working with various long-term partners. To date, I've helped over 64 companies ranging from MNCs and Regional Companies to government agencies and SMEs, and trained over 3,000 individuals in more than 160 workshops and courses.
In all of my years of helping clients and equipping individuals in digital skills like social media marketing, content marketing, and brand storytelling, I'm often asked this one question:
How do I secure a good digital marketing job in Singapore?
Given the sheer amount of government interest in all things digital (Smart Nation anybody?), coupled with the rising consumer and business demand for all things digital, it is only natural that ambitious marketers would want to develop a career in this field.
But where should you start? And how you should plot your career path in this direction?
In this article, I will share my thoughts and experience on how you can become a professional digital marketer. Just like me.
Focus on a Digital Marketing Specialty…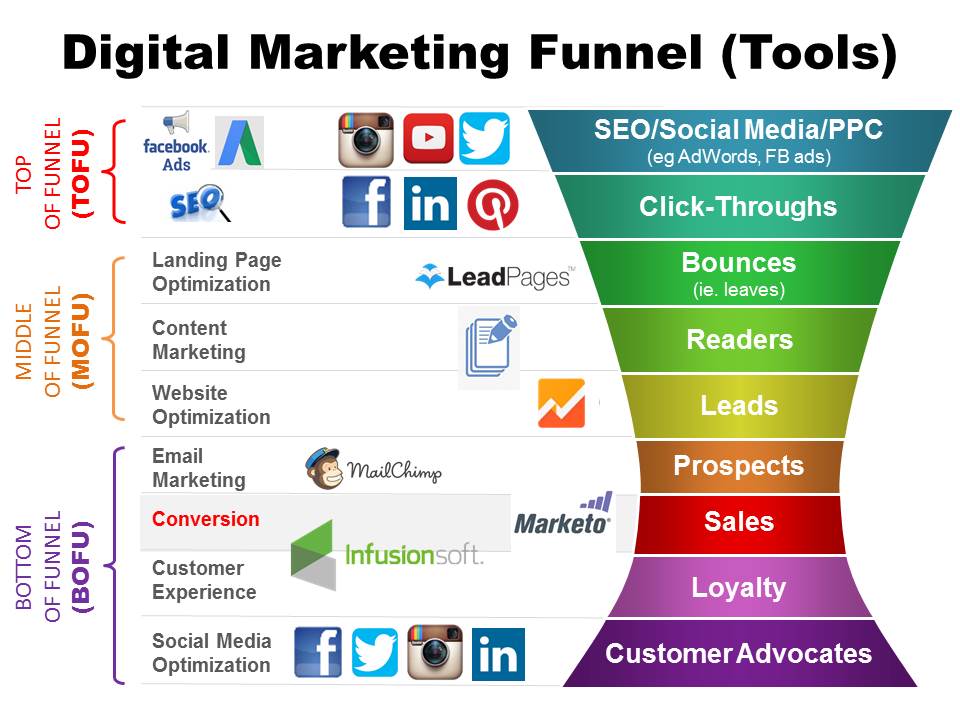 The first thing you need to understand about digital marketing is this:
You cannot possibly master ALL digital marketing skills.
Each and every field of digital marketing is both deep and wide. The most important core disciplines include the following:
Website Development: Without a website as a 'home base', you can't really be effective in digital marketing. A subset of website development is the all important skill of developing effective landing pages.
Content Marketing: Everything that you do online requires solid content—websites, blogs, social media pages, emails, landing pages, ads, etc. It is the lifeblood of the Internet.
Search Engine Optimization (SEO): An important discipline that helps your content to be findable on Google and other search engines.
Social Media Marketing: From Facebook to LinkedIn, Twitter, Instagram, YouTube and Pinterest, social networks are dominating our world. Each social platform has its own constantly evolving set of algorithms and policies to consider!
Pay Per Click (PPC) Advertising: From Google Search Ads and Display Ads, Facebook Ads, to Programmatic Advertising, the world of online advertising is constantly evolving and changing. With organic traffic being throttled these days, more digital marketers are investing in paid traffic.
Data Analytics: Do you know how to interpret your social media or website traffic? Knowing how to set-up and read analytic tools like Google Analytics, Facebook Insights or Email Metrics is key.
Email Marketing: Contrary to popular belief, emails aren't dead. Many digital marketers still consider building an email list as an invaluable asset.
Marketing Automation: These are software platforms and technologies designed for marketing departments to more effectively market on multiple channels online (such as email, social media, websites, etc.) and to automate repetitive tasks. It is an example of a marketing technology (aka martech), and is often used for businesses with a long lead-nurturing process.
Conversion Rate Optimization (CRO): One of the newest disciplines in digital marketing, CRO involves scrutinizing every step of your customer's buying journey to see how each touch-point can be improved (PS – avoid these CRO mistakes on your website.)
Beyond the above areas, there are other related digital fields that you need to consider. They include using A.I. and chatbots, virtual reality apps, gamification, and other upcoming areas.
…But Know a Bit of Everything
While it is near impossible to master every digital marketing discipline, you can (and should) try to gain a broad overview of each area.
In other words, to be a T- or π-shaped individual.
From my experience in chatting with numerous colleagues in digital marketing, I find that most have one, two or at most three areas of deep expertise.
However, that does not preclude them from learning about and understanding how the other pieces of the digital marketing jigsaw fit together.
Take me for instance.
I'm deeply entrenched in content strategy and development. I am somewhat proficient in social media marketing with a network of over 15,000 followers, friends and fans on Facebook, LinkedIn, Instagram, Twitter and Pinterest.
I'm also familiar with SEO and landing page development, although I'd leave the technical aspects to my business partners and associates. I can easily interpret most web and social media analytics charts and tables, and can diagnose what's needed for my clients.
When it comes to digital advertising, however, I'll work with affiliates and partners with in-depth expertise and experience. Ditto for areas like marketing automation and app development.
Launch Your Own Digital Channels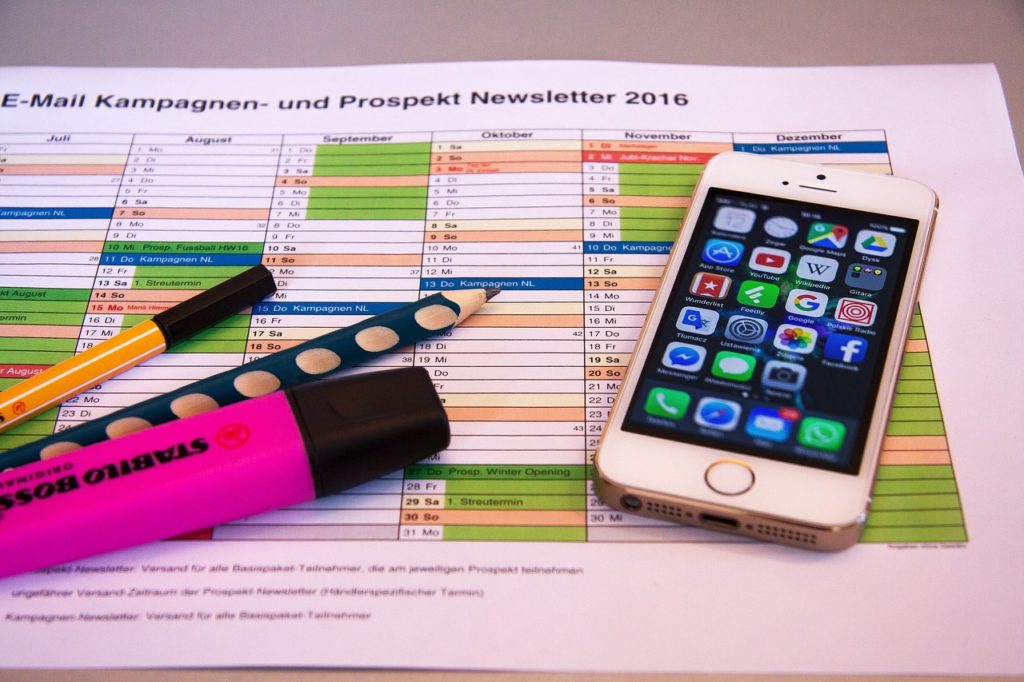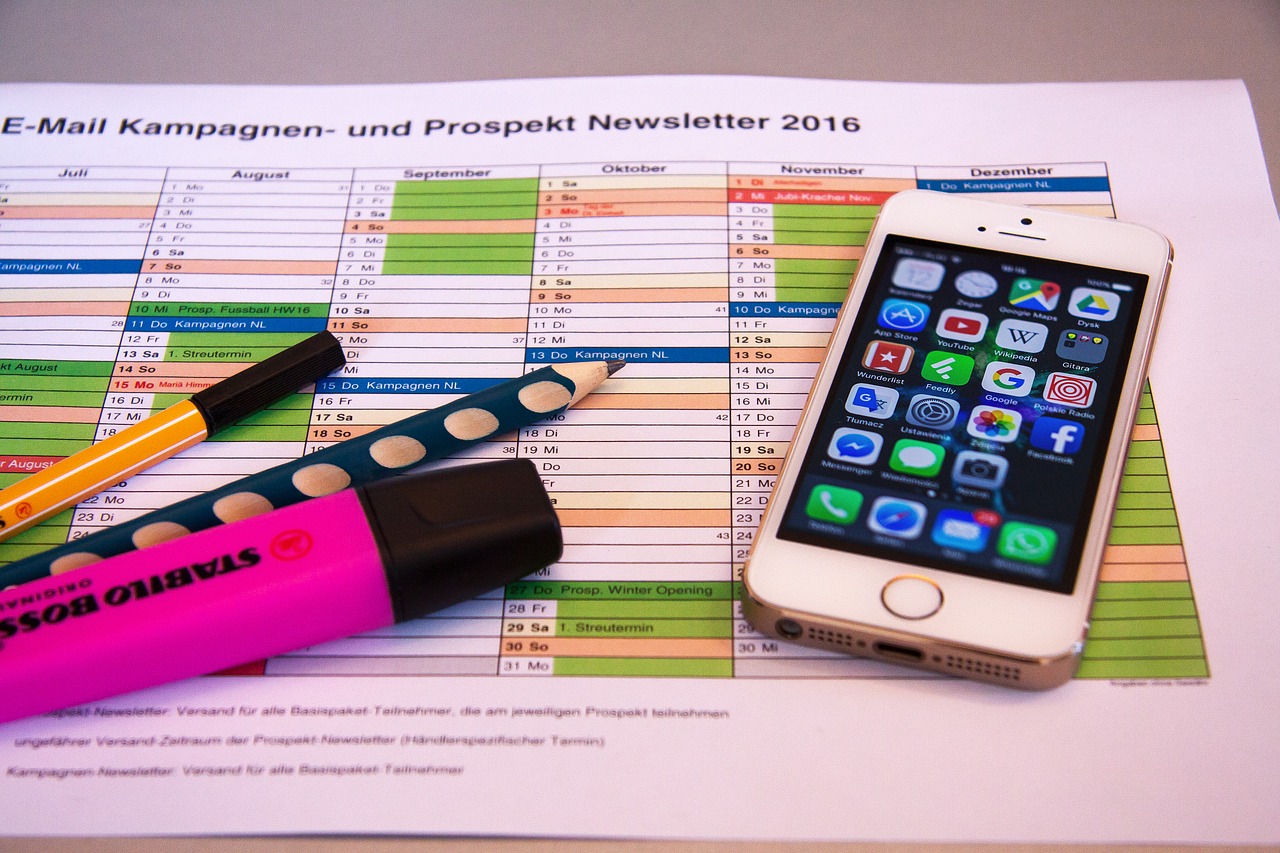 If you wish to be a digital marketer, you need to start practicing. If your job doesn't permit you to do it during office hours, create your own online channels and start doing it during your free time!
The beauty of most digital marketing fields is that it doesn't cost you very much to launch your own channels.
Most website Content Management Systems (CMS's) like WordPress, Wix, or Squarespace are either free or very cheap to sign up for.
Google Analytics is free to use, and it is a very powerful free tool that you can usee to build your own web analytics scoreboards.
All of the major social media networks are also free to use: Facebook, LinkedIn, Twitter, Instagram, Pinterest, and YouTube. You don't have to pay for a Facebook Page, a LinkedIn company page or an Instagram business account. (You only have to pay when you run ads as a company, or opt for a Premium account on LinkedIn.)
Each of these channels come with detailed analytics tools to track your performance.
Email marketing software like MailChimp also have free versions that you can try out on.
While the platforms may not cost much, you do need to devote time and energy to learn how to use them properly. Which brings us to my next point.
Conduct Cheap Experiments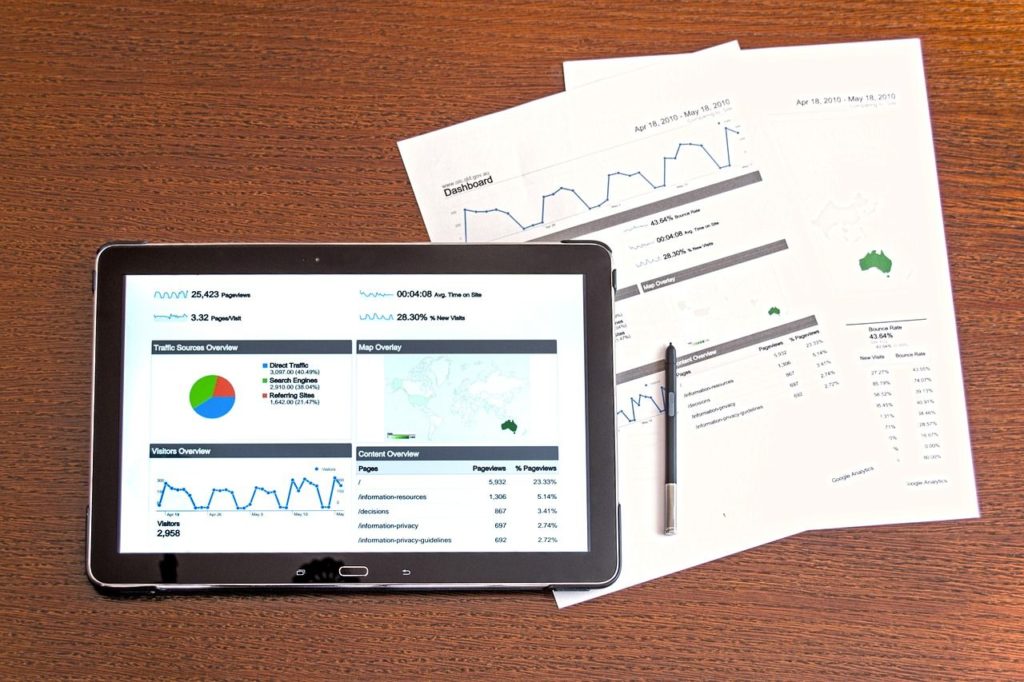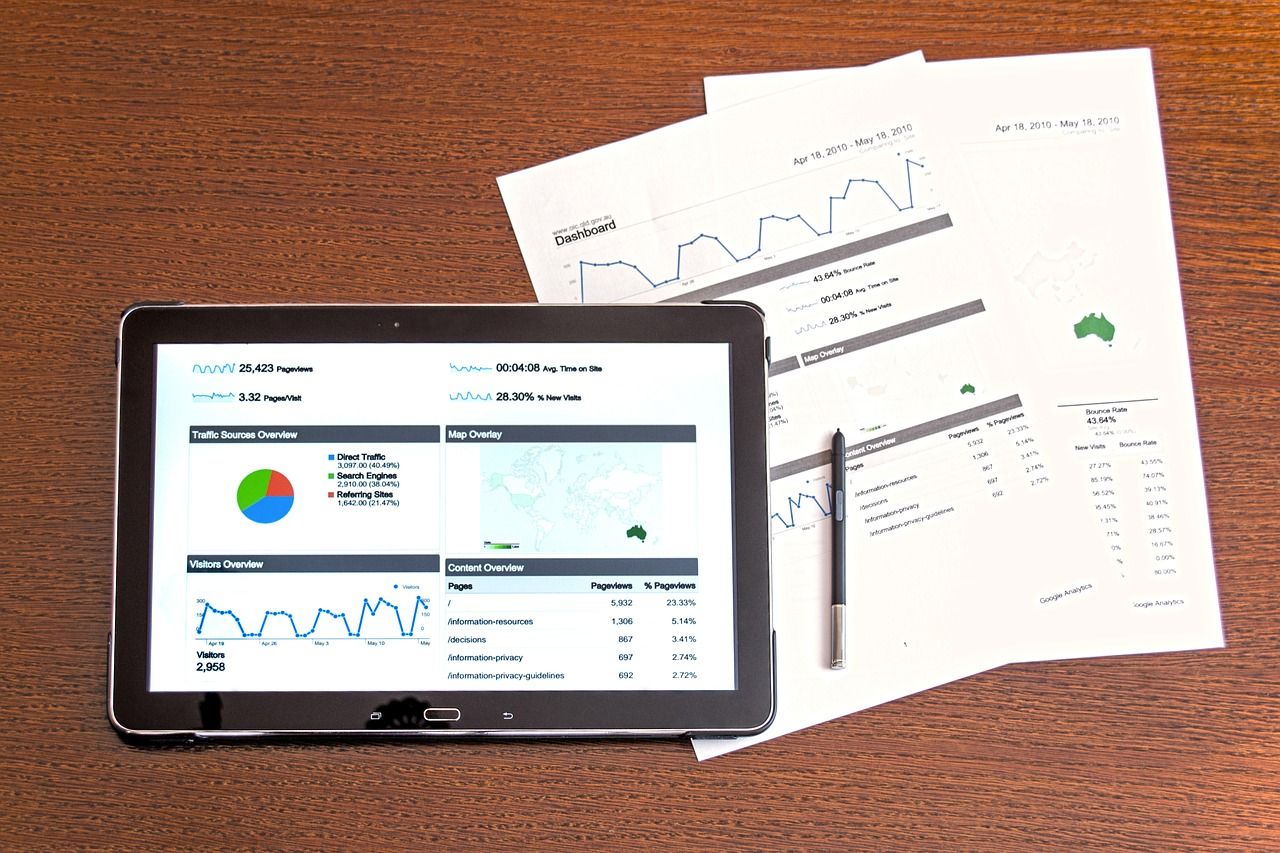 To know how things really work in the online world, you need to test and try things out.
"But isn't that going to be very expensive?" you protest.
Well, I'm not asking you to launch a $100,000 omni-channel advertising campaign. Instead, use channels like Facebook or Instagram, and allocate $30 to $40 a week to test the efficacy of different advertising messages and offers.
(Google, YouTube and LinkedIn ads work too, but those may cost more.)
Beyond advertising, think about engaging freelancers to design your content pieces, and try different formats like infographics and videos. Consider signing up for useful content or research tools that offer free trials, and see if these are worthwhile to invest in over the long term.
If you think nothing of splashing $5,000 for a two-week holiday in Europe or US, it shouldn't be too difficult to re-invest that sum (and time) to your fledgling digital marketing venture.
Follow Digital Marketing Influencers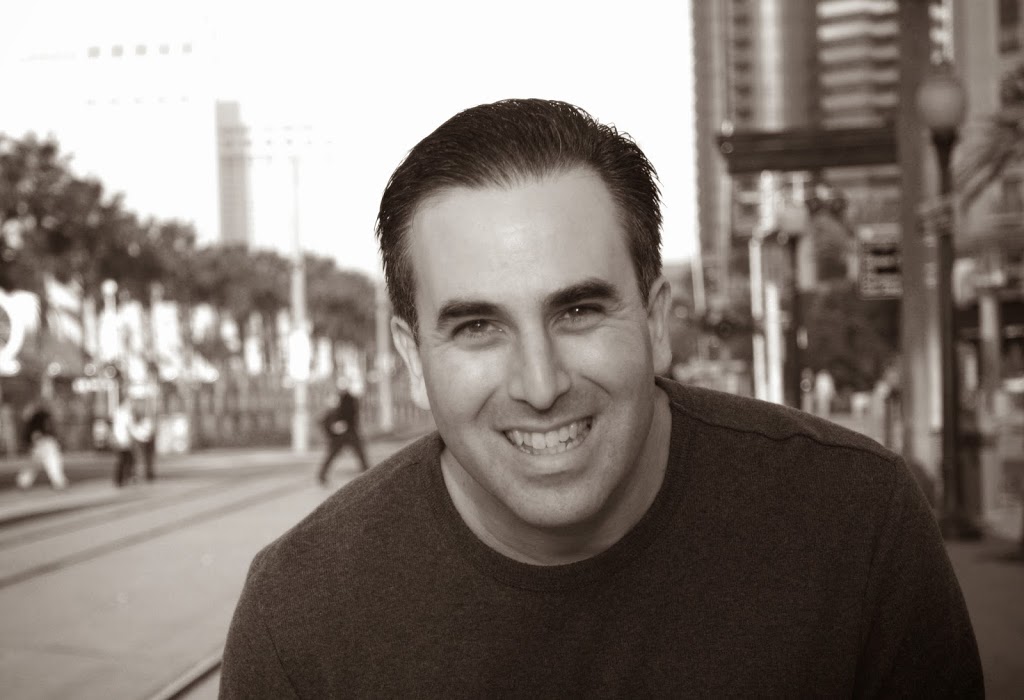 Michael Stelzner of Social Media Examiner
One of the fastest way to learn about digital marketing is to follow the leaders in this field.
Names like Gary Vaynerchuk, Michael Stelzner, Neil Patel, Ryan Deiss, Mari Smith, Joe Pulizzi, Jay Baer, Ann Handley, Rand Fishkin, Guy Kawasaki, and Lee Odden may come to mind.
Beyond these influential individuals, you should also read online magazines that specialise in this topic. They include:
If reading isn't your thing, you can also subscribe to podcasts by these influencers (like me). By doing so, I'm able to exercise and learn by listening to these influencers at the same time.
Join a Few Digital Marketing Interest Groups
As you slowly build your digital marketing wings, join Facebook or LinkedIn groups that discuss various digital marketing topics.
These can be anything from SEO, social media marketing, to WordPress website development and email marketing. To find them, simply type your preferred digital marketing topic and search for suitable groups to join.
Once you are in these forums, do practice positive behaviours such as:
Liking, commenting and sharing other people's posts (especially the useful ones)
Posting relevant content—articles, videos or infographics relevant to that topic
Refraining from promoting and selling your products or services
Asking the experts in the group for help—you'll be surprised how generous people can be
Here's an example of a Facebook Group that you can join, and the types of posts that you can expect in there.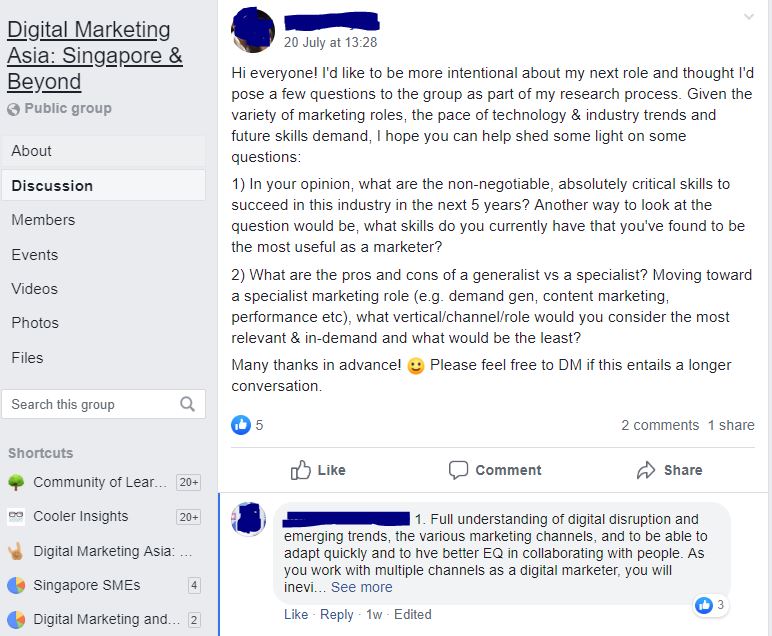 Invest in Quality Digital Marketing Training
Nothing beats the hands-on learning experience of a face-to-face 'live' workshop. Conducted by trainers with years of experience, they allow you to dabble in the various digital marketing tools in a safe environment where you will not be judged for your mistakes.
Going for a workshop or masterclass also gives you the opportunity to network with like-minded others. You can form a support group with other fellow learners, and bounce off ideas or help each other out.
If you're serious about equipping yourself in digital marketing, I highly recommend Equinet Academy as the place to equip yourself with useful digital marketing skills. All our courses are led by experienced digital marketers who either run online businesses or own agencies (like me). Various training subsidies are also available for Singaporean learners, which means that you'll pay less for receiving quality training.
PS – If you wish to catch me in action, enroll in my highly popular Social Media Marketing course here.
Find a Good Digital Marketing Mentor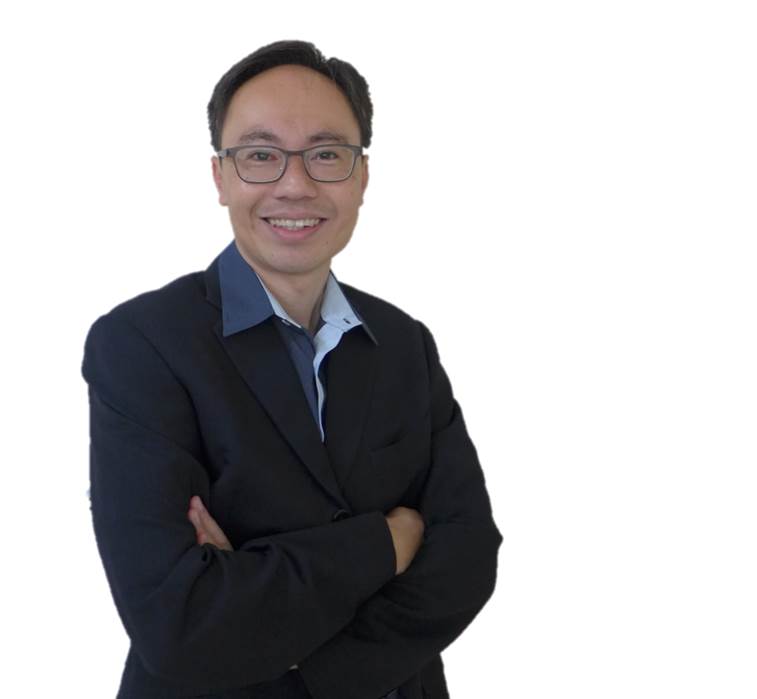 Drop me an email if you're keen to work with me as a mentor
Embarking on digital marketing on your own can sometimes be painful. While you can try to wing it yourself, chances are that you'll hit many walls during the process.
A good way to short-cut your learning curve is to look for a digital marketing mentor or coach. This should be a person with years of experience running digital campaigns, building platforms or crafting online content.
Ask for his or her credentials and see if you're comfortable with the person's background before you work with him or her.
How much should you pay for mentoring or coaching? Well, this really depends on several factors:
Years of experience
Availability to mentor
Areas of specialisation
Relationship with you
Build Your Personal Brand
There is an old saying which goes like this: "It isn't who you know, but who knows you."
In the hyper-cluttered online world, you can't afford to be as shy as a mouse and hope that a potential employer or business partner would serendipitously discover you.
Here's where building your personal brand comes in.
Unsure how and where you should start? Begin by building your social media profiles, particularly on LinkedIn (read my tips on boosting your LinkedIn profile here).
If writing content is your thing, here are 20 steps you can take to build your online brand.
Trawl LinkedIn for Digital Marketing Jobs
Finally, you need to search for and apply for that dream job in digital marketing!
This is the final stage where you hope to get a chance to score an interview with your preferred employer.
All you need to do is search for 'digital marketing jobs' on LinkedIn, like so: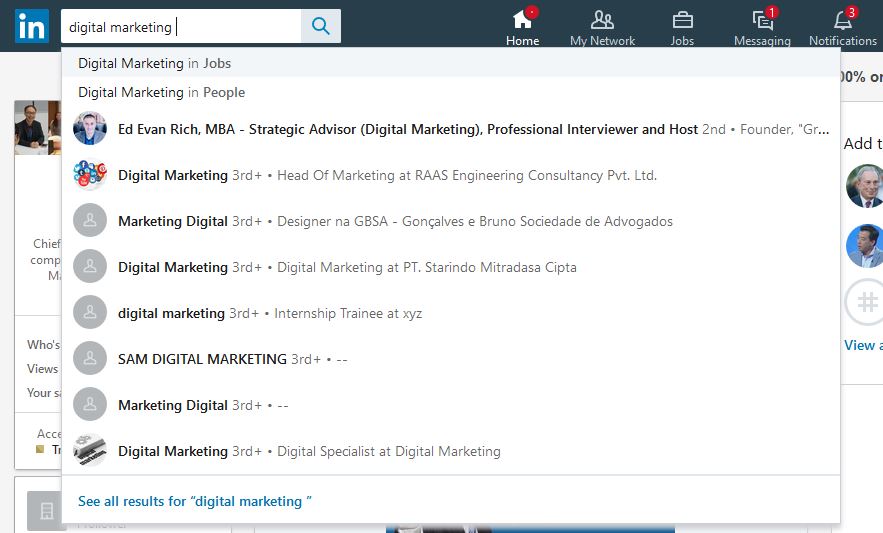 From there, click on "Digital Marketing in Jobs" and scan through all the opportunities available to see which is most suitable for you. Last I counted, there are 4,000 plus listings in Singapore alone!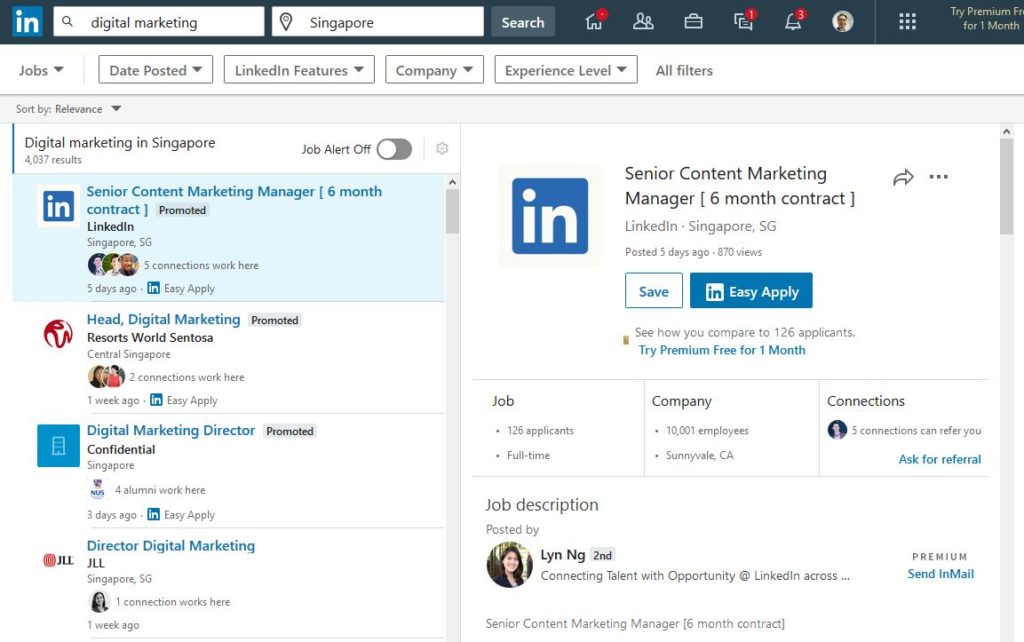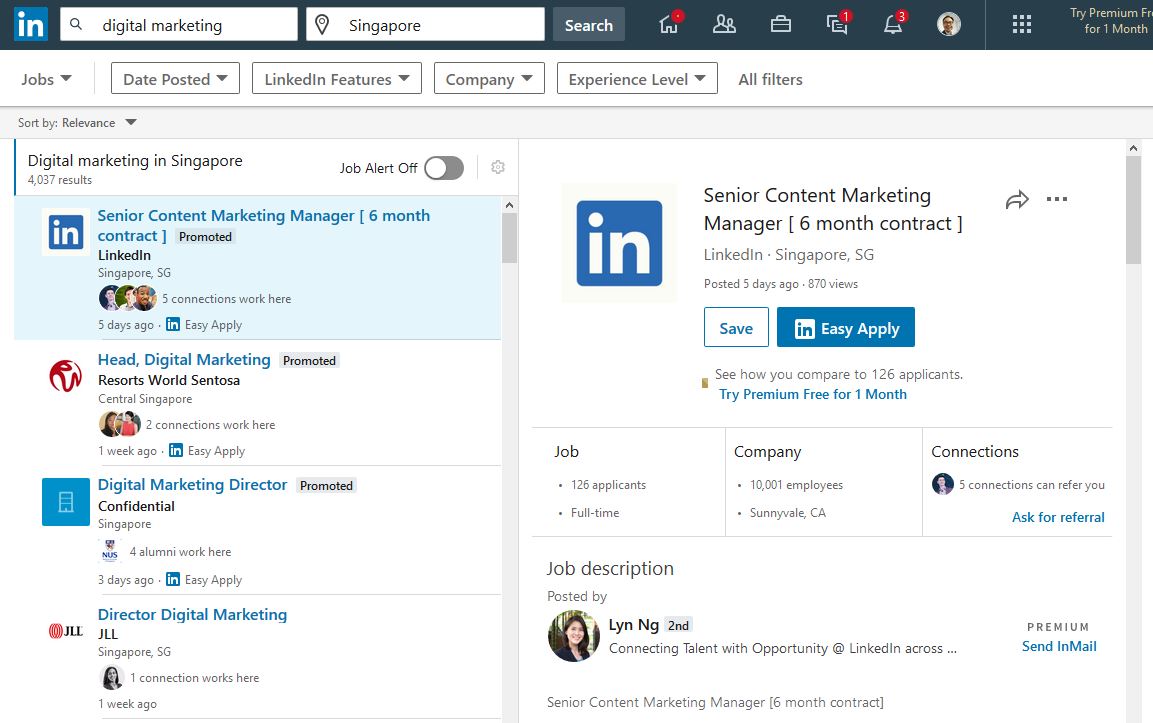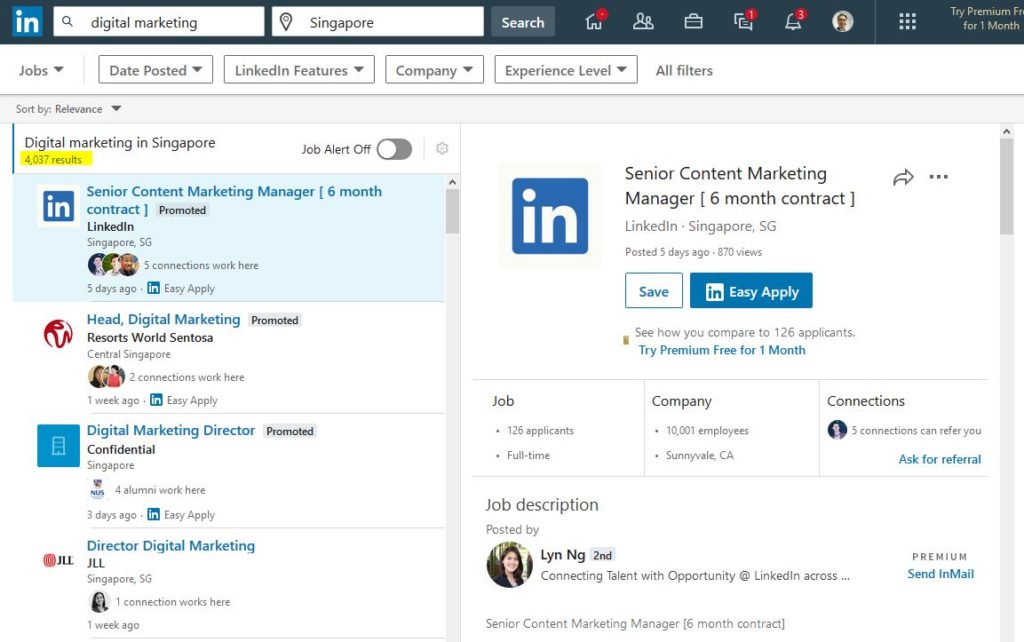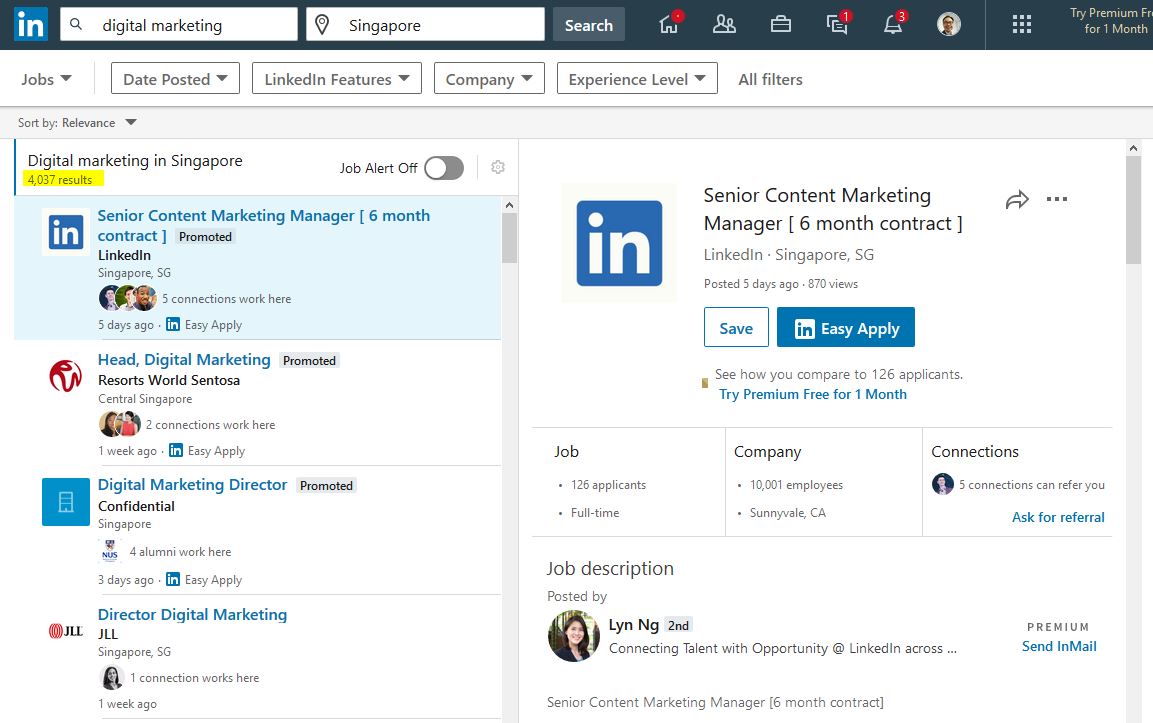 FREE Digital Marketing Career Handbook
If you wish to learn more about the different digital marketing careers and how you can benefit from them, do download this comprehensive digital marketing careers handbook from Equinet Academy. It will answer all the important questions you may have about building a career in digital marketing, including the skills you need, expected pay for different jobs, job scopes, and career progression pathways too!
Conclusion
I hope that these 10 steps have been useful for your quest to score your dream job in digital marketing.
Put in the hours and the effort to learn about digital marketing. Focus on specific areas of specialisation while ensuring that your knowledge covers other digital marketing verticals.
Follow the masters in digital marketing and apply what they teach you. Invest time, effort and (a little) money in your own education—the returns you'll get is well worth whatever you put in.
Are there other strategies you use to launch your career in digital marketing? Let me know in the comments below.
Need Help with Your Digital Marketing?
Fill in the contact form below for a free 30-minute Skype or Zoom consultation session!