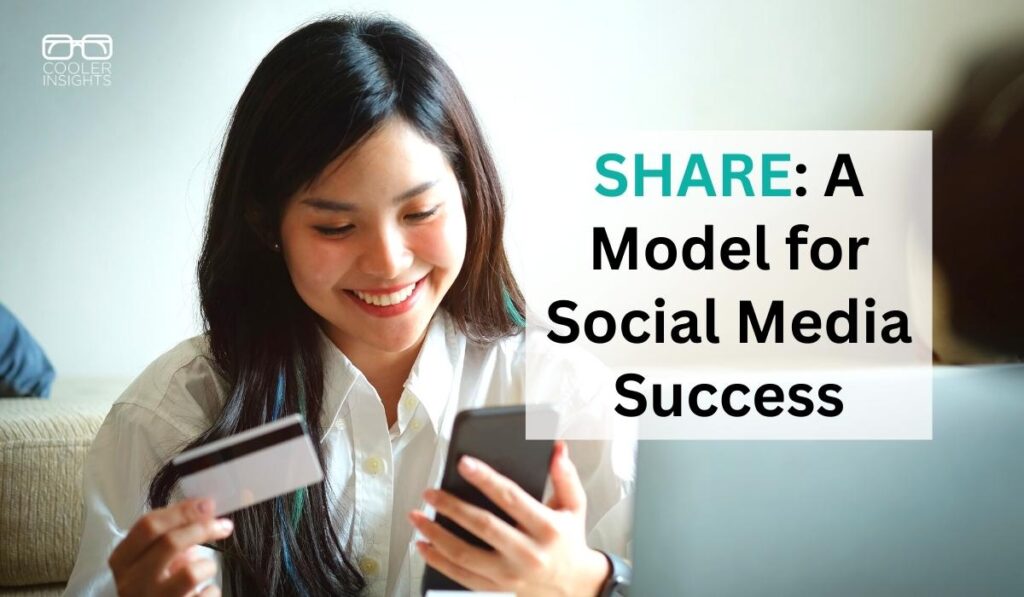 Need a novel new way to manage your social media marketing efforts? One that focuses on storytelling as its core?
Consider the SHARE methodology of social media storytelling created by Claire Diaz-Ortiz.
Written about in her easily digestible book Social Media Success for Every Brand, SHARE is a five-step framework:
S for Story: How to craft your brand narrative, and articulate it on social media
H for How: The nitty-gritties of managing your social media channels
A for Audience: Ways to evoke empathy and connection with your audience
R for Reach: Strategies to grow your influence and amplify your reach
E for Excellence: Sustaining your social media marketing efforts for the long-haul
In this article, you will learn the salient points from her book, augmented by my own insights drawn from years of experience in this field.
The Engagement Ladder
According to Claire, social media is more about brand marketing as opposed to direct marketing.
I wholeheartedly agree with this. In fact, I often reinforce this point to my trainees (over 5,900 to date).
Your goal is to use social media content to attract the attention of both new and old followers, and get them interested enough to deepen their relationship with you.
This takes the shape of an Engagement Ladder, with the rungs of the ladder showing how you can move your potential customers up towards becoming a paid customer and beyond.
Courtesy of Tegan
Those of you familiar with the social media marketing funnel would notice that there is some synergy between the ladder and the funnel (see below).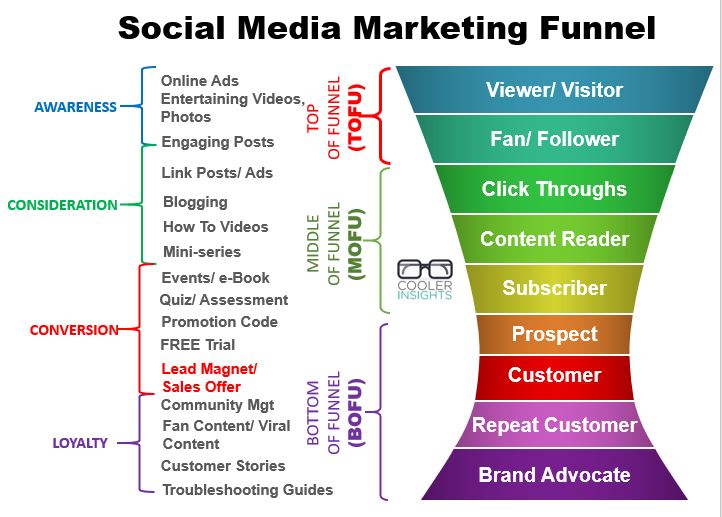 As a matter of fact, the engagement ladder is like an inverted funnel. Instead of potential customers trickling down the funnel, your goal is to get your prospects to climb up the engagement ladder as you nurture them and increase their resonance with your brand.
This kind of looks like this.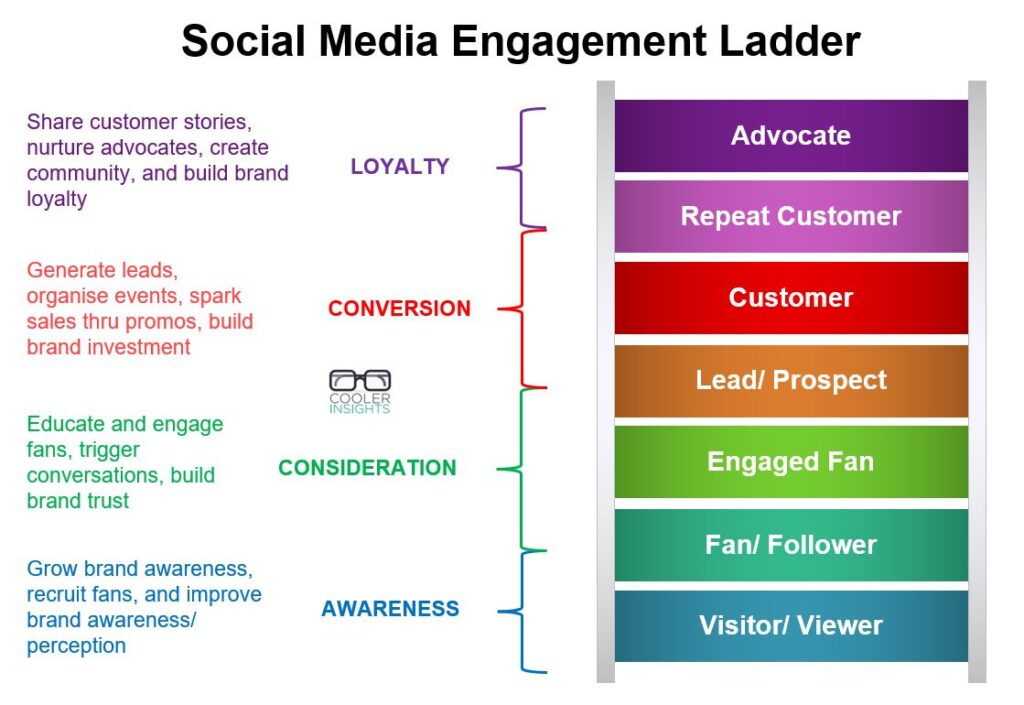 Let us now look at the different stages of the SHARE framework in detail.
#1 Story
The first step in SHARE is story.
Your goal here is to craft what Claire calls a "BrandScript" on social media to "open your story gap, move your followers up the engagement ladder, and close the story gap when you call them to take action."
Read my article to use the StoryBrand plot structure to craft your BrandScript. Alternatively, you can consider these seven storytelling formulas to develop your core brand narrative.
Social Media Bank Account — The 80/20 Rule
Heard of the 80/20 rule? Well, you can use this time-honoured Pareto principle in crafting social media content too!
Equating it to a social media bank account, your goal is to give value 80 percent of the time (ie make deposits to your social media bank account), and sell or promote your brand 20 percent of the time (ie withdraw from your social media bank account).
PS — Do also read my article on the 80/20 rule in content marketing.
Social Media Budget — Your Content Mix
Stretching the analogy further, your social media budget comprises the content types that you can create on social media.
This typically includes the following:
Blog articles
Quotations
Selfies
Promotions and Deals
Lead magnets
Case studies
Videos — both live and recorded videos
Statistics (infographics)
Podcast episodes
Curated content from other sources
Testimonials
Games
Quizzes
Photos
In thinking about your content mix, make 80 percent of your post "deposits" — How-tos, guides, instructional videos, tips, tricks, updates.
20 percent of your posts would then be "withdrawals" — case studies, testimonials, a Call To Action (CTA) to fill up a form to download an eBook, discount vouchers, invitations to a webinar, or a direct sale.
#2 How
Touted as the "logistics" of social media marketing, the Hows cover the nuts-and-bolts of social media management.
Choose the Right Social Media Platforms and Post Frequencies
Consider where your target audiences hang out, and focus on those channels that they're on.
Are they on Facebook, Instagram, Twitter or LinkedIn? What about Pinterest, YouTube, and Quora?
You need to also think about the right time to post, as well as the frequency of your posts. These would vary from network to network.
Set the Right Social Media Content Themes, Schedules and Calendars
Next, think about your social media schedules and content calendars.
Consistency is key. Keep your programming predictable — ensure that your content topics are aligned to your channel focus.
Make sure that you have a regular social media posting schedule and editorial calendar for your audience.
Tap on tools to manage your social media calendars — Hootsuite, Buffer, Later, Sendible, Sprout Social are just a few you can use.
Inject Occasional Pattern Disruptions
Every once in a while, use a pattern disruption to catch your audience's attention. This is content that breaks from the regular programming.
For example, you can write a reflection on your 50th birthday, or highlight how you spent your holidays.
#3 Audience
Focus on your target audiences as the hero — not your brand!
Here, it is useful to build a detailed customer avatar in order to understand what drives him or her.
According to Claire, the secret behind strong engagement on Facebook, Instagram, Twitter, LinkedIn and other social networks revolves around this formula:
Empathy + Connection = Social Media Engagement
Consider empathy with your audiences as a way of strengthening engagement with them.
Here are some ways to evoke empathy:
Storytelling
Helpful content
Asking questions
(Read my thoughts on empathy here.)
In short, don't post and ghost. Instead, focus on engaging with your audience — preferably in real-time.
And you should reply to every comment on your posts, even those from your haters!
#4 Reach
To augment and amplify your reach on social media, begin by crafting a powerful social media profile.
(Here's how you can do so for your LinkedIn profile.)
Don't be too fixated with going viral. Instead, focus on being consistently helpful and reliable. Grow your social media accounts through regular content, working with influencers, and advertising to amplify your reach.
Use the Right Keywords and Hashtags
Keywords and hashtags are used by social media users to find stuff on social networks. Personally, I found that keywords work more importantly than hashtags these days on the different social networks:
Twitter: Pick trending hashtags and use them to ride the wave. Stick to 2 to 3 hashtags.
Instagram: You can stick to 5 to 6 hashtags, as well as keywords. Pick from medium-range hashtags (50,000 to 500,000 posts) as well as niche hashtags specific to your business.
Facebook: Stick to just 2 to 3 hashtags. Use a hashtag to brand your business if necessary. Generally speaking, Facebook hashtags do not work as well as those on other social networks.
LinkedIn: Stick to just 2 to 3 hashtags. Use a hashtag to brand your business if necessary. Avoid overdoing it here.
YouTube: YouTube now allows you to use hashtags to make your videos more easily found. Keep it to the top 3 hashtags.
The key thing is to consider what your audiences will find useful or relevant when you pick a hashtag.
Engage the Right Influencers
Reach influencers in a way that they like — find the right niche, the right influencer, and engage with them over time.
Look for the most suitable influencers whom your target audiences can relate to. Check the followers of your desired influencers to ensure that they are the right target audiences.
(Learn more about influencer marketing here.)
Social Media Advertising Strategy
To grow and amplify your social media presence, consider this dual advertising strategy:
Boost to Brand: Put a modest budget aside to boost your educational/helpful posts. These are your "deposits" and could be how-to videos, articles, tips, recipes, and tricks. Focus on reaching your existing fans and followers, as well as their friends. Spend 25 percent of your ad budget here.
Amplify to Advertise: Increase your social media advertising budget for conversion focused posts. These are your "withdrawals" and could be lead generation posts, event invitations, testimonials (with a CTA), offers, or direct to sale posts. Spend about 75 percent of your ad budget here.
#5 Excellence
To be honest, I found this part of the book a little confusing. Hence, I'll be supplementing this with my own ideas!
According to the book, achieving long-term excellence comes from three ways:
Asking yourself how your followers can be part of your story
Rolling with the punches (and owning up quickly to mistakes)
Participating in a dialogue with your customers — even when they are unhappy.
Beyond this, I felt that excellence in social media marketing alsocomes from monitoring and measuring your KPIs.
Using a data-driven approach means evaluating your social media ROI across your entire funnel — and this would apply to your engagement ladder too!
You should also focus on continually improving your craft. See what sticks and do more of that.
Make sure that you craft quality content, but be quick to respond to your customers. And yes, ensure that you have a long-term community management strategy.
Conclusion
Beyond the SHARE framework, the book Social Media Success for Every Brand also covered detailed SHARE strategies for each social network like Facebook, Instagram, Twitter, LinkedIn and others.
Personally, I felt that the ideas contained in the book was pretty comprehensive although it could be presented in a more systematic and organised fashion. Having said that, I gleaned several nuggets from the slim volume.
Wish to Improve Your Social Media Marketing Efforts?
Fill in the contact form below for a free 60-minute Skype or Zoom consultation session!