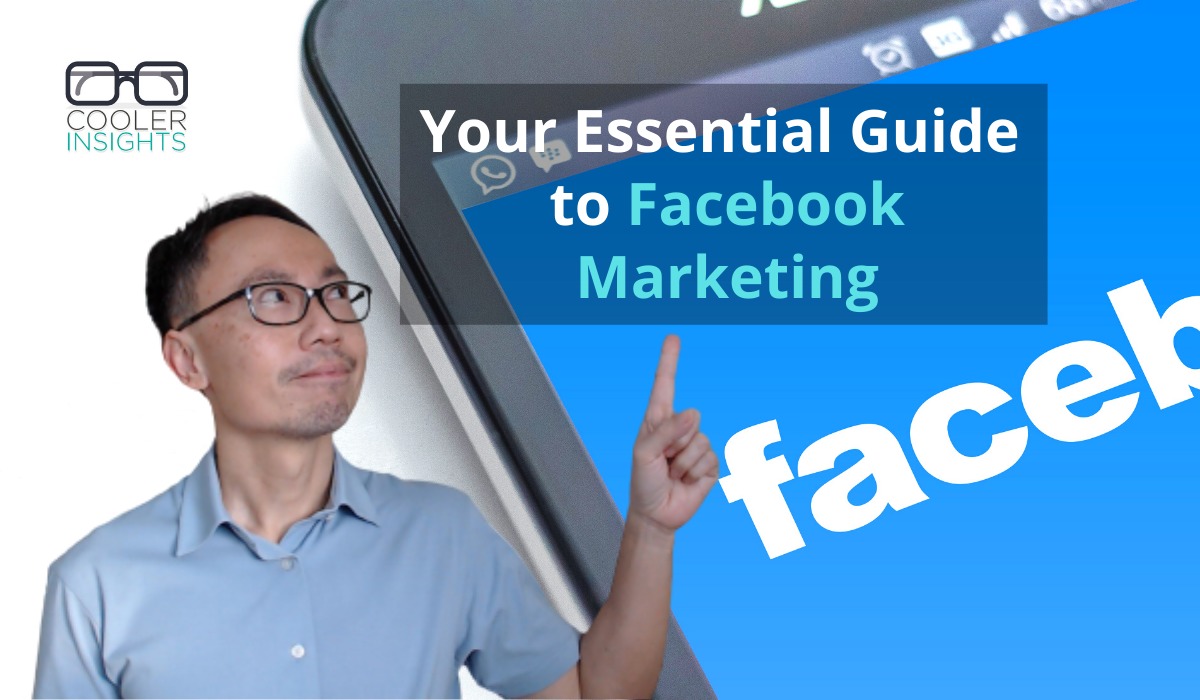 Wish to grow your small business through social media marketing? Why not start with Facebook marketing — after all, Facebook is probably the best digital marketing platform for startups, Small Medium Enterprises (SMEs), and solopreneurs.
In this comprehensive guide, you will learn the best Facebook marketing tips for small businesses in Singapore. They include…
The benefits of Facebook for small business marketing
How to create a Facebook Page for your small business brand
Content strategies for Facebook to promote your small business
How to advertise your business on Facebook
How to measure your performance on Facebook
How to build a loyal brand community on Facebook
Ready to do some serious Facebook marketing for your small business? Let's go!
Why You Should Use Facebook for Small Business Marketing
Do you know that Facebook is one of the top social media marketing channels for small businesses?
According to statistics from Oberlo, over 200 million small businesses around the world use Facebook's tools.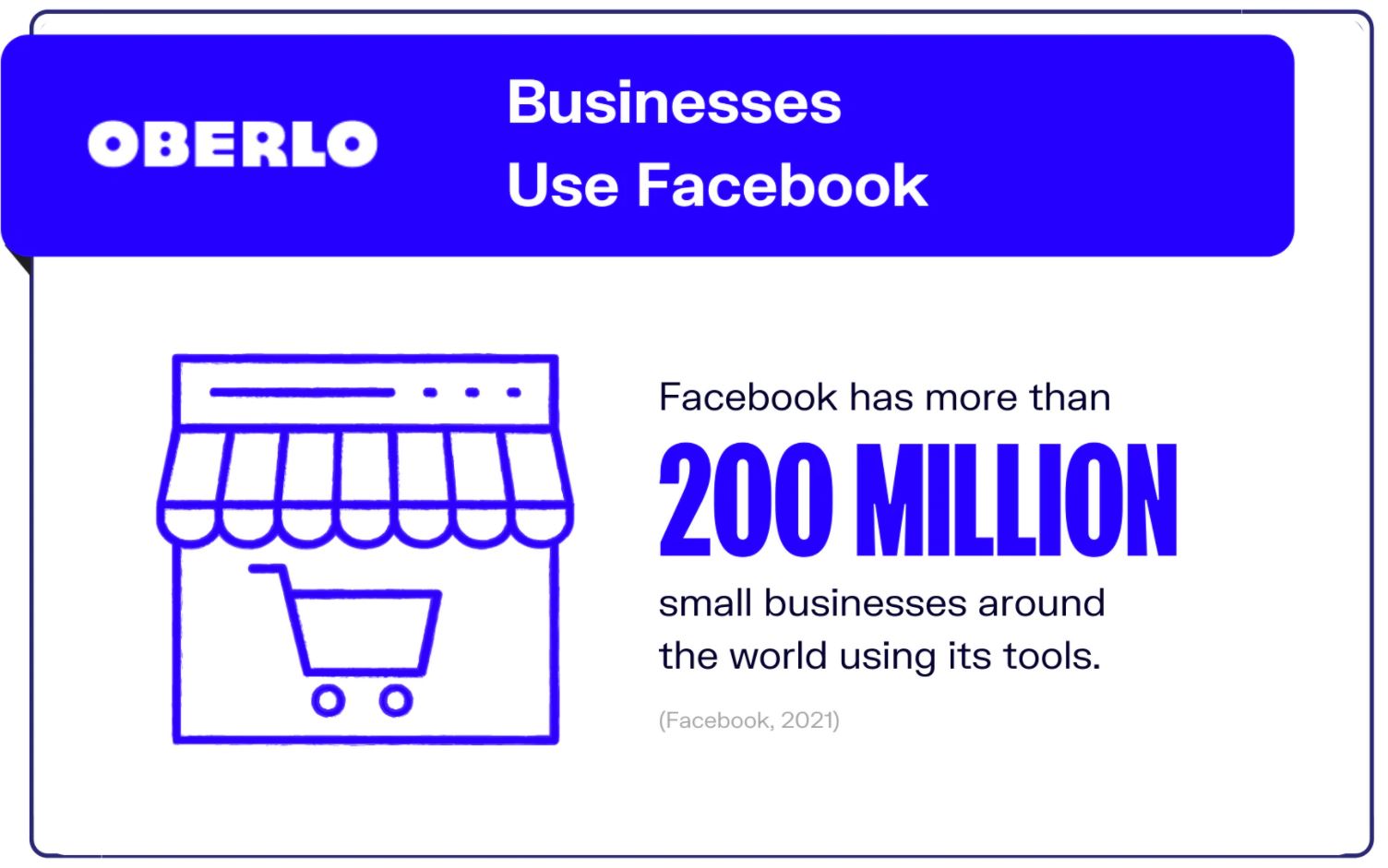 Courtesy of Oberlo
There are many reasons why Facebook is a perfect platform for small businesses like yours to build your brand. Here are just a few of them:
Huge user base: There are an estimated 2.8 billion monthly users on Facebook (and growing)
Wide variety of tools (mostly free): Facebook offers a wide range of free tools to grow your business, ranging from catalogues and shops, targeted advertising, to pages and groups
Mature consumers: The Facebook audience is becoming increasingly mature in demographic, making it ideal for reaching consumers with disposable income
Multiple native advertising options: Few online channels are able to seamlessly integrate their ads into their platforms as well as Facebook has.
Low cost per results: Compared to virtually all other digital marketing channels, Facebook still offers the best Cost Per Thousand Impressions (CPM), Cost Per Click (CPC), Cost Per Video View (CPV), and other KPIs.
Social proof: Because users go to Facebook to connect with their family and friends, businesses can tap on the Word Of Mouth recommendations of these individuals
Social shares/ virality: In certain countries like Singapore, Facebook is the top channel for people to share content, making it perfect for viral marketing campaigns
How to Create a Facebook Page for Your Small Business
OK, you're convinced that Facebook works for your small business. Now why do you need to create a Facebook Page?
Have a look at the table below to see how a Facebook Page compares to a personal Facebook profile and a Facebook Group.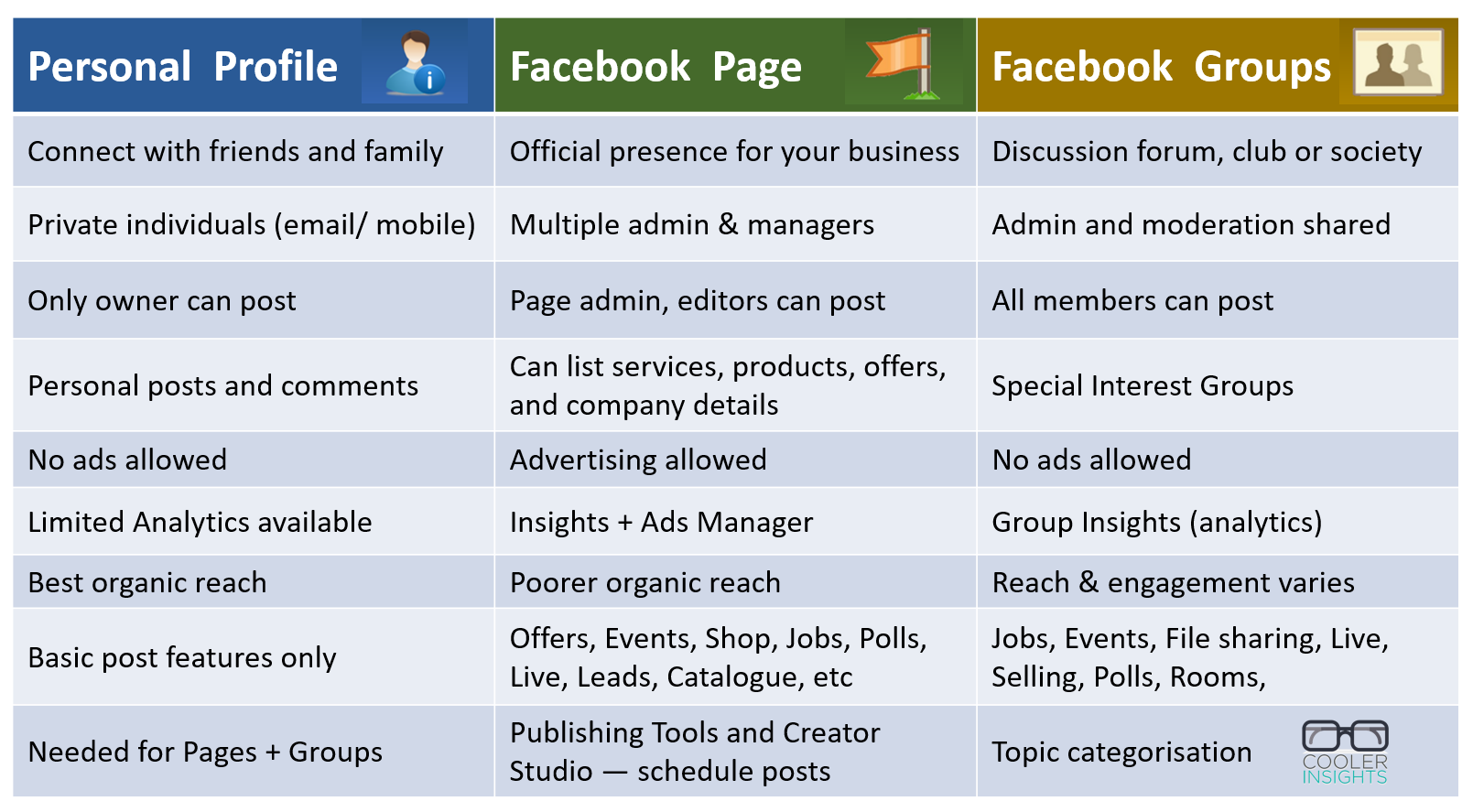 The main advantages of starting a Facebook Page are as follows:
You're able to separate business from pleasure — or personal content from professional content
You're able to tap on the wide range of tools afforded to Facebook Pages
You're able to reach a broader audience by tapping on Facebook Advertisements
To create your page, click on the "menu" button on Facebook, then choose "Create Page" as shown below.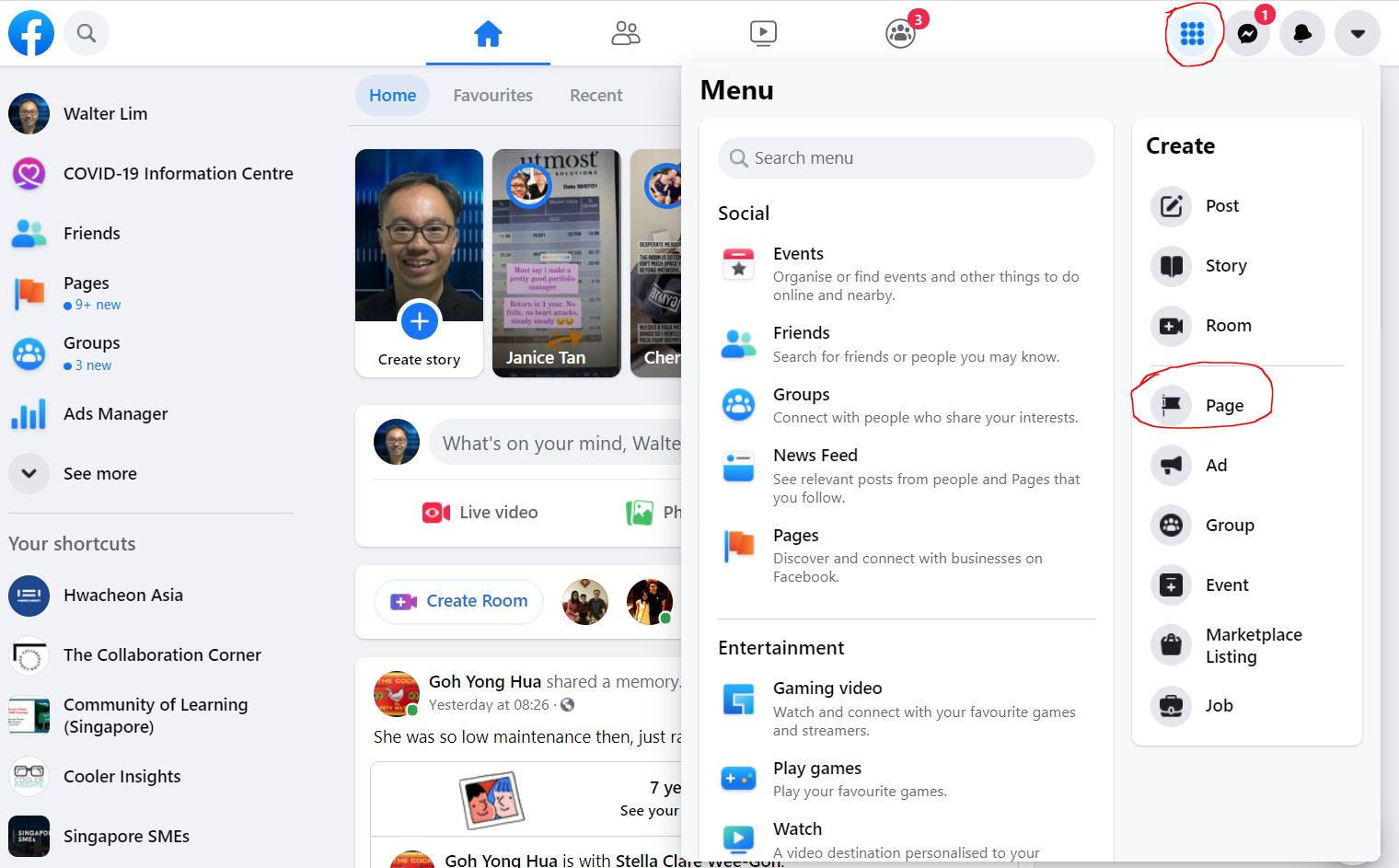 You'll then be asked a series of questions to complete your Facebook Page. Follow the instructions to name your page, choose the right category, as well as description. You will also be asked to upload your cover image and profile photo.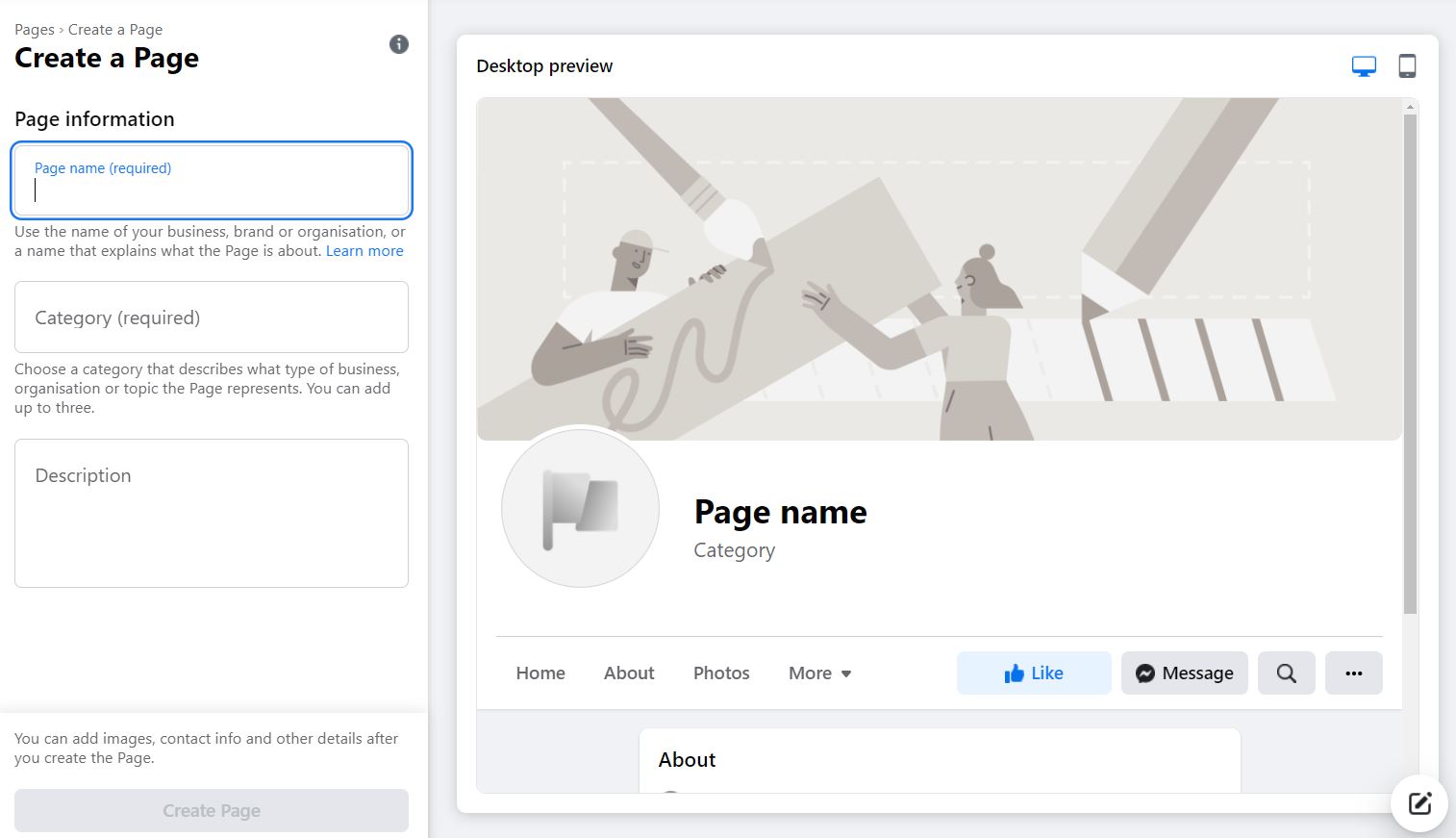 Where possible, describe your business in a way that is easy for a potential customer to find you. Hence, you should use keywords that relate to your trade, include your Unique Selling Proposition (USP), as well as images that best project your brand.
You can navigate to all the different sections of your page from the left column when you're logged in your Facebook Page. This is like a control panel for your page.
If you wish to customise your Facebook Page, you can use the "More" button to "Edit tabs" as shown below.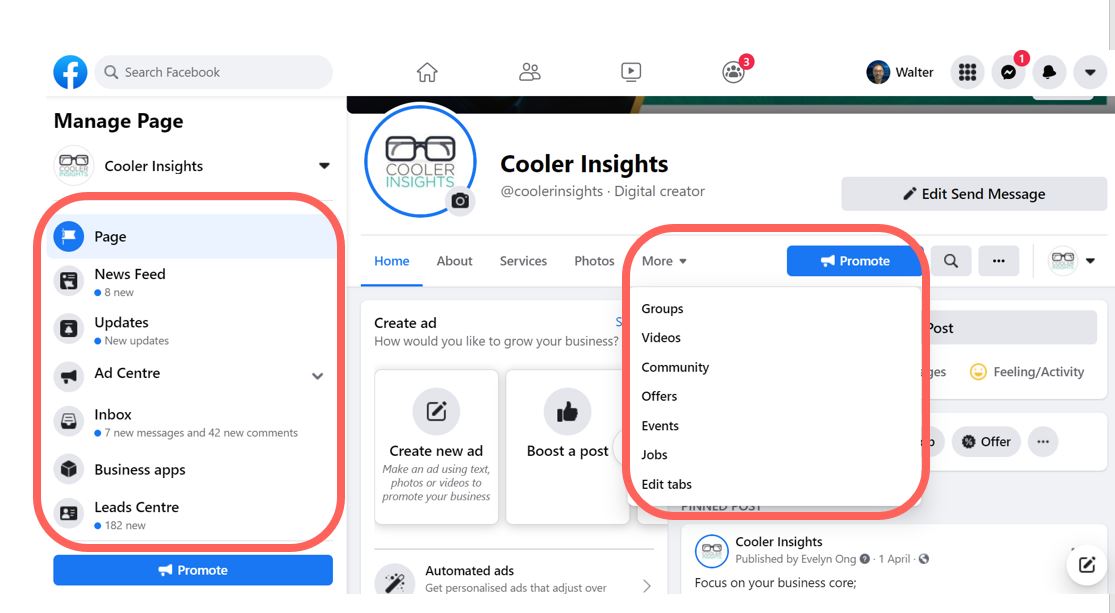 When you are crafting your Facebook Page information, products and services, consider the following Facebook Page Best Practices:
Easy to remember business name
Business details and address
Include website and contact details
Write a vivid description of company and founders — use storytelling to evoke interest!
Include keyword-loaded content in contact info, brand names and products
List down your key services, products and offers
Include events to drive prospects — if you intend to use Facebook Live, put it in an event so that you can advertise and boost attendance to your Facebook Live event.
Update cover image frequently, with your latest offers, events and promotions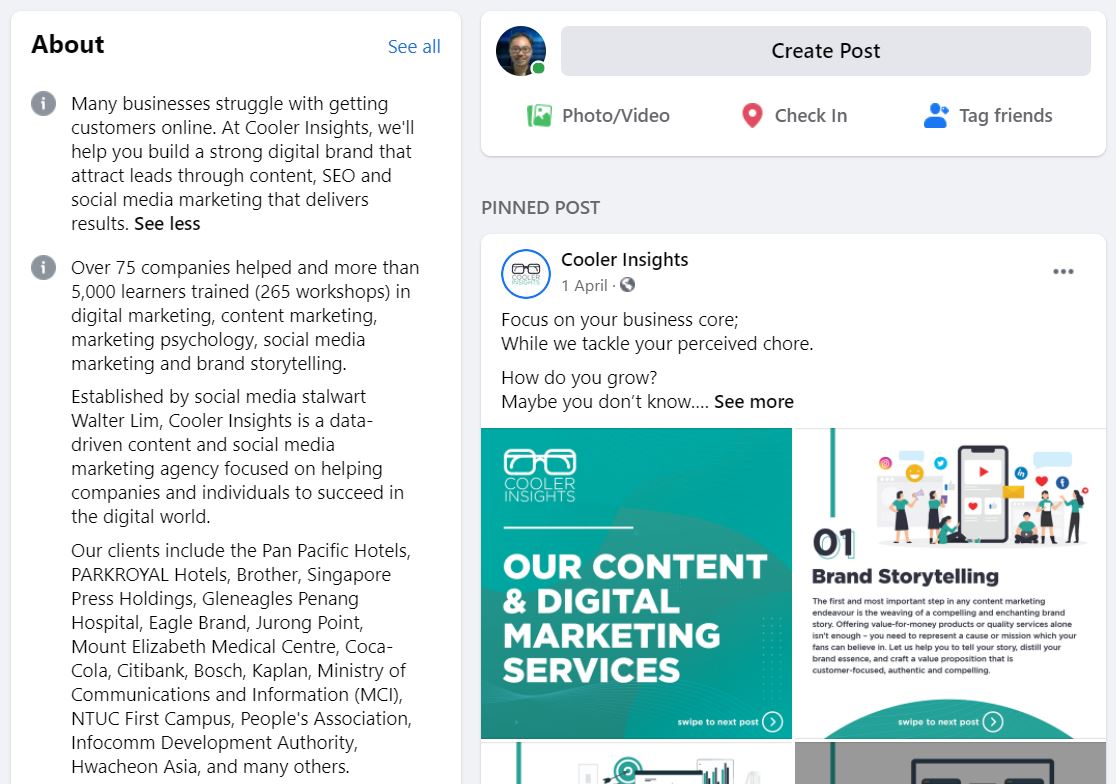 On your Facebook Page, you can create many different types of content — posts, live videos, events, jobs, offers and ads. You can also nudge your audience to send you a message either on Facebook Messenger itself or WhatsApp (if you have WhatsApp Business account).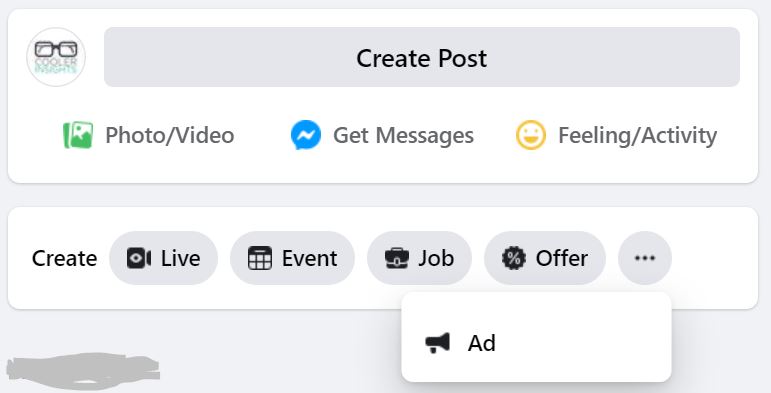 Beyond these different functions, you can also navigate to the "Publishing Tools" tab to schedule your posts.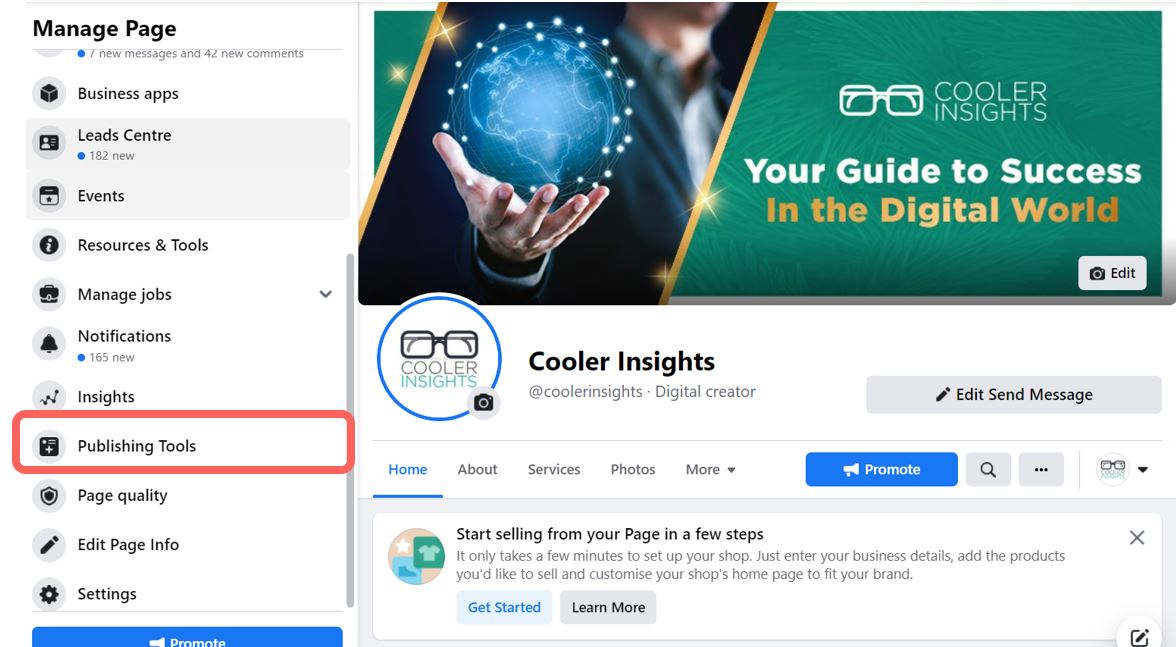 Clicking on the "Create Post" button on Publishing Tools gives you the option to publish many different types of posts. You can also access the "Creator Studio" tool from here (or simply type in https://business.facebook.com/creatorstudio).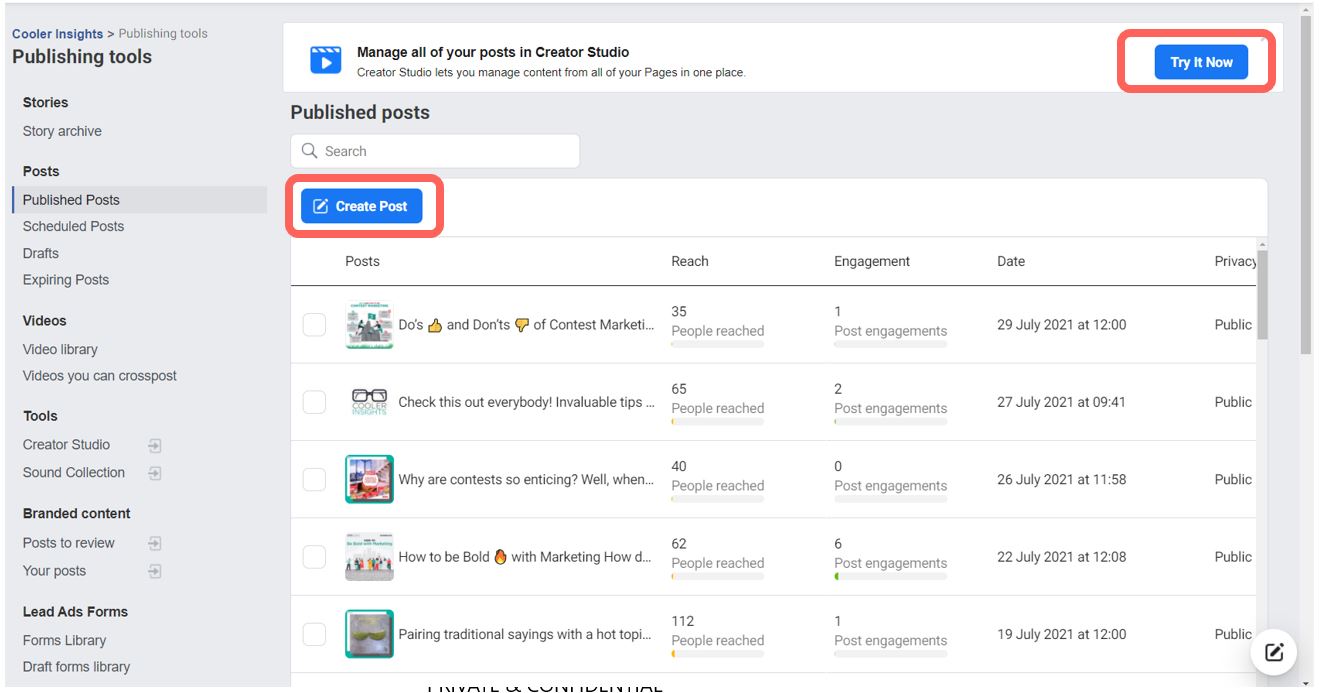 From the Create Post function on Publishing Tools, you can connect your Facebook and Instagram post together, and consider scheduling them in advance! This eliminates the need for you to be physically present to post at the best times of the day (usually weekday nights for Facebook).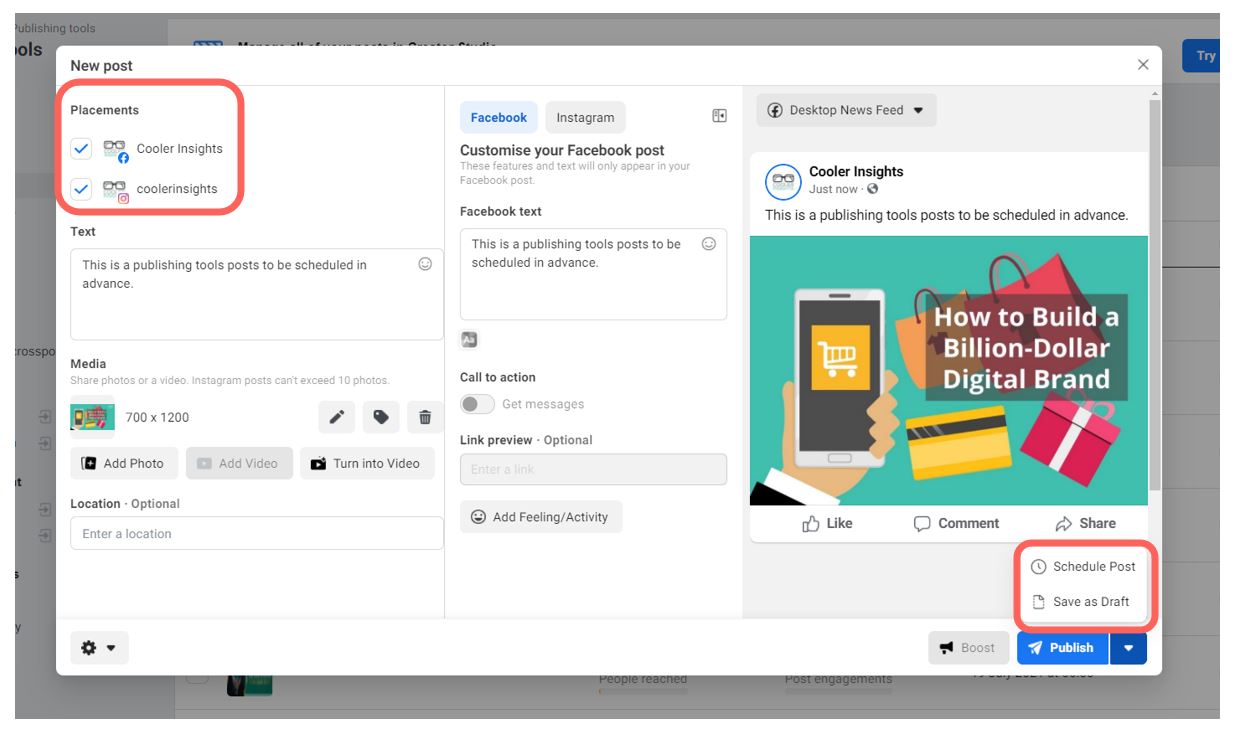 Creator Studio, on the other hand, allows you to manage and access multiple Facebook Pages and Instagram Accounts. And yes, you can post on Instagram using Creator Studio — without having to finagle with your mobile phone! How cool is that!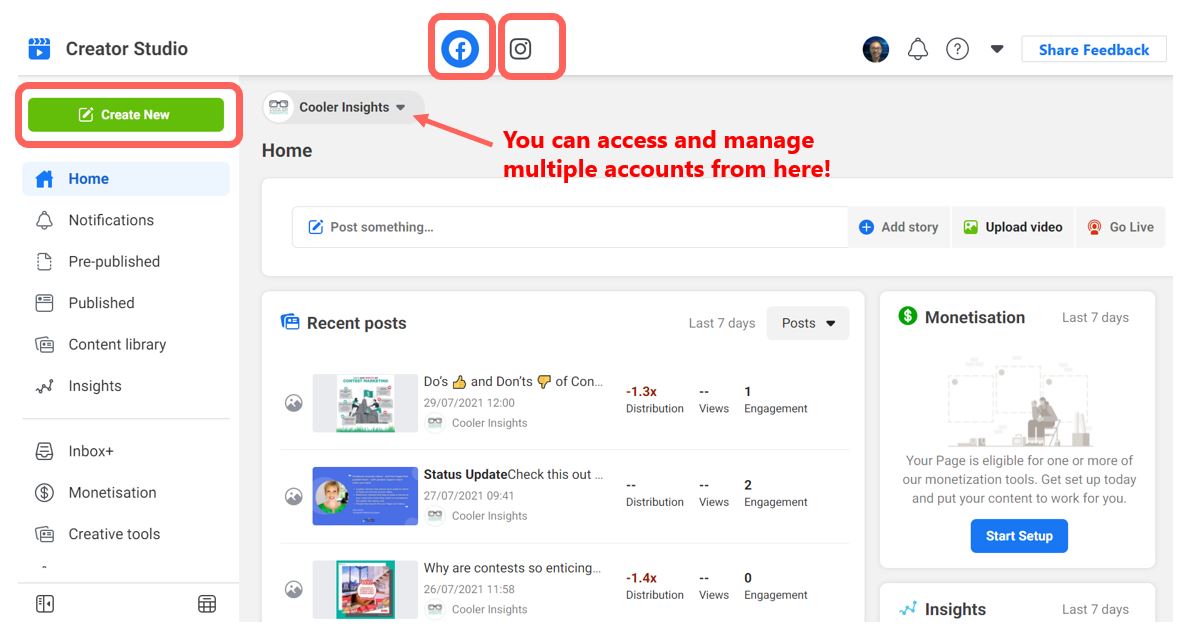 Facebook Content Strategies for Small Businesses
Got your Facebook Page all set-up? Good!
Your next task is to look at the different types of content you can create to promote your small business on Facebook.
Now, the sky is literally the limit here, but there are some general principles to consider.
#1 Think Small, Snackable, Bite-sized Pieces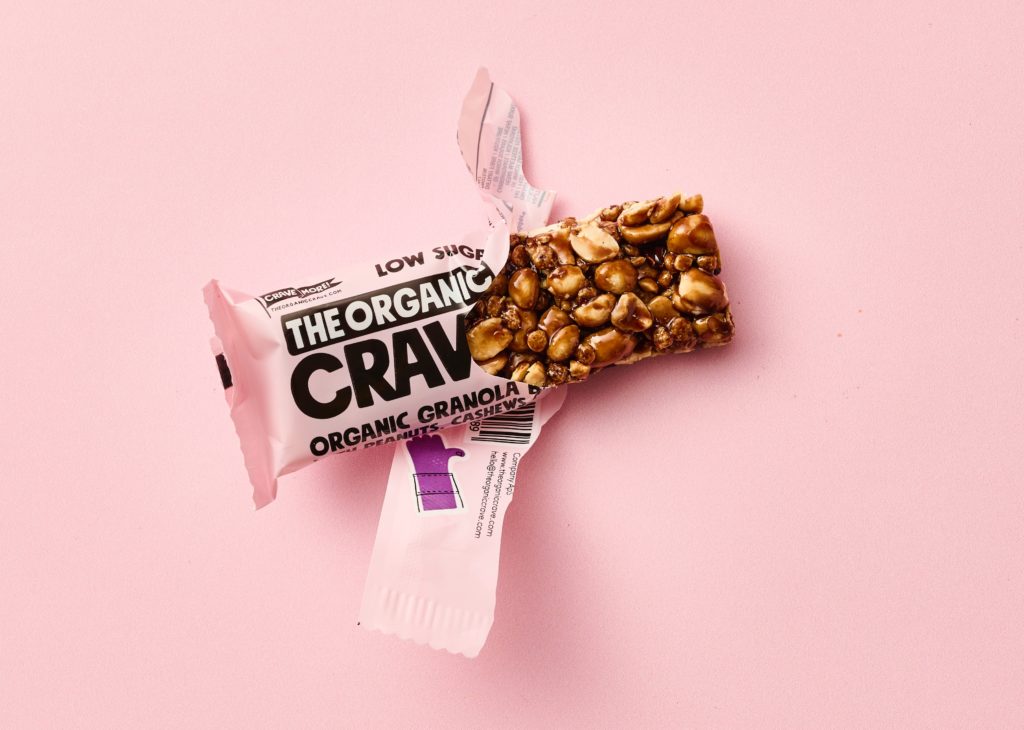 Facebook generally works better with smaller pieces of content. Here, we're talking about 1-minute videos, or 5 to 10 images designed with a carousel-style content, as well as short written posts with photos.
#2 Focus on the Three Es — Education, Entertainment and Engagement
The key thing is to offer valuable and useful content — make 80 percent of your posts focused on education and engagement, and only 20 percent focused on conversion like lead generation and sales. (Read more about the 80/20 rule.)
#3 Videos over Photos and Text
Comparatively speaking, videos (especially live videos and stories) are the best type of content to post on Facebook.
To shoot a video, simply use your mobile phone! There are lots of tutorials you can find on YouTube teaching you how to do so.
To edit your video and do post production, you can use tools like iMovie, Movie Maker, Filmora, or Adobe Final Cut Pro, amongst many others.
You can also use tools like Lumen5, Adobe Spark, Invideo, Waveapp, Canva, or Crello to create short videos on Facebook — these are usually more templatized slideshow type videos.
#4 Bright, Colourful and Vivid Images
If you choose to use a static image like a graphic design or a photo, consider how you can illuminate your images like a rainbow ?.
Bright, colourful, and eye-catching images work better in creating "thumb stopping" content on Facebook.
Do also consider using a human being in your image — especially a person who looks like your target audience. Often, the best Facebook posts feature your ideal customer using your product or service to solve a specific challenge.
#5 Copywriting — Focus on Pain Points and Solutions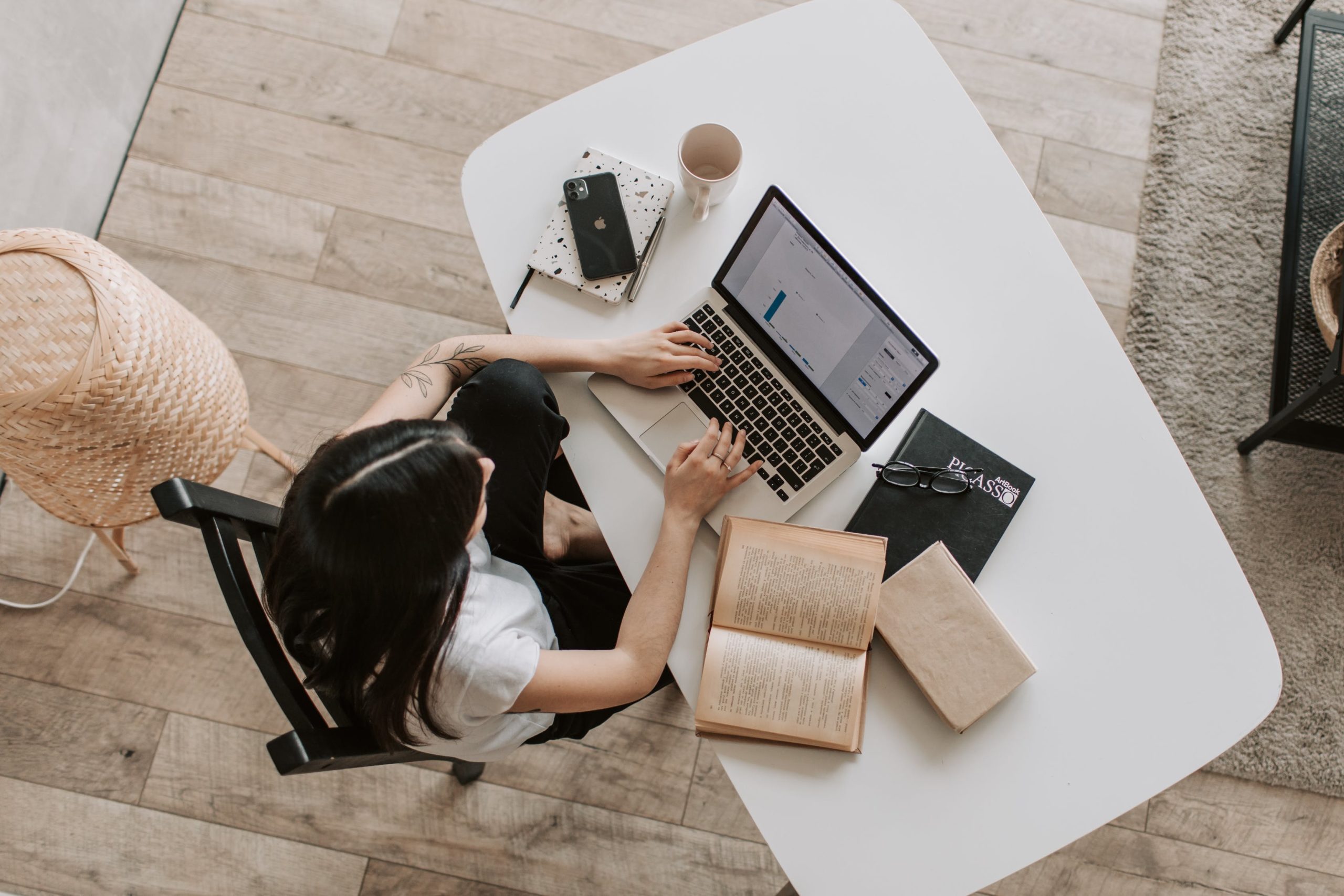 When it comes to copywriting on your Facebook posts or ads, you need to consider several things:
Attention grabbing first sentence: Make this focused on your customer woes or problems
Solution delivering middle: At the middle of your copy, weave in your solution. This doesn't mean sending them to your sales page! It could also mean telling them what they should do to solve their problem without any strings attached.
Call To Action: Include a way for them to interact with you. This can be as simple as to "visit our website to learn more" to asking them a question "What do you think?" or polling them, ie "Which would you prefer?" — you can use the poll function for this.
(Lots more Facebook content techniques here.)
How to Advertise Your Small Business on Facebook
With organic reach on Facebook Pages reaching miniscule percentages, you'll need to invest some of your marketing budget on Facebook Ads.
Broadly speaking, there are two ways to do so:
Boosting Your Post directly from your Facebook Page
Using Facebook Ads Manager
#1 Boosting Your Facebook Post
This is fairly easy, as you can just click on the blue "Boost Post" button on the bottom right corner of your post.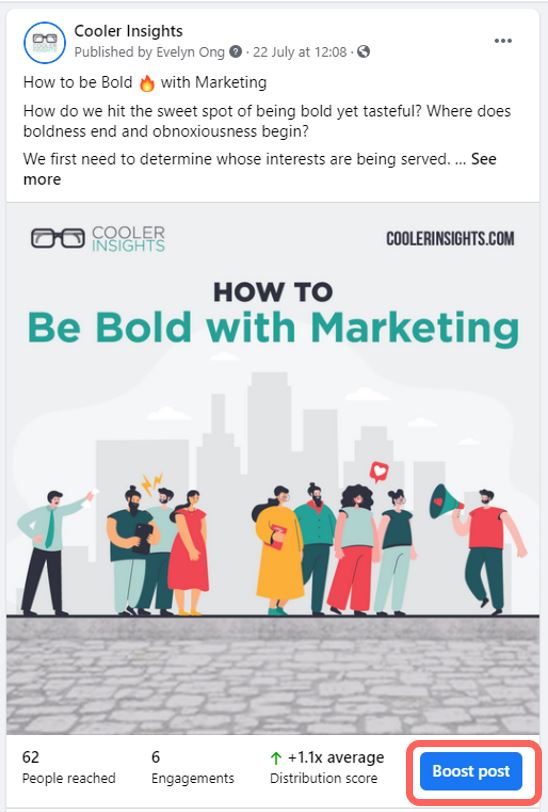 Once you've done so, you'll see a series of options that you can choose from, as shown below.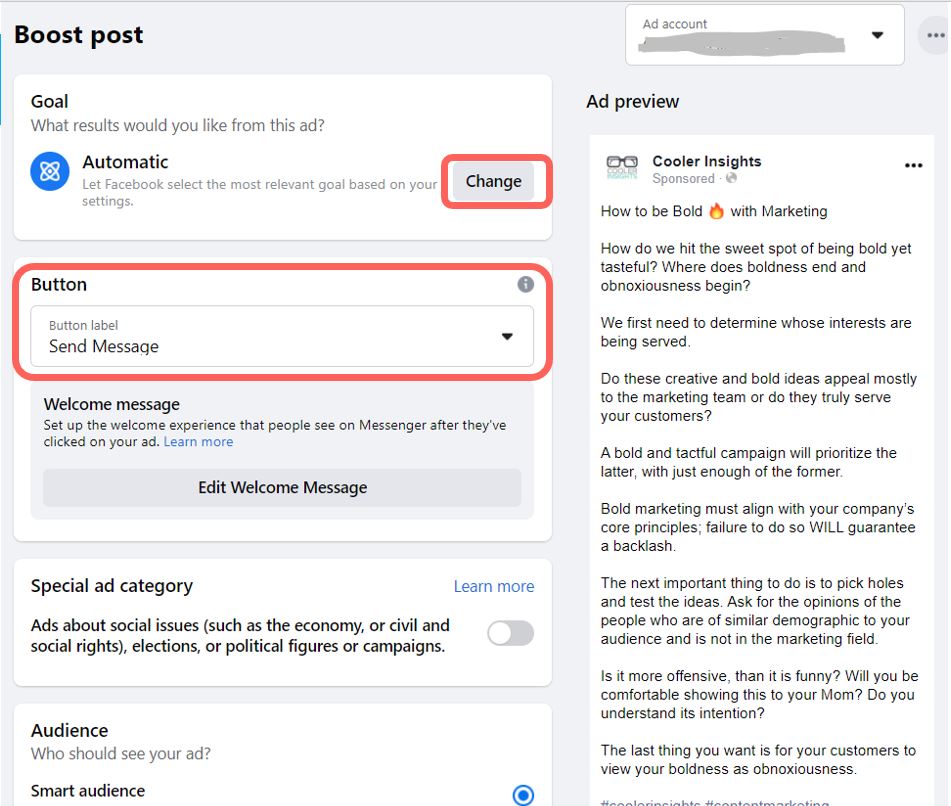 If you click on the Goals section, it will show you various options depending on what you'd like your audience to do when they see your post. From my experience, I find that its probably better for you to choose the precise option you want (eg "Get more leads," "Get more messages" or "Get more website purchases") rather than leave it as Automatic.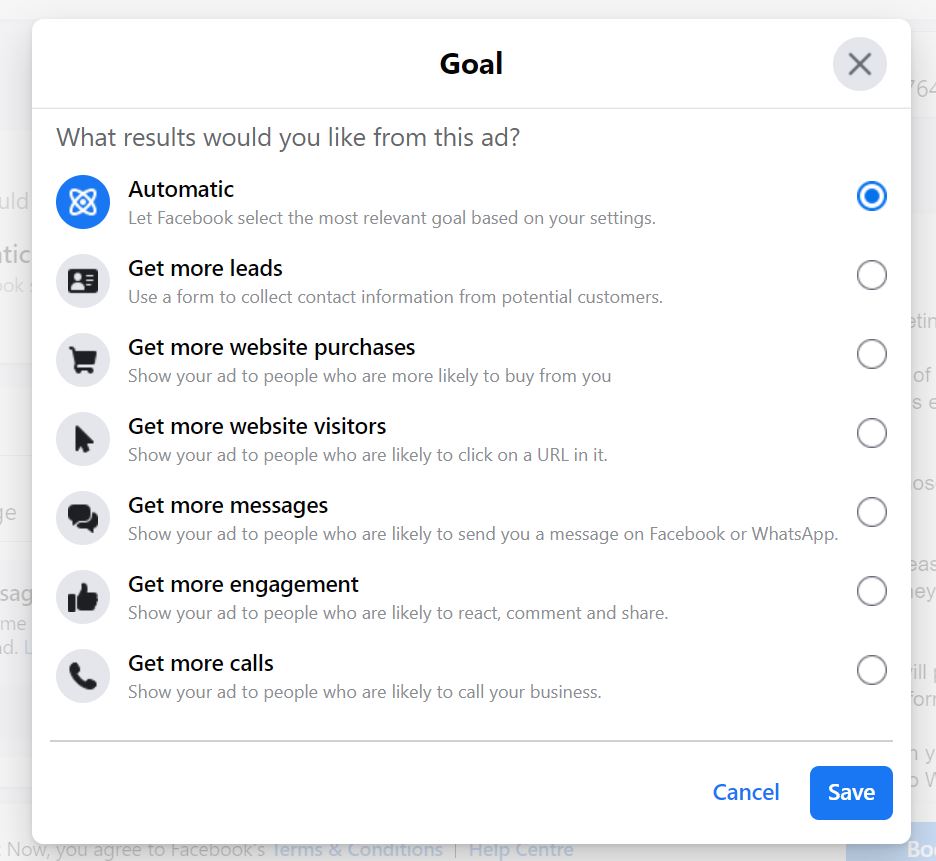 Depending on which goal you choose, you'll then be taken through a series of steps. If I choose "Get more website visitors", they'll let me choose the button label for the Call To Action (CTA) as well as the website URL to direct traffic to.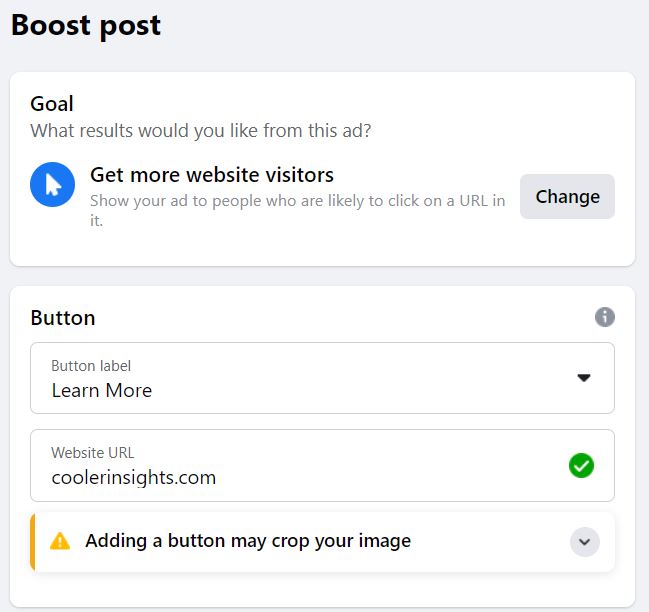 You'll also be given choices for your Audiences, including choosing their demographics, location, interests, and affiliation to your Facebook page and website. However, these tend to be more limited than the options available from the Facebook Ads Manager (see below).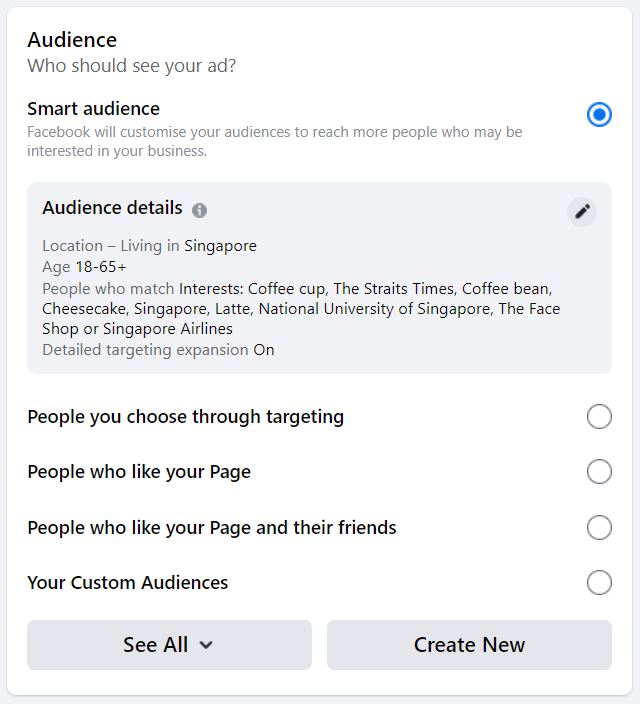 You can also choose various parameters like your Facebook campaign duration, total budget (which will give you an estimated reach per day), your placements, as well as the option to include your Facebook pixel if it is installed on your website. On the right side, you'll see an estimate of your Facebook boosted posts estimated daily results in terms of number of people reached, as well as the total results (eg link clicks, leads, purchases, engagements, etc). The payment summary is also provided there.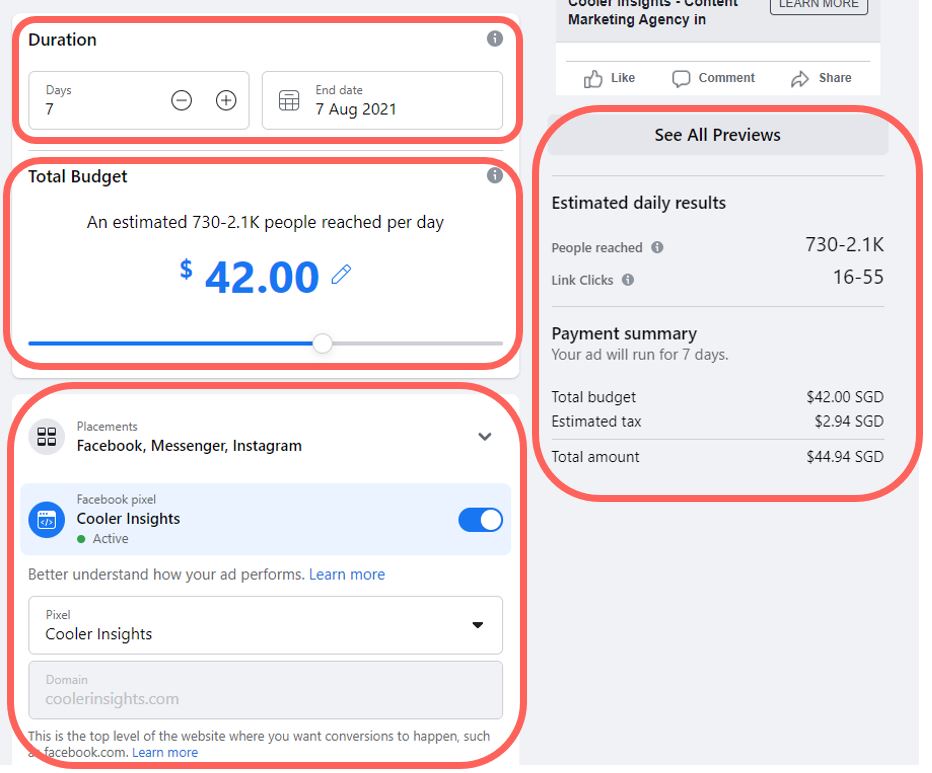 After you've provided your payment details (like your credit card or PayPal account), you can then proceed to "Boost Post Now" to get your ad out there!
#2 Using Facebook Ads Manager
Facebook Ads Manager is the advertising tool on Facebook that professionals use.
It is a lot more sophisticated than the Boost Post function, and includes a lot of ways to customise your Facebook campaigns, including running conversion campaigns, creating Custom Audiences using a Facebook Pixel, and lots of other permutations.
To access it, just visit the link https://facebook.com/adsmanager and you'll come to a screen like this.

After you click on the "Create" button, you'll be walked through a series of steps where you can…
Choose the right Facebook Campaign Objectives (details here)
Choose the right Facebook Ad Set parameters (details here)
Create the right Facebook Ads (details here)
Once your ads are running, you should also be able to use the Facebook Ads Manager to ascertain the effectiveness of your advertising campaigns. This is done by analysing the metrics reported in the Ads Manager.
(To learn more about using the Facebook Ads Manager, sign up for my Social Media Marketing course with Equinet Academy.)
#3 Budgeting and Scheduling Facebook Ads
How much should you set aside for your Facebook ad (be it through boosting or using Facebook Ads Manager).
Generally speaking, you should allocate at least $50 to $100 to boost posts to improve engagement (eg engagements, or landing page views, or video views), and allocate at least $500 to $1000 for conversion focused ads (eg lead generation, sign ups on your landing page, eCommerce sales).
To optimize your ad campaigns, ensure that your campaigns can get out of the learning phase, ie minimally 50 conversions over a 7 day period. Click here to learn more about the Learning Phase in Facebook Ads.
How to Measure Your Results on Facebook
When we look at tracking your Facebook performance, there are two areas that you need to be aware of:
How to Measure Your Social Media Marketing Results
How to use Facebook Insights to track Facebook Page performance
How to use your Facebook Ads Manager to track advertising KPIs
Let us first examine the different types of metrics that you should take note of when you are marketing on Facebook.
#1 How to Measure Your Facebook Marketing Results
In tracking your social media marketing ROI, I generally classify them into four stages:
Awareness: Track the reach, impressions, views, fans/followers, and visibility of your brand.
Consideration (or Engagement): Track the interactions, engagements, and fan interest. It may include number of interactions like likes, comments, shares and clicks on your posts.
Conversions: Track the no of leads, event attendees (usually prospects), and customers as well as revenue.
Loyalty (or Advocacy): Track the no of social shares, growth in fans, no of top fans, repeat customers, and customer lifetime value.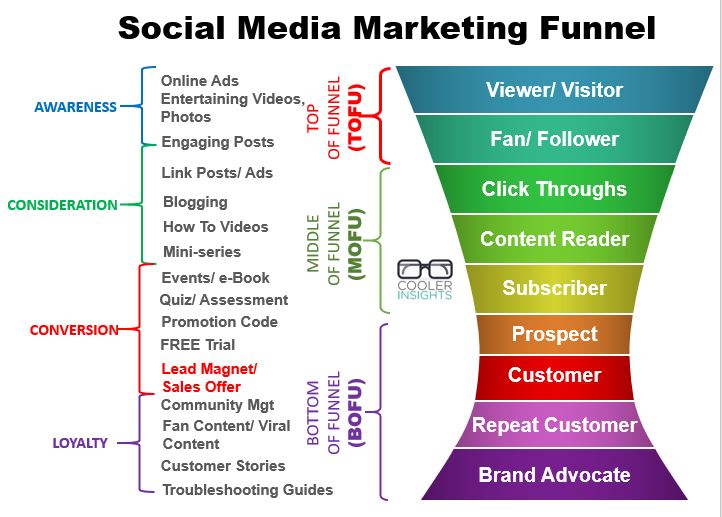 Like other social networks, Facebook usually works well for Top-Of-FUnnel (TOFU) awareness and Middle-Of-FUnnel engagement of your brand. This means that you can use Facebook Marketing to open up your reach at the top, ie visitors, viewers, fans and followers.
Social media marketing also works well for the Loyalty (Advocacy) stage of the funnel. This is where a passionate fandom can really help your small business brand to grow.
For Conversions, you'll normally need to employ other channels to work in tandem with Facebook. They may include instant messages, webinars, a physical event, face-to-face interactions, or emails.
(Read more about social media marketing ROI here.)
#2 How to use Insights to Track Facebook Page Performance
To read your social media marketing performance on Facebook, you can use a variety of tools on Facebook.
The first is Facebook Insights, which you can access directly from your Facebook Page interface.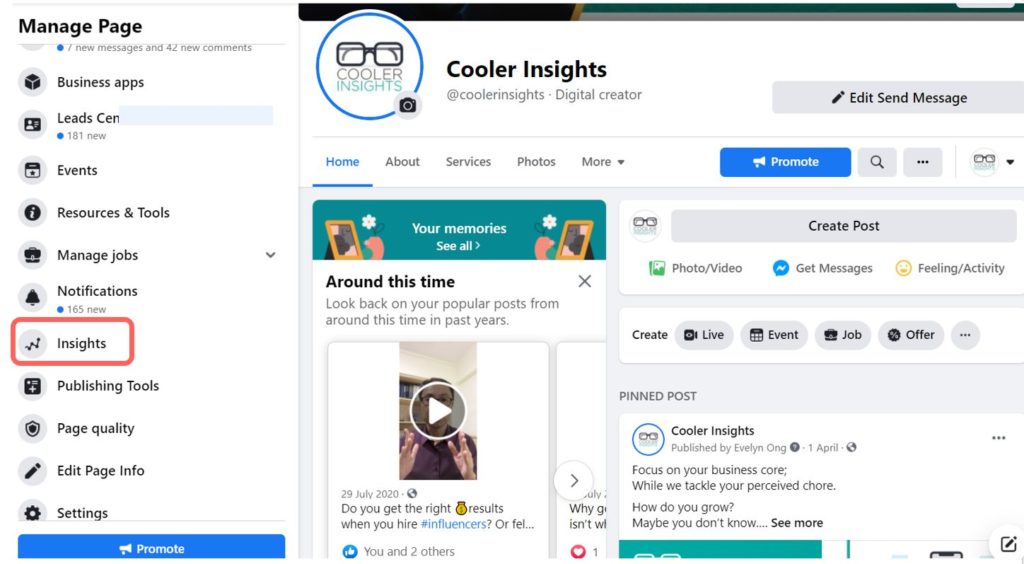 From there, you can read the results of your Facebook Page over different time periods, allowing you to compare your performance over time.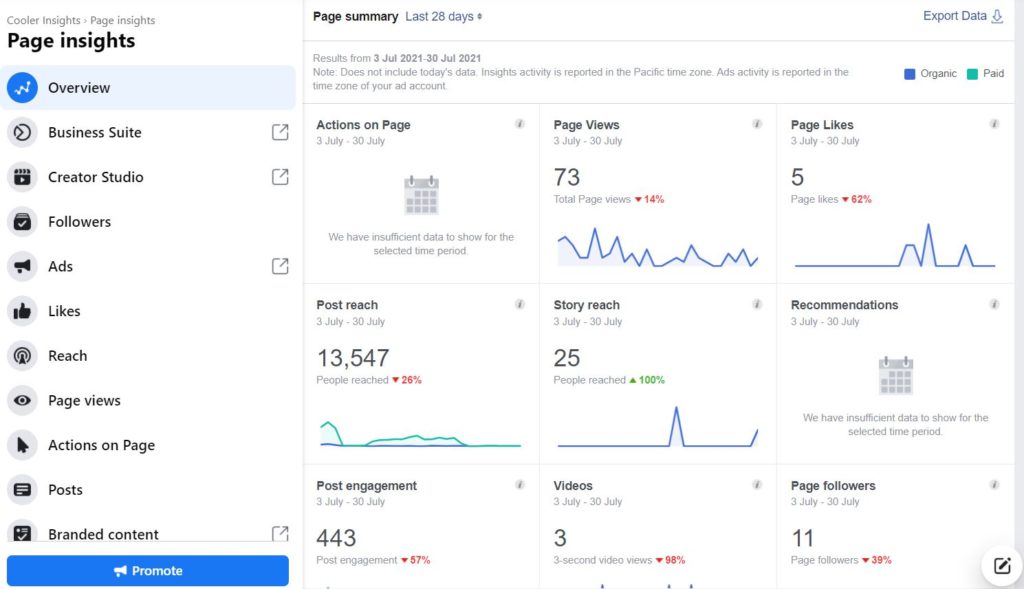 Here are the key areas that you should monitor on your Facebook Page Insights:
Likes: Track your no of fans, as well as fan growth. This determines how effective you are in engaging your fans, and growing your fan base.
Reach: Track the reach of each post, both organic and paid. This ascertains the Awareness of your posts.
Posts: See which posts does the best in terms of engagement (reactions, comments, shares and clicks). Do more of those.
Videos: Track the videos which you post, and see which provides the most views (awareness), as well as minutes viewed (consideration).
Stories: See which of your stories get the most opens and swipes. Do more of those.
People: Study the profile of your Facebook page fans, and which you tend to reach more and engage more with.
To learn more about Facebook Insights, read my article here.
#3 How to Read Facebook Ads Manager Performance
If you start to run Facebook Ads, you should use Facebook Ads Manager to track your campaign performance.
Here's how your Facebook Ads Manager will look like once you've started running ads.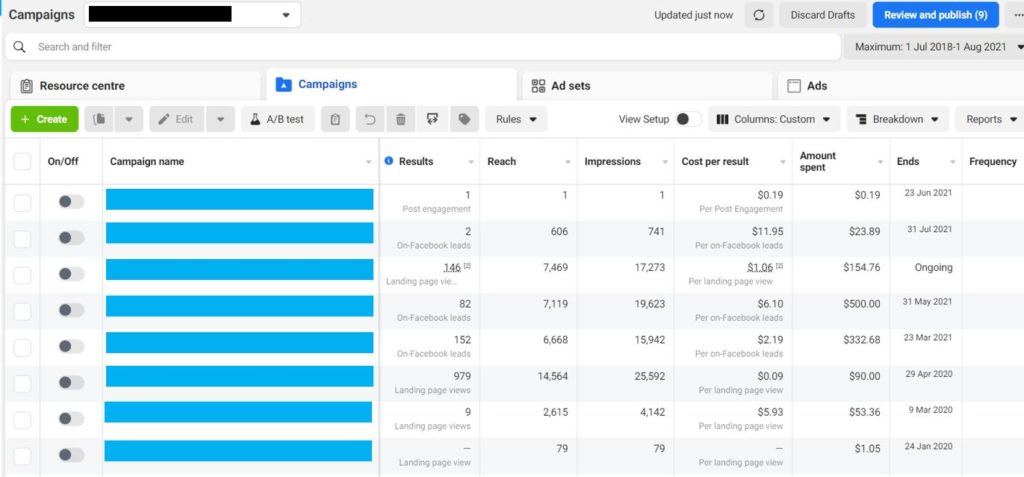 There are several points to take note of here:
Results: Look at your campaign results after you've run a campaign for a couple of days. See if you are getting the numbers that you'd desire.
Cost Per Result: Check to see if your cost per result (eg Cost Per Post Engagement, Cost Per Landing Page View, Cost Per Conversion, Cost Per Lead) is ideal for your campaign. Benchmark against previous campaigns.
Ad Sets: If you are running multiple Ad Sets, for example targeting different Audience Groups, consider which ones do better.
Ads: Consider which of your ad creatives (visuals and copy and CTAs) work better in terms of generating positive results.
Charts: For each of your Campaigns/Ad Sets/Ads, you can click on the "see charts" icon to determine the performance of your campaign. This allows you to see which campaigns do better in terms of the performance, demographics, platform and delivery.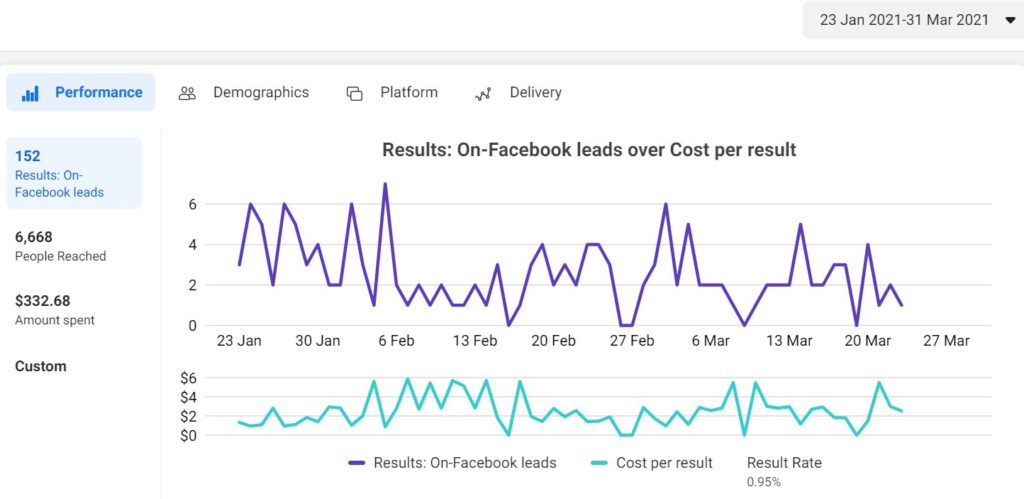 To learn more about Facebook Ads Manager performance, read my article here.
How to Build a Loyal Brand Community on Facebook
As I've earlier mentioned, social media marketing can help you to build tight-knitted communities of fans. These followers have either invested cash or time and energy in your brand, and have the potential to be good brand advocates.
To build Facebook fans, consider these four steps:
#1 Recruit to Grow Your Brand Reach
Start your journey by reaching out to potential fans. Invite them to join your Facebook Page.
Consider investing in a Page Like ad to grow your Facebook Page — give them a reason to follow your page (like offer them free deals, tips, valuable information, and other gifts).
You should also maintain a regular schedule of Facebook posts, using a content calendar.
Finally, consider setting up a Facebook Group to reach out to like-minded others. The idea behind a Facebook Group is less to talk about your brand, and more to cultivate interests in your community.
#2 Engage to Deepen Brand Affiliation
Where possible, share content that helps to trigger interactions like reactions, comments, and shares.
Consider conducting polls with your fans, or tagging some of them in your posts to elicit their reactions.
Do also post valuable and more in-depth content that provide great value to your fans.
#3 Convert through Lead Generation and Conversion Activities
Occasionally, launch lead generation or conversion campaigns targeted at your fans or other Custom Audiences.
These could be events (like webinars or physical events), one-to-one consultations, members-only sales, or other exclusives.
Make sure that the conversion event is customised to the interests of your fans — don't just invite them to the same event that non-fans can attend!
#4 Activate Brand Advocacy by Featuring Customers
Finally, remember to feature your best customers. Share their reviews (and nudge them to do so) if they are glowing. Tag your best customers. Do a story on them.
If necessary, consider how you can extend the relationship outside of Facebook. Invite them to a party. Bring them for a behind-the-scenes tour of your factory. This face-to-face interaction can make a world of difference in their loyalty to your brand.
For more ways to activate and energize your Facebook fans, read my ultimate guide to community building here.
Conclusion
Facebook marketing for small businesses is a huge and sprawling topic. While I've attempted to cover the main areas here, it isn't possible to dive deep into every aspect of using Facebook to boost your SME brand.
I hope that this guide has been useful for you. Let me know if there are any future topics that you'd like to learn about!
Need More Help? Sign Up for a Consultation!
Simply fill in the form below to sign up for a free 60-minute consultation. We will help you to assess your current situation, and recommend possible solutions that is customised for your business.