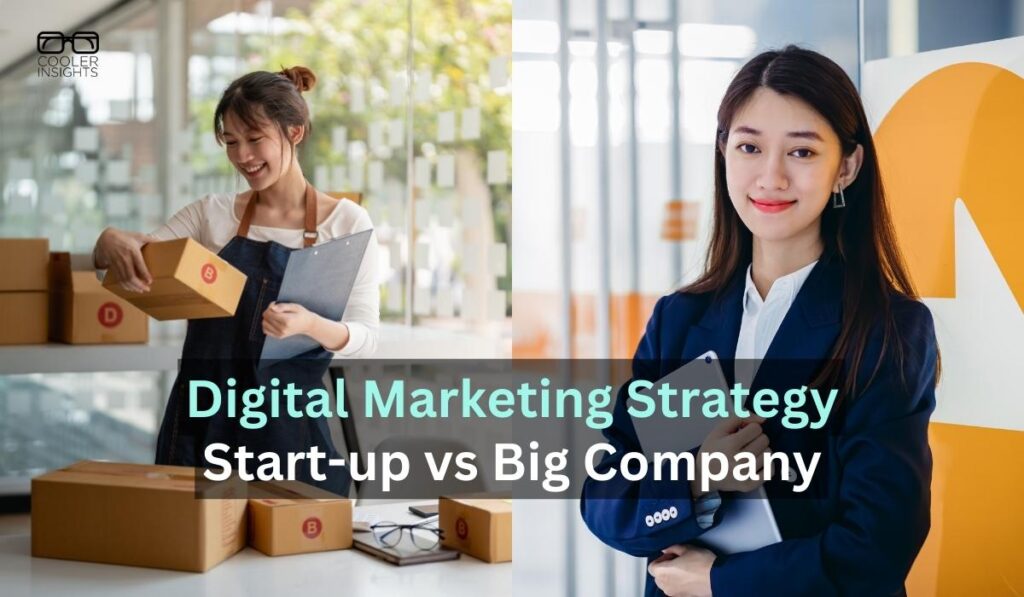 In digital marketing, growing a startup is vastly different from marketing a large company.
While the principles of digital advertising, content marketing, SEO, social media marketing, and other aspects of digital marketing remain the same, their application would probably differ.
What should small business owners and marketers consider in their digital marketing strategy? Conversely, how should marketers of MNC brands navigate the online marketing world?
In this article, you will learn the similarities and differences between doing digital marketing in a small growing business (including startups of one) and doing digital marketing for a large mature firm (like a GLC, MNC or a government organisation).
We will focus on six key areas in digital marketing:
Digital Marketing Goals: Startups vs Big Companies
Digital Brand Building: Startups vs Large Firms
Digital Marketing Channels: Startups vs Large Companies
Digital Marketing Budgets: Startups vs Big Companies
Digital Marketing Manpower: Startups vs Big Companies
Let's start with the most important — your digital marketing goals.
Digital Marketing Goals: Startup vs Big Company
When it comes to your marketing goals, things are quite different for startups vis-a-vis bigger firms.
In a startup environment, growth is imperative for the survival of the fledgling enterprise. Building your brand is also key here, as the market is unlikely to have heard of you.
Thus, startups have to invest time and energy in Top-Of-the-FUnnel (TOFU) as well as Middle-Of-the-FUnnel (MOFU) marketing strategies to gain traction. Work on gaining attention from your target audiences, and cultivate brand consideration through a process of customer education.
These can be visualised in the digital marketing funnel below.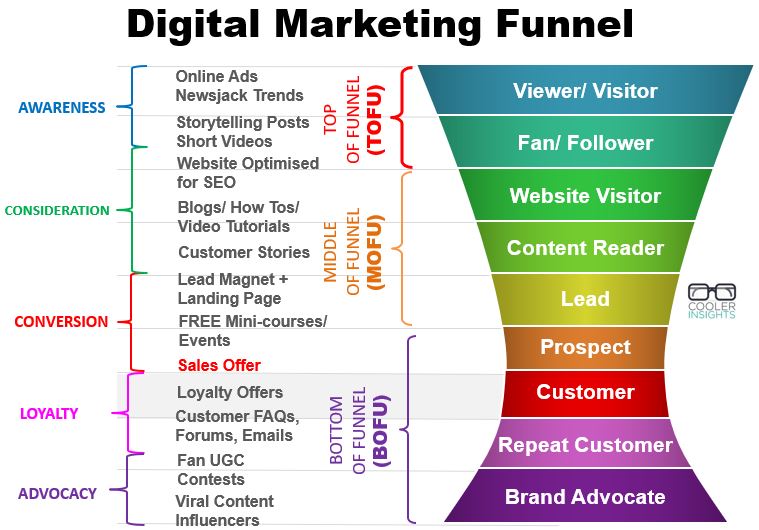 What about large mature businesses? This depends on the market recognition of the brands they're trying to promote.
For new brands, large firms should adopt a similar strategy to startups. The goal is to build brand awareness and consideration — focus less on conversion (at least not initially) until there is sufficient brand recognition.
For mature brands, the focus would skew towards loyalty and advocacy, while not foregoing brand consideration and conversion. Hence, your marketing goals may be focused more towards building a loyal community and engendering brand advocacy.
Digital Brand Building: Startup vs Large Company
Sadly, many startup founders sting on their time, money or effort when it comes to building their online brands. They skip the need to build their online brand, and focus their attention on product development or sales.
As a result of that, their digital marketing efforts fail to sustain themselves in the long-haul.
While large companies can tap on their existing portfolio of brands to launch a new one, the same cannot be said for startups.
So how should startup founders build the your new business or product brand? Tap on telling your brand story, and building your own personal brand.
For larger firms, brand building may involve tapping on your brand heritage, milestone developments in your company history, or evidence of how you've helped your customers succeed over the years.
Whatever sized-company you work in, it is important to weave your customers into your brand. Make them a part of your brand narrative, and demonstrate how your firm can help them solve a problem.
Digital Marketing Channels: Startups vs Big Companies
When it comes to choosing the right digital marketing channels, you'll need to ask yourself the following questions:
Where do my potential customers normally hang out online?
Which digital marketing channels works better for my industry?
What are the digital marketing content types that me/my team/my vendor can regularly create?
Is lead generation important? Or should I aim to directly sell my products or services online?
Do I need a website (probably). If so, how should I build it?
Which social media channels should I promote my business on?
What is the cost of running that specific marketing channel (read my article on Paid, Earned, Shared and Owned channels)?
Startups — Establish Low Cost Channels and SEO-Keyword Optimized Websites
For small business owners and startups, I'll suggest that you create content and directly engage your audiences on social media channels. These could be social networks like Facebook, LinkedIn, Instagram, Twitter, and TikTok.
Do also consider building a website focused on the right SEO (Search Engine Optimization) keywords and optimized for conversion. If writing isn't a problem for you, think about driving traffic to your business using the principles of SEO-driven Content Marketing.
Large Companies/ MNCs — Brand-led Ad Campaigns + Conversion Optimization
What about big companies and established brands?
Like the former, you'll need to also build an online presence on social media. However, you may need to invest more in ad campaigns on social channels like Facebook, LinkedIn, Instagram and YouTube to encourage lead generation and sales.
Large businesses are also more likely to have the marketing funds to splash on larger scale programmatic advertising campaigns on multiple websites and channels.
To improve your conversions, do also consider how you can apply the principles of Conversion Rate Optimization (CRO) on your website, as well as Marketing Automation to nurture your leads through the funnel.
Digital Marketing Budgets: Startups vs Big Companies
Money is never enough, but digital marketing's efficiency and effectiveness makes it attractive for both small and large companies.
Startups — Build Your Digital Marketing Infrastructure
For startups and small businesses, you should invest your limited funds and resources in…
Large Companies — Run A/B Tests and Optimize Your Digital Marketing Machinery
For larger and more established firms, your marketing funds should be more focused on…
Conducting A/B tests on paid search and social campaigns to determine which yields better outcomes
Improving your conversions by analysing your digital marketing funnel
Optimizing your digital marketing ROI by tracking, measuring and monitoring your performance across the entire customer journey
Strengthening your SEO-led content marketing efforts by continually tweaking your content types
Reviewing all your digital marketing channels and periodically refreshing them (especially your website)
Digital Marketing Manpower: Startups vs Big Companies
Last, but certainly not least, is manpower. Ah yes, the perpetual old chestnut of digital marketers young and old!
Before we consider what startups and large firms should do, consider the fact that there are myriad roles in digital marketing which needs to be filled. For content marketing alone, there are 12 different roles which needs to be filled — content strategy, content production, analytics, community management, online advertising, and so on.
Startups — Focus on What Can Be Done Sustainably
For small businesses and startups, you'll need to consider what's feasible given your manpower and budget constraints. While hiring a full-time staff to handle all your digital marketing needs sounds attractive, you'll probably find it challenging to hire talented individuals to fill this role in a small firm.
One way to manage this is to focus your manpower on less technical areas. This may include posting regularly on social media, engaging with customers on social media channels like Facebook, Instagram, and LinkedIn, or responding to customer emails.
You may then outsource specialised functions like Pay Per Click advertising, SEO-led content creation, or website development to digital marketing specialists.
MNCs — Consider Your Return On Manpower
For large companies and MNCs, you'll probably need to scale your digital marketing efforts while considering what to keep inhouse and what to outsource.
There are multiple models to consider here:
Keep a small and lean core team focused on brand management, and outsource everything else
Have a medium-sized digital marketing team, with specialists in a few verticals (eg content creation, SEO, or paid advertising)
Hire the entire gamut of digital marketing functions, and only outsource very technical areas (eg website development, app development)
What's important here is to consider what's the value of keeping a function inhouse versus retaining it.
(Read more on choosing the right digital marketing agency here.)
Conclusion
I hope that this article has helped you to think through your digital marketing function, and how best to manage it for your startup or your large company.
Question: What has been your biggest challenge in digital marketing? Let me know in the comments below.
Need Help with Your Digital Marketing?
Fill in the contact form below for a free 30-minute Skype or Zoom consultation session!